Arthraxon lanceolatus (Roxb.) Hochst., Flora 39: 188 (1856) (syn: Andropogon echinatus Edgew. ; Andropogon lanceolatus Roxb.; Andropogon serrulatus Link ; Arthraxon deccanensis S.K.Jain ; Arthraxon lanceolatus f. glaberrimus Chiov. ; Arthraxon lanceolatus f. puberulus Chiov. ; Arthraxon lanceolatus var. puberulus (Chiov.) Mattei ; Arthraxon lanceolatus subvar. wallichii Hack. ; Batratherum lanceolatum (Roxb.) Nees);
.
Eritrea to S. Africa, SW. Arabian Peninsula, Pakistan to China and Lesser Sunda Islands: Assam, China North-Central, China South-Central, China Southeast, East Himalaya, Eritrea, Ethiopia, India, Kenya, Lesser Sunda Is., Malaya, Myanmar, Nepal, Northern Provinces, Pakistan, Sudan, Tanzania, Thailand, Vietnam, West Himalaya, Yemen as per POWO;
.
Common name: Clasping-Leaf Carpetgrass
.
---
Culms to 60 cm high, nodes glabrous or hairy. Leaves 1.5-5 x 0.2-1.2 cm, ovate-lanceolate, amplexicaule at base, strongly ciliate along margins; sheath rounded, ciliate along one margin, ligule a fimbriate membrane. Racemes few together, 3-6 cm long. Sessile spikelets 5-6 mm long, callus hairy; lower glume 5-6 x 1 mm, lanceolate, acute, 5-7 nerved, 2-keeled, spinulose, margins infolded; upper glume to 5 x 1.5 mm, boat shaped; first lemma hyaline; upper lemma awned; awn geniculate; stigmas 2 mm long. Pedicelled spikelets developed with one barren and one male florets.
Flowering and fruiting: August-January
Grasslands
(Attributions: Dr. N Sasidharan (Dr. B P Pal Fellow), Kerala Forest Research Institute, Peechi as per India Biodiversity Portal)
.
---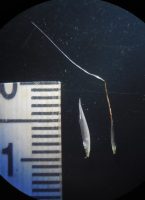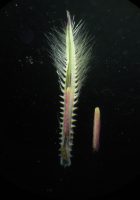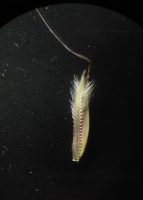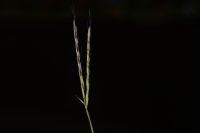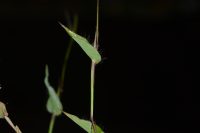 Your images of Arthraxon lanceolatus: 7 images.
images of Arthraxon lanceolatus
---
---
.
References:
POWO  Catalogue of Life  GBIF (High resolution specimens) Annotated checklist of Flowering plants of Nepal Flora of peninsular India Flowers of India  India Biodiversity Portal  Bhutan Biodiversity Portal