Arthraxon nudus (Steud.) Hochst., Flora 39: 188 (1856) (syn: Andropogon nudus Steud. ; Arthraxon ciliaris subsp. nudus (Steud.) Hack. ; Arthraxon cryptatherus subsp. nudus (Steud.) Koidz. ; Arthraxon hispidus var. nudus (Steud.) Ohwi; Batratherum nudum Nees ex Steud.);
.
Oman, Pakistan to S. Central China and Peninsula Malaysia: Assam, Bangladesh, China South-Central, India, Malaya, Myanmar, Oman, Pakistan, Thailand, West Himalaya as per POWO;
.
Common name: Bare-Stalk Carpetgrass
.
---
Annuals; culms 30-45 cm high, geniculate; nodes bearded. Leaves to 4 x 1.5 cm, cordate at base, margin ciliolulate; sheath sparsely hairy, margin ciliate; ligule membranous. Racemes 3-6, 5-6 cm long, glabrous. Sessile spikelets 4 mm long; lower glume 4 x 1 mm, 7-9 nerved, hirtus along the nerves; upper glume 4 x 1.5 mm; keel ciliate on the upper half; awn 9 mm long. Pedicelled spikelets reduced to a naked pedicel.
Flowering and fruiting: October-December
Evergreen and moist deciduous forests
(Attributions: Dr. N Sasidharan (Dr. B P Pal Fellow), Kerala Forest Research Institute, Peechi as per India Biodiversity Portal)
.
---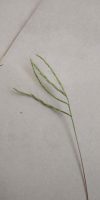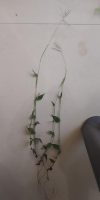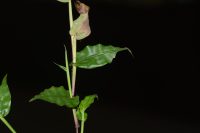 Arthraxon nudus images: 4 images.
May I request you to pl. send me your images of Arthraxon nudus for incorporation in eFloraofindia.
---
---
.
References:
POWO  Catalogue of Life  Flora of China  Flora of peninsular India  India Flora Online  Flowers of India  India Biodiversity Portal