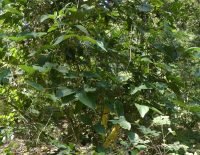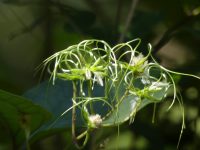 MS/2023/135 – ID of the plant.: 2 images.
I am forwarding herewith the photos of a climber photographed in a forest area in Tamil Nadu recently by a friend. Please ID the plant.
---
For me it is a Clematis species.
---
I guess it is close to Clematis smilacifolia Wall.
---
For me it looks species Id is also correct.
---
What about https://efloraofindia.com/2011/02/15/clematis-heynei/?
---
Also it is not clear if the leaves are trifoliate or simple.
---
I guess it is simple leaf !
---
The person who sent the pictures has no other photographs. Hence it is difficult for me to judge the species. I  m depending on you both for a final ID.
---
In view, I think it is better to leave it unidentified. Flower images are required with clarity on the leaves.
---