Argentina Northeast, Belize, Bolivia, Brazil North, Brazil Northeast, Brazil South, Brazil Southeast, Brazil West-Central, Central American Pac, Colombia, Costa Rica, Cuba, Ecuador, El Salvador, French Guiana, Guatemala, Guyana, Honduras, Jamaica, Leeward Is., Mexico Gulf, Mexico Southeast, Mexico Southwest, Nicaragua, Panamá, Paraguay, Peru, Puerto Rico, Suriname, Trinidad-Tobago, Venezuela, Windward Is.;
Introduced into: Andaman Is., Bangladesh, India,
Malaya,
Nicobar Is., Sri Lanka,
Thailand
as per
POWO
;
.
---
---
---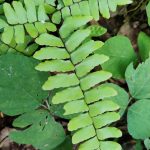 Requesting a fern id.: 2 high res. images.
13/10/2021
IISER TVM campus adjoining Agasthyamalai biosphere reserve.
A flimsy-leaved fern found growing in the rubber estates. The stem appears dark brown-black. Neatly netted venetion seen.
Herb
---
This is the adventive South American species, Adiantum latifolium Lam., common throughout South India as a weed on roadside banks etc., but has not spread to north India.
---
---
.
References:
POWO  Catalogue of Life  The Plant List Ver.1.1  Tropicos  IPNI