---
– I dont understand. Saptaparni is a Sanskrit name and upto now I have known it to be a native tree. Give a dog bad name and hang it! Cassia Siamea is not native and it has allregic characteristic. But how about Putranjiva? Some time back there was a rumour of its allergenic chaaracteristic and so many old trees in the Lutyen's Delhi were cut.  Is this some sort of conspiracy to dub native trees as allergenic. Okay, how about mustard and marigold? Both have allergic character. Should we stop cultivating mustard and and marigold. Allergy from pollen of any number of trees and bushes is a known fact and it is in other countries also (Hayfever!). Should we grow only ipomea, eucalyptus and lantana??
---
– please read the complete article. I have explained on all aspects both positive and negative. I can quote the reference of information if you wish.
---
VALMIKI: OBSERVER OF NATURE:
Valmiki mentions about SHINSHAPA tree in his Ramayan. When Hanuman could locate Sita in Ashok vatika, he was sitting on the branch of a SHINSHAPA tree ( as per Valmiki in his Ramayan). The scientific name of this tree is Dalbergia sissoo. Attaching an image of this tree.
---
where can one read about the trees (flora) of Ramayana… is there an essay or book that esp deals with flora of Ramayana?  I guess the photos you have loaded is not of Dalbergia sisso pls check for any error
---
Looks like saptaparni, Scholar tree. D. sissoo has small roundish leaves.
---
Thank you for the reference, I registered at the site and they allowed me to download the file…. there is a map of India and Ceylon… in it where Ram had moved thru… its a very diverse set of ecosystem…difficult to recreate in ONE BOTANICAL GARDEN…. if Govt India or some such body decides to take up the project and makes at least about 7 gardens spread over India  then may be the different ecosystems can be accommodated…. it can be done… all we need are bureaucrats with dreaming quality…   a dream created the AGRI-Hort Garden and the Botanical garden in Kolkata, the Kew and the NYBG… superb examples of far- sightedness of bureaucrats… take care, and thanks… I am going to study the list carefully.
---
This is undoubtedly Alstonia scholaris (L.) R. Br. of Apocynaceae family. Any way a better picture of a branch with mature leaves would be helpful for clarification. It cant be Dalbergia sisso as this species has compound leaves. In this picture 7 leaves are from a single node.
---
Yes, it is Satparni– Alstonia scholaris.
---
---
SYMBIOSIS 67:
Attaching the 67th image of the series.Here a Lime butterfly is on the flowers of Alstonia scholaris ( DEVIL'S TREE/SCHOLAR'S TREE/CHATIM ). If you are interested in Butterflies, you may wait under blooming Alstonia scholaris, I have recorded 24 species of butterflies on this tree. My score on Lime butterfly is 19 species of flowers.
---
---
---
Attaching Satvin/ Dita tree pics frm Jaipur. Dated -06.11.11.
---
Its flowering in Kolkata too, but only some trees …
and yes not as prolifically as in 2005/06 winter…
---
ছাতিম chhatim, the Indian Devil Tree, is the State Tree of West Bengal.
---
---
SYMBIOSIS :234:
Attaching an image in which there are two Redbase Butterflies on the flowers of Alstonia scholaris.

---
.
---
alstonia scholaris: does anybody have experience with fragrance of alstonia scholaris flower's? those who want to experience visit all public garden's in pune city. lot of flowering with fresh fragrance.
---
Yes presently flowering profusely at many places.
I wonder if there are two seasons of flowering?
One set of trees in Pune…(the larger set) flowers in this season whereas I have seen one tree on FC Road which flowers only in Spring summer(?)
---
Yes… and how… all alstonia are flowering at the same time and in last 10 years thousands have been planted by Kolkata municipal body on roadsides, at about 5 rupees or less for each sapling I was told by gardener's supply !!!!!
there are so many flowers that the trees look whitish-green instead of green…
its pollen is very very allergenic…
proving to be causing seasonal fevers, sinusitis and eye irritation…
many municipalities plant them because its very very cheap…
once planted it can not be removed… and millions of seeds will float off in about six months and a lesser degree of flowering will ensue again… now is the highest degree of flowering…
even if one digs out the base after cutting the tree the roots sprout and many more trunks come out
Rabindranth thakur used to sit under one…and meditate …its called CHHATIM in Bengali… there are many essays and songs about it… becuase of his association…  and hence a little nostalgia plays in the planting fervor at least in Kolkata…
now I know why its called the devil's tree…nothing to do with ghosts or devils, its its devilish pollen…. its the highly allergenic pollen…i wish there were a systematic country wide epidemiology of sinusitis and allergy cases and its flowering… and then some more sofisticated testing of population for specific antibody…
I wish … I wish…
---
---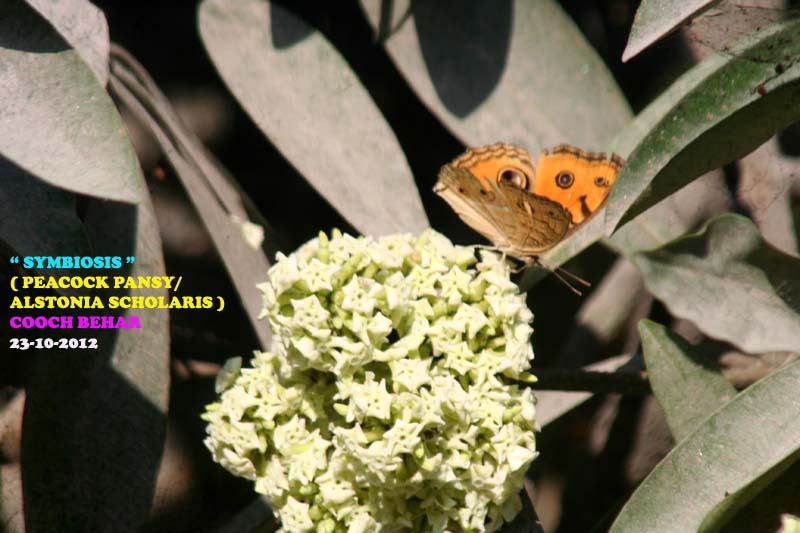 SYMBIOSIS : 262:
At this time of the year Alstonia scolaris blooms at this place. You can't miss the smell of this flower even from a distance at night. Attacing an image of a Peacock Pansy butterfly on this flower. As the tree is on the road side, the leaves are dusted.
---
yes … nice pic
but lots of people have tremndous allergy to the pollen, causes fever sinusitis and even some eye irritation ,,,, Robi thakur notwithstanding and our nostalgia about chhatim tola
---
---
Hooghly Today : Alstonia scholaris (L.) R. Br.:
Though flowering season of CHHATIM (ছাতিম) = Alstonia scholaris (L.) R. Br. is over now yet one or two trees are still flowering. Just a little while ago i come to know that it was CHHATIN (ছাতিন) in older days [ Ref. 1) An English Index to the Plants of India, p119, 2) Hortus Suburbanus Calcuttensis, p526 & 3) Bengal Plants, ii. 672] !!!
---
---
Beautiful and fragrant!!!!!!! Now days any nematode is attacking on this plant and destroying this in many parts of Haryana
---
Wow great to see 10 leaves in a whorl. They are 8 most of the times but rarely 7 though it is called as Saptaparni …….. Apocyanaceae
---
Here is the fruit
---
Alstonia scholaris (family : Apocynaceae) Hooghly, WB : Attachments (4).  13 posts by 6 authors.
Nice Catch … This tree is in Danger in our area due to attack of some kind of Nematodes almost everywhere…
---
References: