This is another one growing
at 2750m on Phulchowki in Nepal.
Yes!
---
Maybe Anaphalis royleana DC.as per comparative images at Anaphalis
---
Yes, I believe that is correct. Especially one set of images look very similar. I will put it on my Phulchowki blog and see if at a future date someone corrects it.
---
So far it is not recorded at Phulchoki and no herbarium record !
---
I guess this is Anaphalis busua (Buch.-Ham. ex D. Don) DC. !
---
Not sure about A. busua as per the image and its morphology…
Check for A. contorta or A. royleana
---
Expert of Anaphalis validated as Anaphalis busua (Buch.-Ham. ex D. Don) DC. !
---
May I request you for high resolution image along with side view, for verification as per Anaphalis busua
---
I have two images from a place near the first image. I think this might help. It might be Anaphais royleana from the photos I saw on your eflora site.
2 images- 6 & 7 mb each.
---
Yes, I agree with Anaphalis busua due to decurrent base of the leaves, almost forming a wing.
---
Location: Phulchoki, Lalitpur
---
Location: Kathmandu Valley

Anaphalis …. ??
Location: Kathmandu Valley

Elevation: 2800m.

Habitat  : Wild
---
---
Again an Anaphalis sp. shot from Chakrata in a different period of time…. compared to Anaphalis 1 posted for id… this looks similar to that one.. can this be sorted out?
---
All Anaphalis are really confusing. Its good that you have documented many of them so nicely that some day we will reach to conclusion.
---
I also hope so … certainly I will keep a closer look this time to get any conclusive pics.. thanks for your nice words…
---
Anaphalis are indeed difficult to identify. Providing a key for identification of common species.
Keys for common Anaphalis species in West Himalaya, based on Naithani (1984):
1a. Involucral bracts acute, spreading in flowers
2a. Head diameter 1.2-2.5cm
3a. Leaves 1.2-5 cm long; involucral bracts ovate-lanceolate
4a. Lower leaves spathulate half amplexicaule….A.cuneifolia
4b. Lower leaves obovate-spathulate, contracted at base.. A.nepalensis
3b. Leaves 5-10cm long; involucral bracts ovate-lanceolate acute…A.triplinervis
2b. Head diameter 0.6-0.8 cm
5a. Stout roots, plants woody based, twisted, with many short branches having linear spathulate leaves, involucral bracts with a broad brown claw….A.xylorhiza
5b. Root woody but stem not twisted, many, involucral bracts white ….A.royleana
1b. Involucral bracts, obtuse, erect in head
6a. Lanceolate leaves
7a. Leaves thin, lower surface cinnamon red or grey…A.margaritacea
7b. Leaves thick, lower surface white …A.adnata
6b. Linear leaves
8a. Leaves 3.8-5 cm long
9a. Basal lobe long, decurrent, involucral bracts elliptic oblong, 2-2.5 mmlong…A.busua
9b. Basal lobes narrow, apiculate, involucral bracts linear oblong, 4mm long …A.virgata
8b. Leaves 1.2-2.5 cm long, basal lobes short …A.contorta
HOWEVER, to follow keys plant specimens, rather than pics, are more desirable in addition to basic ground in Plant Taxonomy.
---
Thanks a lot … for your efforts, I will try to make use of this data for my present posts.. and you are absolutely right in saying that only photographs cannot be decisive, identification can be achieved in field through actual examination of the specimens.. but some basic things should be there to keep in mind… thanks again for providing relevant points to look for while trying to distinguish different specimens of Anaphalis..
---
I think it is close to the images and details at Anaphalis busua (Buch.-Ham.) DC.
---
---
Please identify this cluster of tiny flowers growing on a hillside in Meghalaya?
---
This is an Anaphalis sp…
Yes …. I guess correct Id !
---
---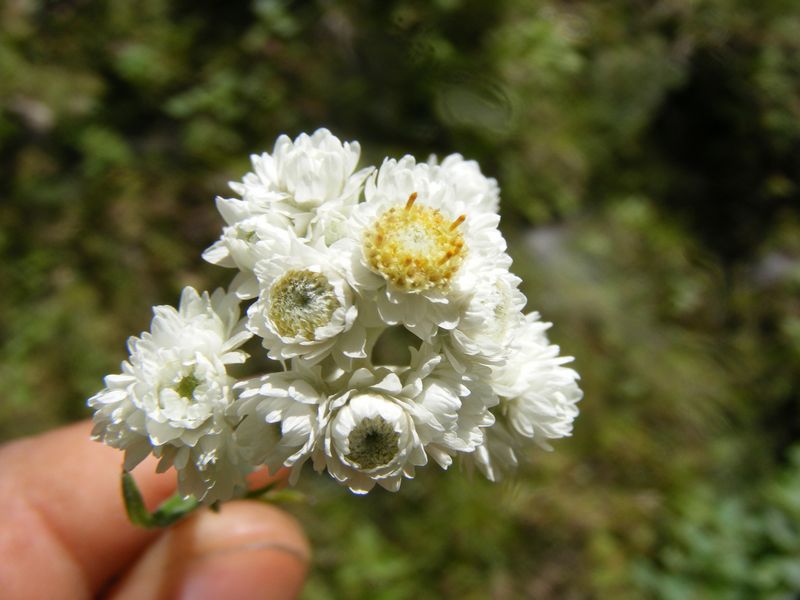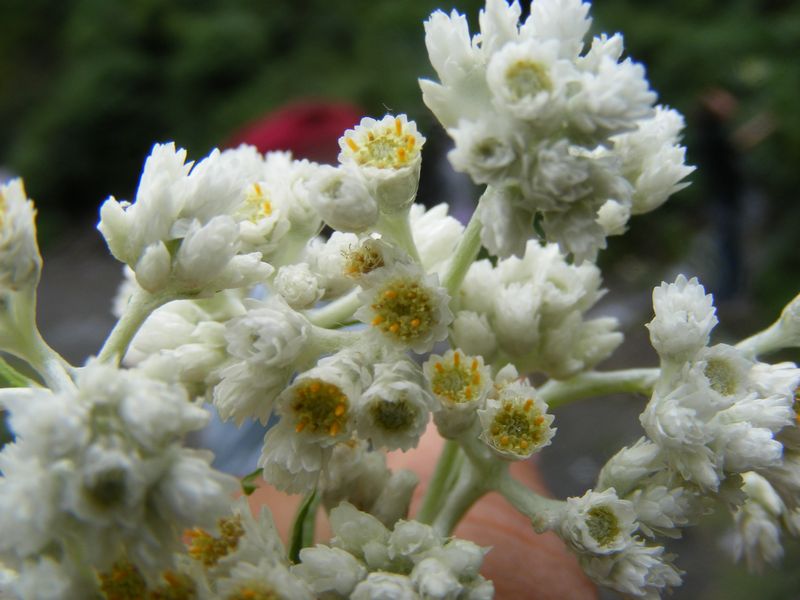 Asteraceae Fortnight Part I-Radiate Heads: Anaphalis 1 for id from Chakrata- NS 93 : Attachments (5).
6 posts by 4 authors.
These pics were taken from Chakrata area.. id please..
---
All the species of Anaphalis are beautiful. I would have loved to see some leaves here needed to go for ID.
Anaphalis have globular flower heads as every one knows with shiny papery involucral bracts which are usually white in our species. So what we see here white are bracts. There are only yellow disc florets within it. So actually the genus will go to June episode.
The involucral bracts are acute, spreading(1a. jpg) so just a guess that it could be Anaphalis triplinervis.
---
Thanks a lot … for valuable inputs… perhaps, to keep away confusions … had included this in May List… but I hope this will keep floating in June also..
---
efi page on Anaphalis triplinervis
---
---
.
References:
The Plant List  Flora of Pakistan  Annonated checklist of the flowering plants of Nepal  Flora of China  Flowers of India  Encyclopedia of Life