Indian Subcontinent to SC. China and Indo-China, Jawa
as per
WCSP
;
Andaman Is.; Assam; Bangladesh;

Cambodia; China South-Central;

East Himalaya; India;

Jawa; Laos;

Myanmar;

Nepal; Nicobar Is.; Pakistan;

Thailand; Vietnam;

West Himalaya
as per
Catalogue of Life
;
---
Large shrubs; young stem, petioles and leaf below villous with curled hairs. Leaves 3-9 x 2-4 cm, elliptic or obovate, base attenuate, apex shortly acuminate; petiole to 3 mm long. Spikes terminal, single or 2-branched, 2.5-3 cm long. Perianth greenish-yellow; lobes 4, c. 1.5 mm long, brown hairy within. In male flowers stamens 2, attached in depressions on the disc. In female flowers ovary obovoid, 1-loculed; ovules 2. Drupe 4-6 mm across, globose.
Flowering and fruiting: July-December
Semi-evergreen and moist deciduous forests and sacred groves
Indo-Malesia and South China
---
Antidesma acidum
of
Euphorbiaceae
,
from Manipur.
The leaves and fruits taste sour.
---
I have heard about this plant but have never seen it thank you very much … for the lovely opportunity
---
---
id pls 210513NI01
: Attachments (1).  3 posts by 3 authors.
Evergreen tree species
from ernakulam Kerala.
---
Antidesma diandrum (Euphorbiaceae)
---
Rajnagar, Kumarghat, Tripura
---
Seems to Antidesma acidum Phyllanthaceae,
---
.
---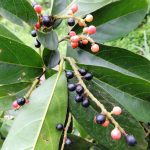 MS,Oct,2021/80 Antidesma sp. for id: 1 high res. image.
Location : Khawzawl
Date : 31-08-2012
Habit : Shrub or small tree

Habitat : Wild
---
Antidesma montanum Blume ??
---