Himalayan Columbine, Hairy-flowered Columbine;
---
Location Chamba
Altitude 3600 mts
Habit herb
Habitat wild
Height 2 feet
---
Yes … Aquilegia pubiflora
---
---
Flora of Chakrata: Aquilegia pubiflora from Deovan Herbal garden Chakrata:
Aquilegia pubiflora from Deovan Herbal garden Chakrata
---
---
Yesterday on my walk down to a water stream (nullah) with my children I spotted a few of these beautiful flowers. Between 1800 and 1850 m I saw several plants. Here are some of the photographs.
Please correct me if I am identifying it wrong.
Himalayan Columbine, Aquilegia pubiflora
Above Dal Lake, Dharamshala, HP
---
Beautiful pics. A nice humble flower with five spurs.
Missing leaves here.
---
very nice closeups of a short violet columbine. love it. waiting for the leaves like  … said and basal rosette if there are visible
---
Thank you … Here are the leaves. If I go again that side I will make more photos. The light was very low that day and it was windy making it difficult to take clear photos.
---
Columbines have been out for almost a week and I found several plants today on a mountain path. Here are some photos of the fresh flowers and seed pods.
Aquilegia pubiflora—Himalayan Columbine
Above Dal Lake, Dharamshala, HP
2000m approx.
15 and 22 May 2016
8 images.
---
Complete and detailed….!!!
---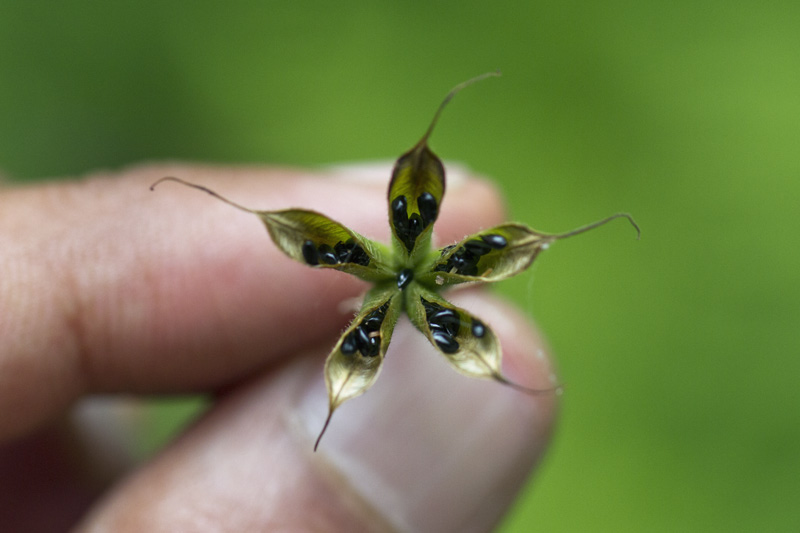 And we have the seeds! Shiny black seeds not much bigger than the sesame seeds.
2 images.
great pictures. i am enjoying your recent trip pictures.
may not be able to respond each but know that i am looking and liking them a lot
---
---
Herb for ID, Lower Manimahesh, Himachal Pradesh NAW-SEP17-16 : 5 posts by 3 authors. Attachments (4)
Kindly identify this herb with maroon flowers photographed on the trail to Manimahesh at the altitude of about 2000 metres in June 2017.
---
Must be some species of Aquilegia (Ranunculaceae).
Aquilegia in eFI.
---
Could this be Aquilera pubiflora?
---
---
SK 3070 23 October 2021
: 7 very high res. images.
Location: Talcha-Rara, Nepal
Altitude: 2800m.
Date: 19 August 2021
Habit : Wild
Aquilegia pubiflora
Wall. ex Royle ??
---
Yes, appears close as per images at Aquilegia pubiflora
---