Asphodelus tenuifolius Cav.
,
Anales Ci. Nat. 3: 46 1801
. (syn.
Anthericum annuum Pourr. ex Willk. & Lange
;
Asphodelus bornmuelleri Gand.
;
Asphodelus canariensis C.Sm. & Buch
;
Asphodelus clavatus Roxb.
;
Asphodelus clavosus Don ex Steud.
[Spelling variant];
Asphodelus fistulosus subsp. faurei Sennen
;
Asphodelus fistulosus subsp. nilotica Ravenna
;
Asphodelus fistulosus subsp. tenuifolius (Cav.) Arcang.
;
Asphodelus fistulosus var. tenuifolius (Cav.) Baker
;
Asphodelus maroccanus Gand.
;
Asphodelus microcarpus Rchb.
[Illegitimate];
Asphodelus serrulatifolius Sennen
;
Asphodelus serrulatus Sennen & Mauricio
;
Asphodelus tenuifolius var. micranthus Boiss.
;
Asphodelus tenuifolius f. micranthus (Boiss.) Maire
;
Ornithogalum flavum Forssk.
;
Verinea tenuifolia (Cav.) Pomel
);
.
Macaronesia to Indian Subcontinent:
Afghanistan, Algeria,

Bangladesh,

Canary Is., Cape Verde, Chad, Cyprus, Egypt, Gulf States,
India,
Iran, Iraq, Italy, Kuwait, Lebanon-Syria, Libya, Madeira, Mali, Mauritania, Morocco, Oman,
Pakistan,
Palestine, Saudi Arabia, Sicilia, Sinai, Socotra, Somalia, Spain, Sudan, Transcaucasus, Tunisia,
West Himalaya,
Western Sahara, Yemen
as per
POWO
;
Onion weed, Jungli pyaz;
---
Asphodelus fustulosus: 2 images.
Asphodelus fustulosus
Sonepat, Haryana, 14 May 09.
No water, dry land, and yet this small wild plant is maintaining its green blood and flowers.
… had identified this plant. I had always associated this plant with winter.
I remember, during my childhood, an elder relation in my family used to mix it with 'hara sag of chana-sarson-bathua'
… may throw some light over its medicinal properties.
---
According to Bhandari Flora,
Asphodelus tenuifolius
Var. is 
Asphodelus fustulosus

field note
–
A weed of field & garden during winter.
Local Name-
Piyazi
---
---
This
herbaceous plant
was also recorded, in its peak of flowering
from Morni Hills..

Asphodelus tenuifolius
Cav.
Please help identify this
weed grown in jowar field, about 12-18" height.
Photo taken on 3Feb15 at Dhavlas, Maharashtra.
---
Should be Asphodelus tenuifolius Cav.
Now in Xanthorrhoeaceae, previously placed in Liliaceae..
---
---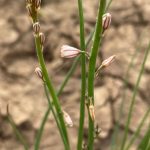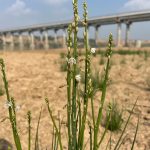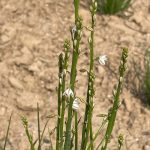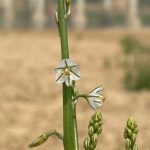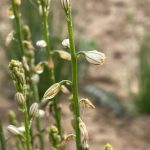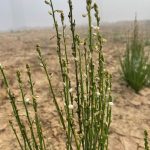 Dholpur, January 2022 :: Asphodelus for ID :: ARK2022-058: 6 images.
This was clicked at Dholpur, Rajasthan on the banks of the Chambal river in January 2022
This seems to be some Asphodelus based on eFI pics. But I could not go any further.
Requested to please validate.
---
It looks like Asphodelus tenuifolius
---
"jungli piyaz"
---
Asphodelus tenuifolius Cav.
Family: Liliaceae (Asphodelaceae)
---
---
Yes … Nice Photographs
---
This is 
Asphodelus tenuifolius
, as per images and details herein.
Asphodelus fistulosus
L. does not have distribution in our area as per 
POWO
 and 
CoL
.
---
ID please : 6 posts by 3 authors. Attachments (2)

Found a
weed in cultivated lands
of Patan, Gujarat.
---
Thank you for id it yourself
please bear with me… but i dont see any details in these pictures to compare to all those pictures in your 3 links,
I am sure you have your herbarium specimen  or close up macro pictures of the fruits?
and earlier flowers???
could you please show us the identifying features?
---
It is exactly the photos what I have shared. I do not have flowering.
on last week plants do not have leaves too. however it was fruiting.
---
that's ok
weed is bound to come up again and again
I am sure will see some flowers next year from you
---
I checked up- I think Asphodelus albus is not found in India in wild.
In view, pl. also check with the following species in efloraofindia so far:
---
This might be Asphodelus tenuifolius. Let me confirm once during the flowering season.
---
Thanks. I look forward to it and your detailed close ups
---
Sure. Let me try when I visit during rain season.
---
.
---
SK 3473 11 May 2022: 4 very high res. images.
Location: Eden Project, Cornwall, UK
Habit : Cultivated
---
Asphodelus tenuifolius Cav.

---