Atropa acuminata Royle ex Lindl., J. Hort. Soc. London 1: 306 1846.;
Indian belladonna, Deadly nightshade;
---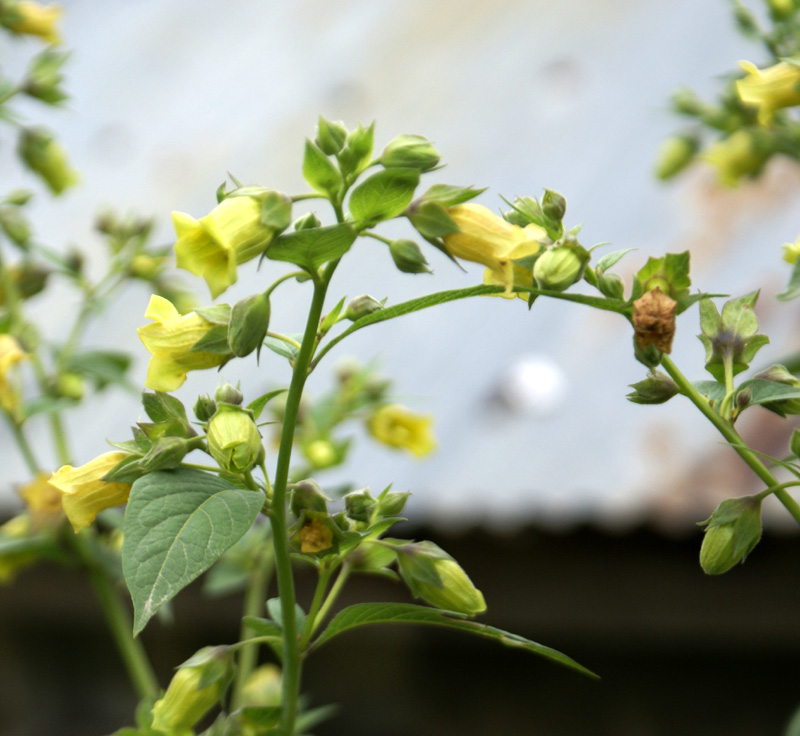 Atropa acuminata from Gulmarg, Kashmir:
Atropa acuminata Royle ex Lindl., Hooker's J. Bot. Kew Gard. Misc. 1:138. 1849 (J. Hort. Soc. London 1:306. 1846)
syn: Atropa belladona Clarke (non L.)
Common names: Indian beladona, Indian deadly nightshade
Herb up to 1.6 m tall with alternate, ovate-lanceolate acuminate leaves; flowers yellow, 2-2.5 cm long, stamens included. All parts of the plant contain the alkaloids atropine, hyoscyamine and bellodonnine, which are used as a sedative, antispasmodic, in convulsive disorders and as an antidote for poisoning. The black berries are very poisonous and cause delirium and dilation of the pupils.
Photographed from Gulmarg, Kashmir 
---
does it get berries that turn black, just like the ones in described in classical herbals…
or is it different? and ethnobotanical uses etc?
---
They are reported to be black in this species.
---
---
Atropa acuminata
Royle ex Lindl., Hooker's J. Bot. Kew Gard. Misc. 1:138. 1849 (J. Hort. Soc. London 1:306. 1846)
syn:
Atropa belladona
Clarke (non L.)
Common names:
Indian beladona, Indian deadly nightshade

Herb up to 1.6 m tall with alternate, ovate-lanceolate acuminate leaves; flowers yellow, 2-2.5 cm long, stamens included. All parts of the plant contain the alkaloids atropine, hyoscyamine and bellodonnine, which are used as a sedative, antispasmodic, in convulsive disorders and as an antidote for poisoning. The black berries are very poisonous and cause delirium and dilation of the pupils.

Photographed
from Gulmarg, Kashmir
---
Beautiful pics Sir, are they taken from Wild ?
---
Yes, you may call it an escape.
---
yes to all your comments and now we have synthetic chemicals do not need to extract the berries just as well
---
---
| | | | | |
| --- | --- | --- | --- | --- |
| from Kookar Nag to Sinthan Pass, Jammu & Kashmir- 08th August 2009; | | | | |
---
.
---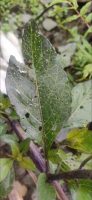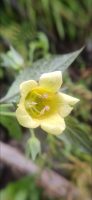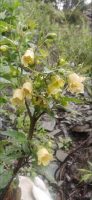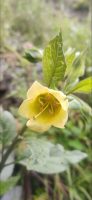 Identification required 1017: 4 high res. images.
Location: handwara bangus valley kashmir.
Altitude: 3012 meters asl
---
Codonopsis?
---
That was my guess also but it looks somewhat different.
---
It is not in Campanulaceae. There are two carpels in it.
It is Solanaceae..
Atropa acuminata is the closest match. Compare here in eFI:
https://efloraofindia.com/2011/02/08/atropa-acuminata/
Please check for stem character. It is angular in this specimen.
---
Yes …, this is what is known as age catching up.
---
My earlier post
Solanaceae Fortnight: Atropa acuminata from Gulmarg, Kashmir-GSFEB24/26 (google.com)
---
References: