---
Solanaceae Week: Brugmansia candida from California:
i am uploading this species because it is reportedly cultivated in Indian subcontinent. It is similar to B. suaveolens uploaded by … but as can be seen by comparison that in B. suaveolens the narrow lower part of corolla tube is visible above the calyx tube which is 5-toothed, and the flowers are slightly shorter. In B. candida the flowers are slightly longer, lower part of corolla tube hidden in calyx tube, and the calyx tube split on one side. I am uploading the plant from California with the hope that similar may be uploaded from India also by some member.
---
–  Datura plants are usually herbaceous, flowers less than 15 cm long, usually erect and fruit smooth. Also the calyx splits horizontally (circumscissile) upper part falls off and only basal truncated part persists in fruit.
    Brugmansia plants are woody shrubs or trees, flowers longer than 20 cm, and nodding. Calyx does not split horizontally, whole calyx persists, although it may split vertically on one side.
---
---
---
Lovely catch seen very common as wild in eastern Himalayas
---
We call Datura these days "vuvuzela", which is being seen and heard everywhere during the last two weeks, of Football WM. Thank god, Datura doesn't harm your ears.
---
Nice pictures. The Datura variations in my place, Mysore district, are very short. I had the impression they grow about 3-4 feet.
---
…, Datura you are talking about may be Datura Ferox which is a small herb with broadly ovate sinuate leaves & flowers on stout axillary peduncles. It is found in plains.
The pictures I have posted are of Datura arborea also called as Angle's Trumpet. It has ovate leaves with flowers on drooping axillary peduncles. This plant is endemic to Chilli & Mexico. In Maharashtra it is found in hilly areas like Mahabaleshwar & Khandala-Lonavala.
---
What … is talking about, it could be herbaceous Datura either D. metal or D. innoxia.
I have attached the image of D. INNOXIA here.

Pls … confirm this species whether it is same or not.
---
Is this same species or different. I have seen this plant in Bryan's park, Kodaikanal, Tamil Nadu.
Pls refer the image.
---
---
For me the ID is correct.
---
---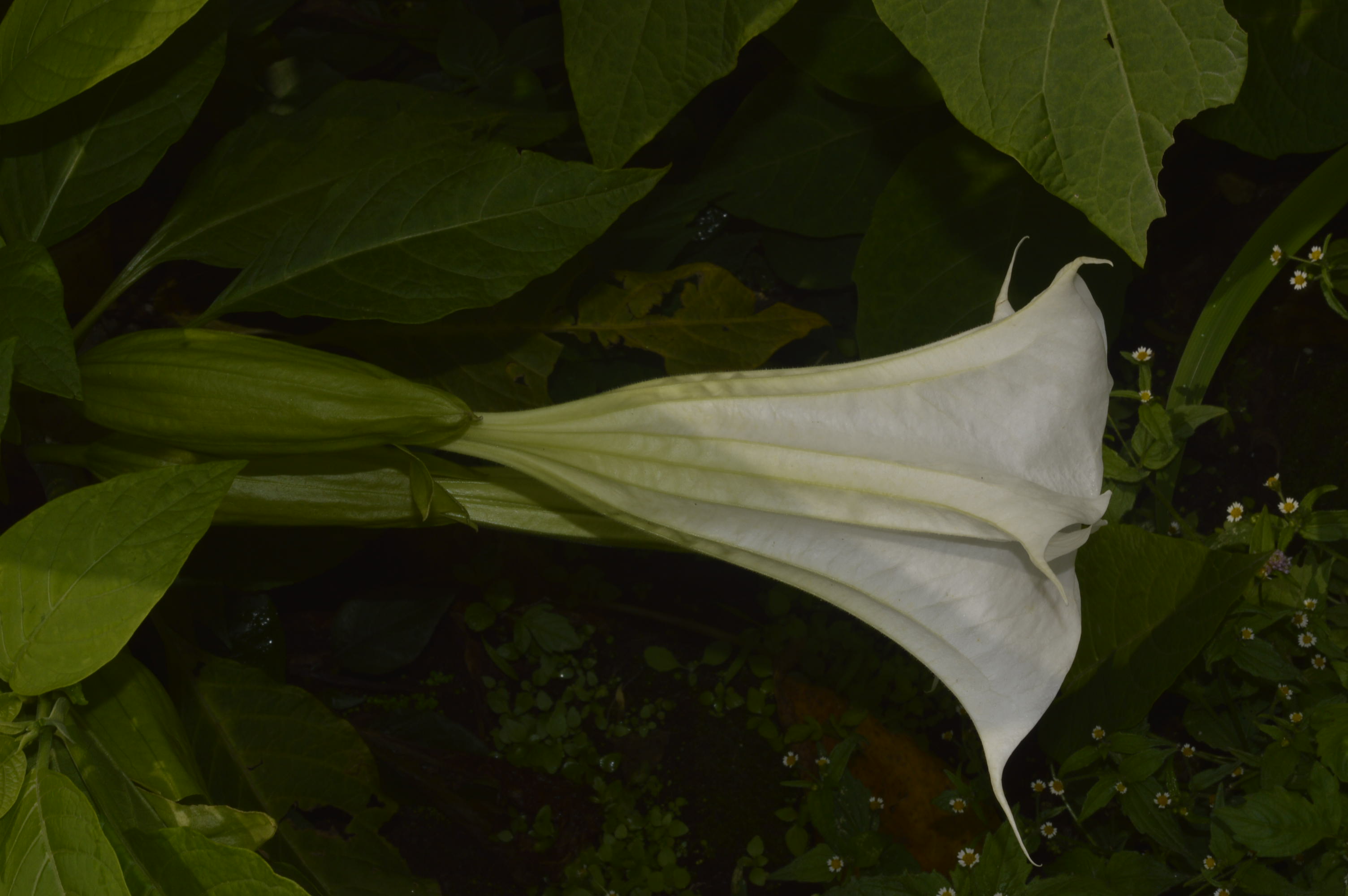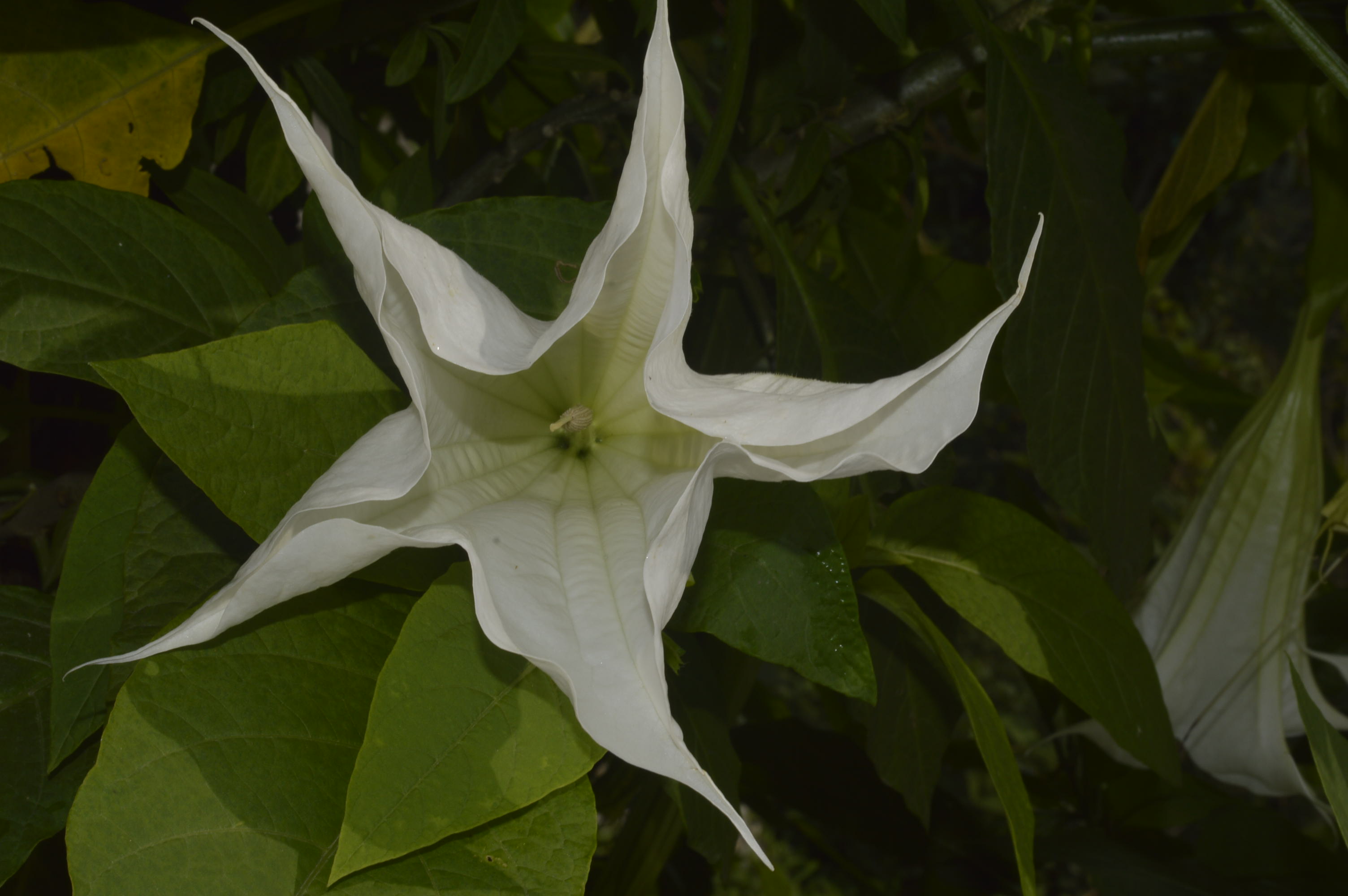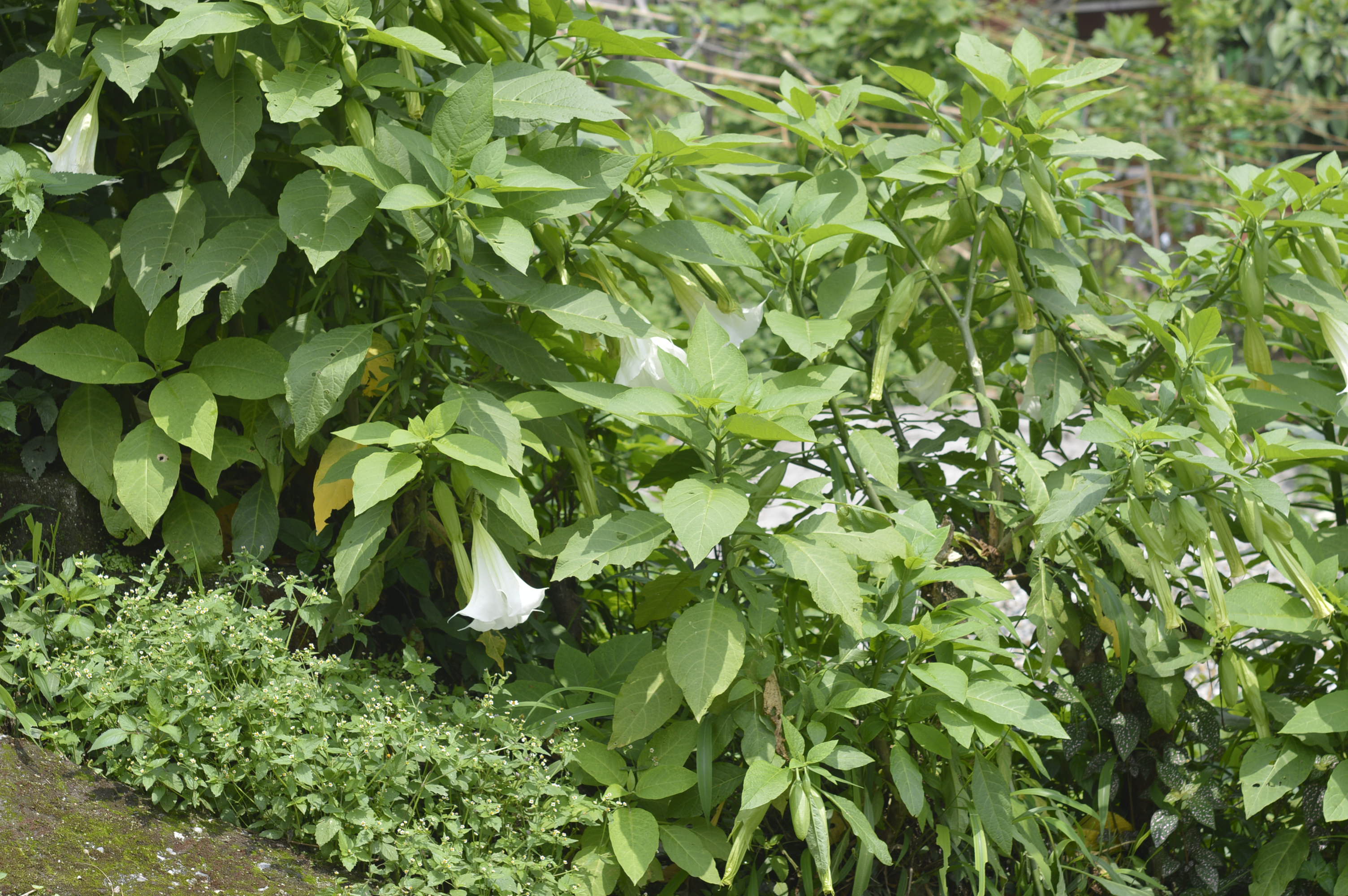 Brugmansia suaveolens (Humb. & Bonpl. ex Willd.) Bercht. & Presl ???
: 5 posts by 2 authors. Attachments
(4)
– around 700 kb each.
Location:  Soureni, India 
---
---
---
---
I hope Brugmansia candida as Calyx is almost half as long as Corolla, and flowers are larger

B. arborea
 flowers are less than 6 cm long, calyx spathe like, split on one side and almost 3/4 as long as corolla
---
Thanks …, for validating and analysing possible ID.
I am not able to reach any conclusion myself. I have gone by the most popular 
Brugmansia
 spp. that are grown as ornamentals in Maharashtra. And we cannot rule out hybrids. Thus can be 
Brugmansia x candida
. I will go with the ID that is resolved.
I will revise my notes shortly, to show the ID of 
B. candida
 as tentative.
---
---
Thank you very much …
I will revise my notes accordingly
---
.
---
---
I have already done the changes as per earlier post.
---
Corrected now.
---
---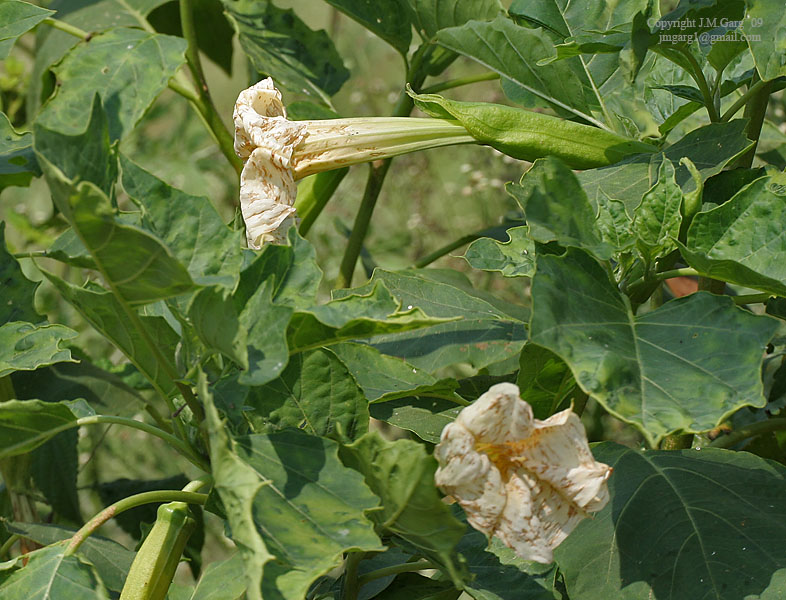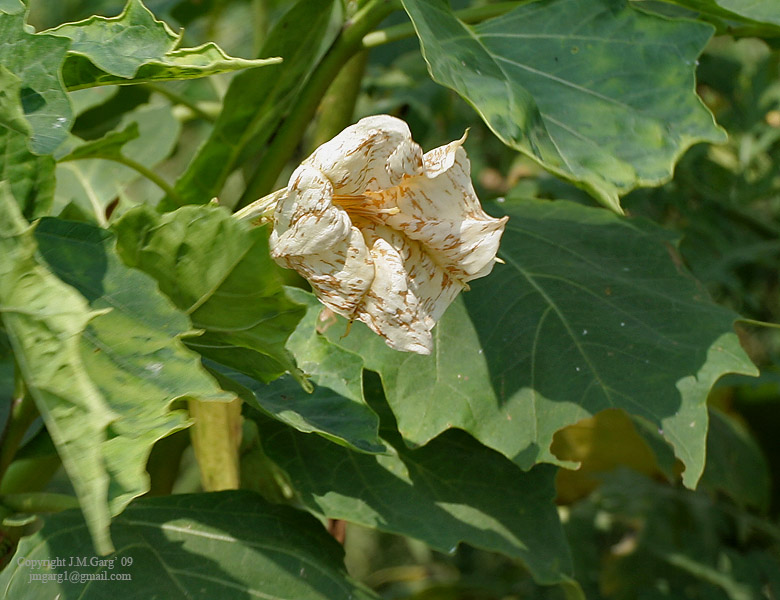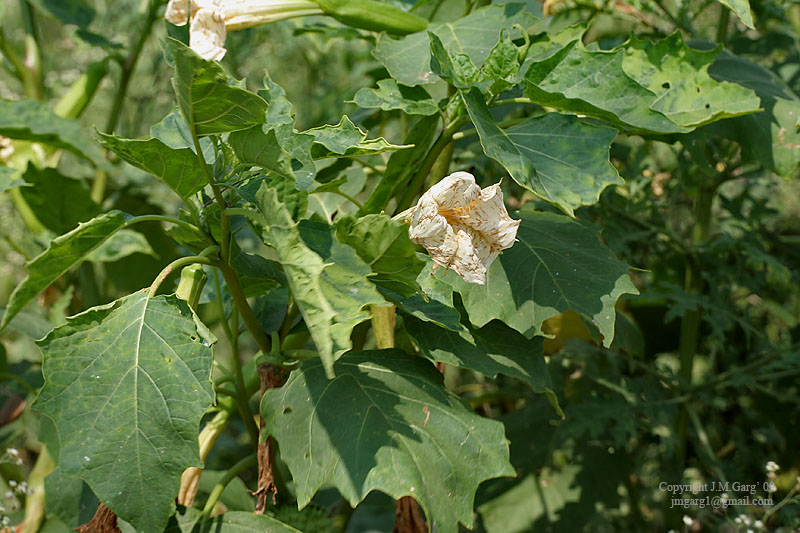 Datura for Id 250309JM1 – indiantreepix | Google Groups
:
In Krishna WS in A.P.
on the bund around a big lake.
---
Datura stramonium
---
I checked in BSI Flora of Maharashtra.
Your picture suggests that the corolla is more than 15 cm long(Guess……..)so it can not be D. stramonium.
If corolla is 15-27 cm long………………
a)Capsule without spines……………….D.suaveolens.
b)Capsule spiny :…………………………D. metel (Calyx evenly lobed)
D.inoxia (Calyx unevenly lobed)
---
But these doesn't have pattern on white petals as in my post. Or do they?
---
Ok Ok you mean to say that the flowers depicted by you have patterns….brownish spot. So it might be some other flower?
First of all I think it is Datura only. The patterns may be due environmental factors  or some infestation. If it is Datura then only one can apply the key from flora.
---
Calyx is different.
---
Petals are very long beaks and most flowers hanging in Brugmansia,
Petals with short beaks and flowers almost upwards in Datura.
---
Flowers appear to be hanging as can be seen from 2nd and 3rd images, with hanging buds (where flowers are not seen).
---
What about petals …, Observe here attaching B candida photo.
---
If you're still with Brugmansia,
I will spend some more time on this description level.
---
I think the calyx is most crucial here, as petals are not in its prime.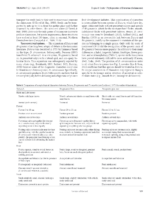 ---