India: Semi evergreen and moist deciduous forests of Western Ghats, up to 1200 m. Maharashtra, Karnataka and Kerala as per
BSI Flora of India
(1993);
Common name: Broad-Leaved Coffee-Plum • Marathi: तांबट Tanbat  
---
Acc. Flora of BSI Mah
(As per
efi thread
):
Styles absent (stigma sessile)…
F. latifolia
Styles distinct and conspicuous:
Tomentose young twigs; leaves turning brown on drying ….
F. montana
Glabrous young twigs; Leaves not turning brown ….
F. indica.
---
From Cooke's flora. the size of flower is a good additional differentiating character.
Drupe size of a cherry; scarlet when ripe ……………………….F. Montana
Drupe size of a pea;
Stigmas
5-11…………………………………………………………
F.Ramontchii
(syn. of
Flacourtia
indica
as per
GRIN
)
Stigmas 3-4…………………………………………………………..F.latifolia
few photos of a flowering thorny shrub is attached herewith for identification.
it is from mysore area.
---
is a
Flacourtia
sp. possibly
F.indica
locally called Tambat.
---
May be Flacourtia indica var. latifolia  OR, F. latifolia. 
---
Wild plant ID request – RK94 – 13-Jan-2013: Requesting identification of this spiny wild plant from Tungareshwer. It is around 3 – 4 feet tall. The leaves are leathery.
---
This is a species of Flacourtia possibly Tambat [F.indica].
---
Yes I am also thinking on … line of thinking.
---
Yes, I also think it's Flacourtia indica. A seedling or regrowth from a cut tree.
---
Small tree near Pandharpani in Chandoli Reserve Forest, Maharashtra.
Bot. name: Flacourtia latifolia
Family: Flacourtiaceae
---
I am seeing it for the first time.
---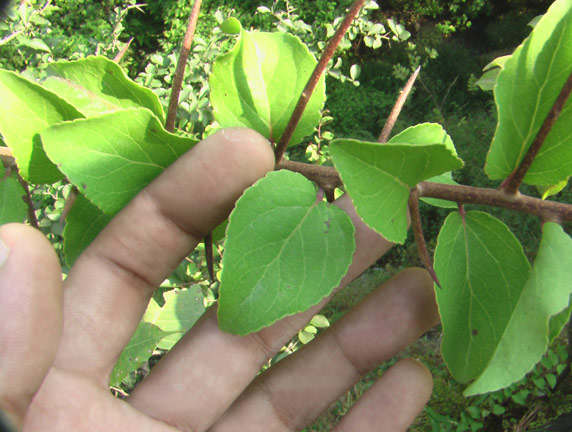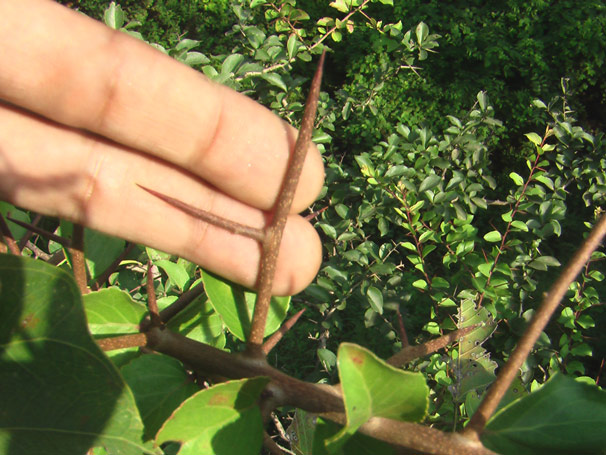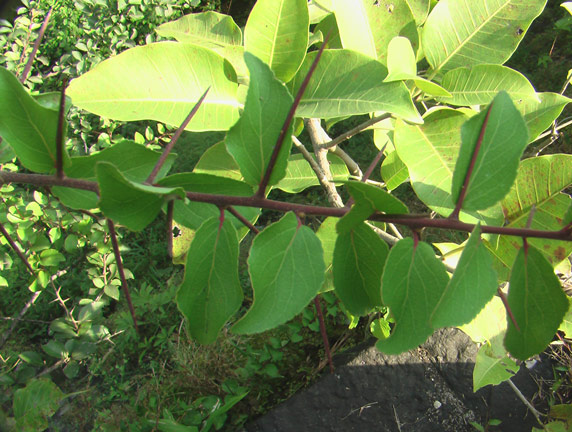 Shrub ID request – RK34 – 27-Oct-2012: Saw this interesting shrub growing near a marsh / wetland in Vasai region. Some of the thorns were branched as seen in the 3rd photo. Tks.
---
This is a species of Flacourtia possibly F. indica locally called Tambat. Please check the archives of this group for my photographs of this.
---
Appears more closer to images at Flacourtia latifolia than those at Flacourtia indica (Burm. f.) Merr.
---
Flacourtia?
---
Flacourtia
seen at a farm in Pali, Maharashtra.
Posted on our group earlier.
Identified by … as Flacourtia species, possibly Flacourtia indica.
---