Guaiacum
officinale
L. ,
Sp. Pl. 381 1753
. (Syn:
Guaiacum bijugum Stokes
;
Guaiacum breynii Spreng.
);
.
USA (Florida), Bahamas, Cayman Isl., Cuba, Hispaniola, Puerto Rico, Virgin Isl. (Anegada, Guana, St. Croix, St. John, St. Thomas, Tortola, Virgin Gorda), Lesser Antilles (Anguilla, Antigua, Barbados, Barbuda, Dominica, Grenada, Guadeloupe, Martinique, Montserrat, St. Barthelemy, St. Lucia, St. Martin, St. Vincent), Aruba, Bonaire, Curacao, Isla Margarita, Venezuela (Anzoategui, Apure, Aragua, Bolivar, Carabobo, Dependencias Federales, Distrito Federal, Falcon, Guarico, Nueva Esparta, Portuguesa, Sucre, Zulia), Guyana, Surinam, Colombia (La Guajira, Magdalena, Sucre, Valle), Southern Marianas (I) (Guam (I)),
Pakistan (I),
Vietnam (I), trop. Africa (I), Benin (I), Trinidad & Tobago (I)
as per
CoL
;
.
Florida, Panama to Venezuela and Peru, Caribbean:
Aruba, Bahamas, Cayman Is., Colombia, Cuba, Dominican Republic, Florida, Guyana, Haiti, Jamaica, Leeward Is., Netherlands Antilles, Panamá, Peru, Puerto Rico, Suriname, Trinidad-Tobago, Turks-Caicos Is., Venezuela, Venezuelan Antilles, Windward Is.;

Introduced into:

Ascension, Hawaii, Honduras, Marianas, Vietnam
as per
POWO
;
Guaiacum, Lignum vitae, Tree of life, Gum Guaiacum;

.
---
Guaiacum officinale L. flowering
:
Guaiacum officinale
L. –
Lignum vitae
seen flowering
at Rani baug, Mumbai
on 6 Feb. 2011.  
The small dark blue flowers turn white after fading.
---
– This plant is native to West Indies
---
– We have a white variety of Guaicum in Govt secretariat campus trivandrum, sorry I dont have a photograph with my end. Hope that also belongs to the same species?
---
– Possibly the same species … if the white flowers are the faded ones, initially dark blue. There are five ovate petals with acute tips. The fruit is initially green, flat obcordate capsules enclosing ovoid seeds and turn orange brown on ripening. Ref : Trees of Mumbai.
---
---
Guaiacum officinale:
Would like to share with you all, the pictures of Guaiacum officinale profusely flowering in south Mumbai.
---
– One good tree at Hyderabad Estate, Napeansea Road. It is senior central govt officers' colony.
---
– It is indeed Guaiacum officinale. In Chennai one can see this tree(s) in Theosophical Society Campus. This is the season.
---
– Nice to see the blue flowers with the details in photography, covering all the plant parts.
---
.
---
tell me is it flowering right now?
secondly can you take a pic of the whole tree?
and seeds? fruits, any yet???
---
… pictures are from Lalbagh, Bangalore I guess…
I have seen them in Jamaica.. is native of the islands, grows very v v v………….ery slowly… hardest of the woods, sinks in water, one of the two or three woods that I have seen that sink… has a terpenoid resin and oil that's good for the distal lung's functioning … and gets beautiful fruits and red seeds.. saw them at Miami and in a Costa rican collection… Kolkata was supposed to have had a couple but cant find them now… does not die so easily, so must mean some greedy guy got to them… highly prized in serious Herbal Medicine ….
---
These are from lalbagh too – I have seen only one tree, it should be the same
---
…both your tree looks like it is the same… I must make a pilgrimage to Lalbagh , esp when this tree flowers next… …: would you please tell me when that happens… will fly down… I guess it would be september.. so will keep it in my mind… do you visit lalbagh that often? since cant hang around bangalore all month… I guess it will have to be fine tuned based on your info… Thanks…
---
.
---
Seeds,Fruit,Pods of Guaiacum officinale – 110412m – RK2:
Seeds, Pods, Fruit of Guaiacum officinale – Tree of Life – Lignum vitae –
https://docs.google.com/document/edit
---
One near the main gate, on the right when you enter it.
I found one more tree in Lalbagh.
Another one near the bahuhinia racemosa, copper pods
---
I have seen this tree
in Rani Bagh Mumbai
, very close to the entrance.
---
---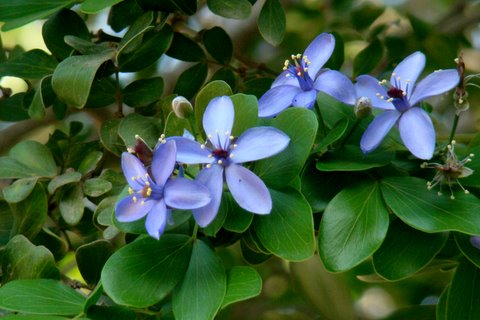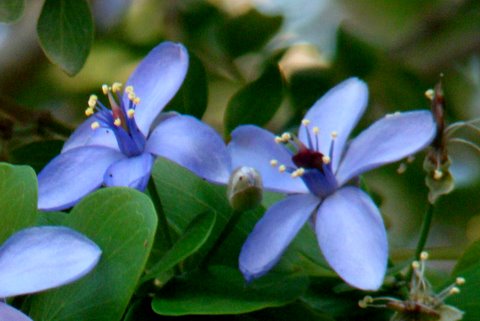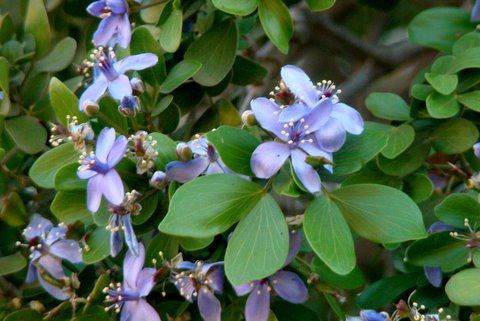 ID23122011phk:
Id please
A medium sized tree at Vijay-Vilas Palace Mandvi,Gujrat
---
Beautiful pictures of Guaiacum officinale (Zygophyllaceae).
---
This is the 'Tree of Life' [Lignum vitae].
---
yes Guaiacum officinale (Zygophyllaceae) as suggested by … and yes its common name is Tree of life as suggested by …,,
In Mumbai (Victoria Garden (VG) has a row of this tree in front of Wooden conservatory in VG)
The flowers are very beautiful when in full bloom.
---
---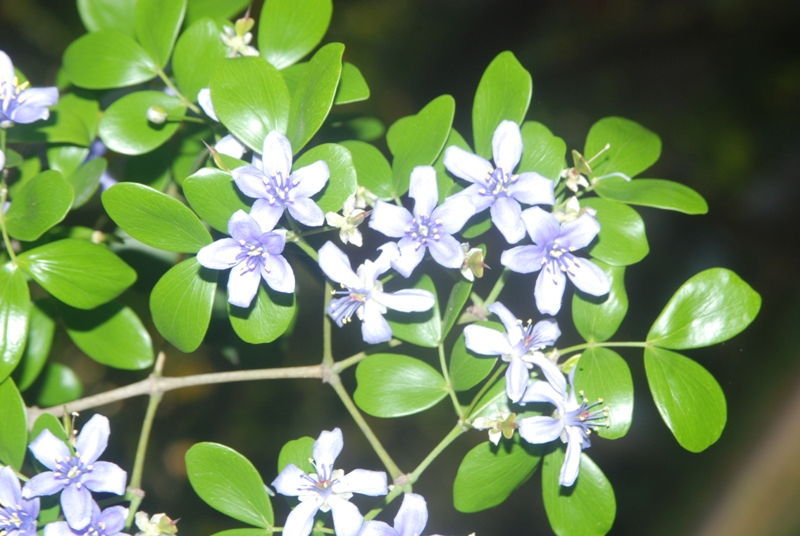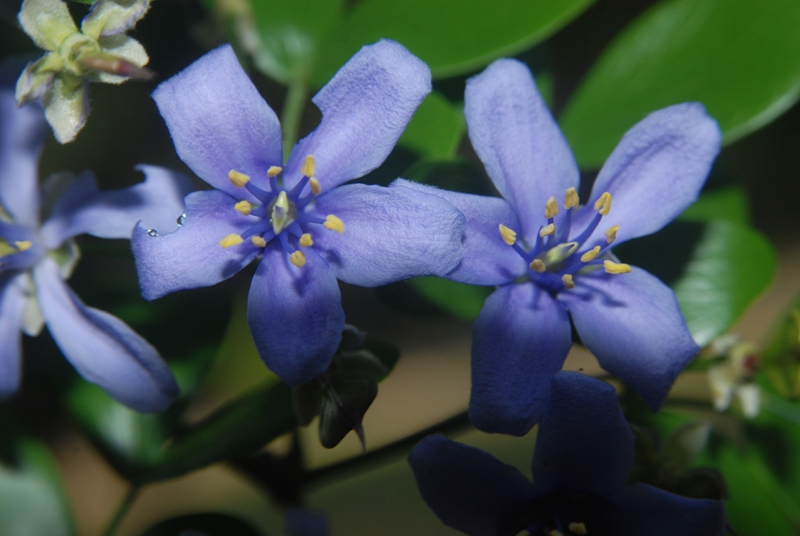 07042013 BRS 472
 : Attachments (2). 2 posts by 2 authors.
Pl. find the attached file contain photos for id. confirmation.
Date: 01.04.2013
Location Adyar, Chennai
Habitat: Garden
Habit: small tree
---
Guaiacum officinale, commonly known as Roughbark Lignum-vitae,[3] or Gaïacwood, is a species of tree in the caltrop family, Zygophyllaceae, that is native to the Caribbean and the northern coast of South America.[2]
We have a white variety of the species at Govt secretariate campus in Trivandrum, Kerala
---
---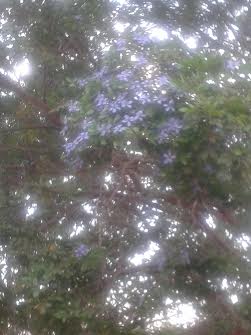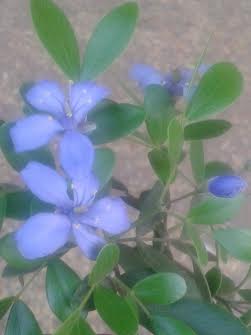 Tree ID : 2 posts by 2 authors. Attachments (2).
This
tree
was found
in Coimbatore city.
Medium sized tree, with cement colored rough bark.
Blue colored Actinomorphic Bisexual flowers, 5 petals, polypetalous, 5 seperate sepals, 8 stamen arranged in a circle around the stigma. Hypogynous.

Leaves opposite pari-pinnate, thick dark green leaves, Elliptical, individual leafs do not have leaf stock. Leaf surface smooth.
Tree resembles
Murrya Paniculata
in general appearence (but flower blue in color, but no fragnence), 
Flower petals fall off easily,
seed similar to that of
Murrya paniculata
.
Apologies for the poor photograph and also I am not a Botanist… My expressions may be a bit odd.
---
Location: Venkataramnaguddem, Andhra Pradesh

Date: March 2016
---
Guaiacum officinale L. [Zygophyllaceae].
---
---
References: