Kalanchoe daigremontiana Raym.-Hamet & H. Perrier, Ann. Mus. Colon. Marseille 2: 128-132 128 1914.;
Devil's backbone
Glabrous herb up to 1 m tall with 10-25 cm long oblong-lanceolate leaves, purple blotched beneath, serrate on 3-5 cm long petioles, with bulbiferous spur at each leaf notch; flowers purplish, 20-30 mm long, on compound panicle.
---
Date/Time- August 2011
Location- Place, Altitude, GPS-Pune
Habitat- Garden/ Urban/ Wild/ Type-Garden
Plant Habit- Tree/ Shrub/ Climber/ Herb- small plant
Height/Length- 1.5 ft
Leaves Type/ Shape/ Size-green with serrated margins
Flowers Size/ Colour/ Calyx/ Bracts- small purple along the leave edge
---
I hope Kalanchoe gastonis-bonnieri
---
This is Donkey ear Kalanchoe…. …  binomial is Kalanchoe gastonis-bonnieri as … just said… the violet things on the edges of the leaves are not flowers…. they are sort of bluish green …dark… little baby plants…you take one of the leaves and put it flat on the soil and pin it down with a hairpin at two ends so that the underside of the leaf edge remains in contact with soil , seep it moist, you will have  10- 20 new plants…
THE REAL FLOWERS of this Kalanchoe develop  on a long spike.. in summer… red flowers  develop.. go to Dave's garden site and look… they  will have a lot of pictures…
---
I think it should be Kalanchoe daigremontiana as per the following:
---
Thank you for the Id help
---
.
---
Succulent ID request:
Can anyone identify this succulent. Note the purple pattern on the under side of the leaf.
---
Kalanchoe daigremontiana
---
---
SL 53 271113
: Attachments (1). 3 posts by 3 authors.
Please ID this succulant
Crassulariaceae
.
Bryophyllum
sp? Photo was taken
from Sri Lanka
in Sep 2012.
---
Yes, it may be Kalanchoe daigremontiana (= Bryophyllum d.).
---
---
Pl. mention place, date etc.

Pl. also check with images at
Kalanchoe daigremontiana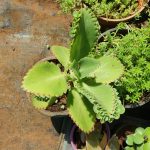 Ornamental Plant for ID : Nasik : 15JAN22 : AK – 24
: 1 image.
Ornamental plant seen at a plant nursery
in Nasik.
Bryophyllum
Species.
Bryophyllum pinnatum
?
---
Kalanchoe daigremontiana Raym.-Hamet & Perrier !
---
A very common succulent …, commonly known as Mother of thousands because of numerous bulbils along leaf edges.
Kalanchoe daigremontiana Raym.-Hamet & Perrier !
---
I know this plant well but as Bryophyllum.
---
I know that …, you are one of our most knowledgeable explorers. Plant names keep on changing so fast that is is difficult to keep a track of them.
---
Very true indeed.
That the names keep on changing.
---
References: