---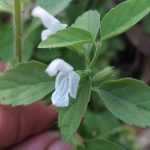 Need Id of white flower found next to perennial waterway: 2 images.
Bhopal
8/4/2021
---
Leucas biflora
---
.
---
123 ID wild plant Lamiaceae: 13 images.
Please ID wild plant, very rare here,
Location: near Reserve Forest, Chathamattom, Ernakulam District, (Kochi) Kerala PIN:686671
Altitude: 1400fsl
Flower date: 04.08.2021, 08.30am
Habitat: wild moisture
Plant habit: small shrub, erect, branches, slender weak angular stem, hairy, annual
Height: 01 feet
Leaves: opposite, heart shaped, apex, toothed margin, hairy, size:3.5×2cm or less
Flower: diameter:03mm, white, fallen after 24 hours, an yellow spot appears after 20 hours, non fragrant
Fruit: cone shaped, green into brown, size:7×3mm
Seed: brown, 2 nos., nice
Camera: Samsung Galaxy A21s
---
Leucas
---
Thank you very much for ID suggestion.
No, it's sepal's mouth is almost clear, but my plant's is toothed
Stigma colour is black, but my plant's is remains yellow, even if it falls down
Leaves are lengthy, my plant's is heart shaped
My plant is less hairy
Lastly, overall flower design is very different, my plant's flower is very beautiful and transparent than that.  Please check,
---
Id has been confirmed by Expert, Sunoj ji, on Leucas in India.
---
The differences noticed by me are not differences?  Or otherwise post any one flower image like mine, then I agreed.
---
Thank you very much for the ID confirmation of my wild plant,
---
Yes, it is L. bifolia dear … Yesterday some net problems, I can't read the entire postings L. Bifolia in efi.
---
To validate Leucas sp.
: 4 images- 2 Heic.
A stranling herb
seen at
Pavagadh hills, Gujarat on 25 Jun 2023.
Kindly validate Leucas sp. for me.
---
Leucas biflora (Vahl) Sm. It is known to grow in a diffuse, pendulous manner on the walls of Pavagadh.
---
1 jpg image.
---
---
.
References: 
The Plant List  Flowers of India  India Biodiversity Portal  Bizhat
Flora of Medak District, Andhra Pradesh, India By T. Pullaiah, Chintala Prabhakar, B. Ravi Prasad Rao (Description & Keys- Leucas biflora, stricta, cephalotes, aspera, zeylanica & nutans)
Plant Wealth of the Lower Ganga Delta: An Eco-taxonomical Approach, Volume 2 By Kumudranjan Naskar(Description & Keys- Leucas lavendulaefolia (lavandulifolia), biflora var. procumbens, aspera, nutans & cephalotes)