Images by Promila, ID by Alastair Culham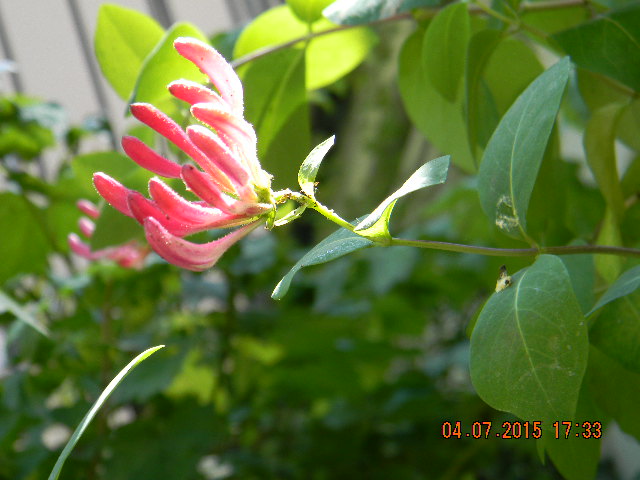 ---
Lonicera periclymenum, common names honeysuckle, common honeysuckle, European honeysuckle or woodbine, is a species of flowering plant in the family Caprifoliaceae native to much of Europe. It is found as far north as southern Norway and Sweden. In the UK it is one of two native honeysuckles, the other being Lonicera xylosteum. 
Growing to 7 m (23 ft) or more in height, it is a vigorous
evergreen
twining
climber
.  It is often found in woodland or in hedgerows or scrubland. The tubular, two-lipped
flowers
[

2

]
are creamy white or yellowish and very sweet smelling (especially during the night). The plant is usually
pollinated
by
moths
or long-tongued
bees
and develops bright red
berries
.   
L. periclymenum
is one of several honeysuckle species valued in the garden, for its ability to twine around other plants, or to cover unsightly walls or outbuildings; and for the intense fragrance of its profuse flowers in summer. It needs to be planted with its roots in the shade, and its flowering top in sun or light shade. Plants need to be chosen with care as they can grow to a substantial size.
[

2

]
The
cultivars
'
Graham Thomas
'
[

5

]
and 'Serotina'
[

6

]
have gained the
Royal Horticultural Society
's
Award of Garden Merit
. 
---
---
Here is another set of snaps taken from the residence where I am staying.
Please Identify.
---
honey suckle
---
Check for
Lonicera sps (
Lonicera x heckrottii )
Everblooming Honeysuckle, Gold Flame Honeysuckle.
Yes, honeysuckle,
Lonicera periclymenum
---
Thanks for the binomial. I appreciate it.
---