---
This looks like South Indian Mohua [Madhuca longifolia var. longifolia].
---
Madhuca longifolia for sure…
---
---
efloraindia: Madhuca longifolia from Coimbatore:  Sharing the images of Madhuca longifoliafrom NBNP, Coimbatore.
---
.
---
How to identify 2 different species of Indian butter tree.
Leaf shape. You will find the difference at the earlier given link.
---
id250913niju1
: Attachments (2). 1 post by 1 author.
id pls ….

i think it is an 
exotic one,
 not flowered yet… 
from THRISSUR., KERALA
---
Resembles Madhuca longifolia
---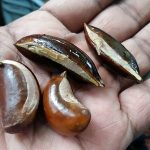 Different shapes of Madhuca longifolia var. longifolia seeds
: 1 image.
Found
in Thiruvadisoolam near Chennai
in the month of July.
---