Memecylon grande Retz., Observ. Bot. (Retzius) iv. 26.;
This species was found in eight forest sites during the extensive forest surveys conducted for the National Conservation Review.
A rare tree
confined to lowland wet evergreen forest.
(From 
IUCN Red List (VU)
Citation- World Conservation Monitoring Centre 1998.
Memecylon grande
. In: IUCN 2013. IUCN Red List of Threatened Species. Version 2013.2. <
www.iucnredlist.org
>. Downloaded on 31 May 2014.)
Requesting to please ID this
Memecylon
species captured
growing wild
near Devgad, Maharashtra in May 2014.
This was my first sighting of this species, it was very unexpected. Could not believe that this could exist in my backyard so to speak.
The pics are of different plants spread over a small area.
---
Memecylon ?edule
---
Yes it is Memecylon edule
---
Thanks, …, Are these images also of Memecylon grande ?
---
Yes
---
Memecylon trees were both fruiting and flowering in March 2016. Attaching some pics clicked in March.
The pics are not of the same individual as the earlier pics but from the same locality. Attachments (14)
---
Thank you … for providing correct ID. Could we ask … to kindly indicate the distinguishing features?
---
---
---
0075- M. umbellatum
3269 &1010159- M. edule
3794 & 4209 – M. grande.
---
---
first week of march, 2013
just starting to flower
---
I think it is Memecylon edule not M. umbellatum
---
some information that I could glean from the net
and from indiantreepix
There are two ways to confirm the id:
1. If the inflorescence is more or less sessile (stalkless) and the fruits are ripening blue (pl check Mathew, 1983), then it is Memecylong umbellatum. In M. edule the umbels are long stalked and the fruits are yellowish.
2. When you taste the leaves of M. umbellatum they will be sweet first then slightly sour. This is due to the presence of good amount of starch in the leaves. And Dr. Mali observed that the hornbills feed on the leaves (especially the midrib portion) as they are energetic. The leaves of M. umbellatum are offered as 'prasadam' (like tulsi in temples) to the devotees by a saint (Shri Narayana Guru) who lives on the holy hill of Tiruvannamalai. The local names Kaya, Kayambu, Kayampoo are denoting Lord Krishna due to the color of flowers.
---
I was believing that a large poulation what we see in Mahabaleshwar at many places is Memecylon umbellatum. Need to check carefully.
---
After years of looking at this species I have come to the conclusion that M umbellatum and M edule are synonymous. The plant has some local and seasonal variations. Fruit colour depends largely on the season of
ripening, and length of stalks varies from tree to tree even in a localised area.
---
Oh, …, are these not different species?
---
memecylon grande
Taken at Mahabaleshwar, Maharashtra on the 19th of April, 2009.
Could not get the flowers.
---
This could be fruits of Memecylon umbellatum.
---
yes look like Memecylon umbellatum
---
Can you please validate this Memecyclon posted earlier?
Picture taken in Mahabaleshwar.
Suggested id was M. umbellatum.

Adding more pictures
.
Attachments (4)
---
Memecylon sp.
: 7 posts by 5 authors. Attachments
(5)- around 850 kb each.
Found in
Auroville

Botanical garden

this summer (3.5.19)
---
could … give us a easily understandable key? please
---
Seen
near Venna lake in Mahabaleshwar, MH in March 2020.
I guess I saw it much early in the season. Another 20-25 days ahead, it would have been a sight to behold I guess.
Is this Memecylon grande?
Would like to understand if there is a way to differentiate between the M. edule, M. umbellatum and M. grande
Requested to please validate.
---
M. grande Retz
---
This shrub was observed and recorded long back. No other details possible now.
Is it some ficus or Memecylon sp. ?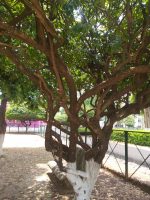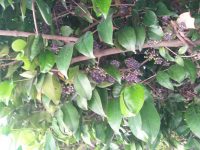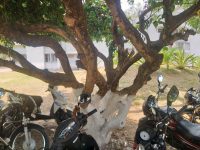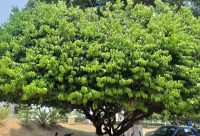 Memecylon edule Roxb. SN10622
: 4 images.
Memecylon edule
Roxb. several year old trees
from a garden
Ranchi
---
Memecylon grande Retz.
---
References: