---
Erect or diffuse herbs to 30 cm long, rooting at lower nodes. Leaves 1.2-5 x 0.7-1.8 cm, ovate-oblong or lanceolate, base subamplexicaule, apex acute or subacute; sheath to 1 cm long. Flowers axillary, 1-4 together; pedicels to 8 mm long, jointed below the middle. Sepals 3, c. 3 mm long, oblong. Petals 3, brownish-yellow, ovate, obtuse. Capsule 3.5-5 x 2-2.5 mm, oblong, obtuse. Seeds angular, dark brown, rugose.
Flowering and fruiting: August-September
Peninsular India (Endemic)
Another pale orange Murdannia … querying for ID because cannot see the usual black anthers.
ID please.
Date/Time : October 2, 2009 at 10.27am IST
Location Place : near Lion's Point, Lonavala
Altitude : about 791 m (above mean sea level)
GPS : around 18°42'32.71″N, 73°23'20.34″E
Habitat : patch of low herbs and grass
Flowers
Size : about one-third to one-half of the regular 12 – 15 mm Murdannia lanuginosa
Colour : exactly same pale orange of Murdannia lanuginosa
Calyx : here, they appear as large as the petals, unlike in Murdannia lanuginosa, only the tips of calyx are seen.
Bracts : do not know.
---
Murdannia crocea.
---
Just to add, crocea means saffron coloured.
---
Shrikant ji, in your FFOS, Murdannia crocea has three black anthered filaments which are missing in the flower here.
Would this be M. versicolor ?
---
This may be Murdannia crocea subsp. ochracea.
Actually I have seen number of populations and I found colour character as well as enantiostyly is not constant need to detailed analysis and one thing I want to mention about these single flowered or fascicled cinicinnus species are stands too far from Murdannia' s which expected and to Royle.
---
---
Species- Murdannia crocea subspecies ochracea
Family – Commelinaceae (deyflower family)
Habit –

small herb

smiliar to

M. versicolor

but differ by having small habit, more ovate leaves, white antherodes and biseriate seeds in a locule
Habitat –

Grassland in hills or plateau
Place –

Rajmachi fort , Lonavala , Maharashtra
Date –

September 11 / 2011
Flowering – august to september
Identification credit : Mayur Nandikar (Kolahpur)
---
Kindly help in Id.
location:aambyvalley rd.,lonavala,pune
height:about 1ft.
---
Murdannia species in eFloraofindia (with details/ keys from published papers/ regional floras/ FRLHT/ FOI/ Biotik/ efloras/ books etc., where ever available on net) 
---
Apparently look likes Murdannia crocea subsp. ochracea
---
.
---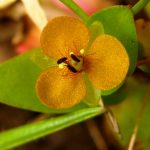 ---
---