Daffodil, Chinese Sacred Lily, Bunch-flowered Narcissus, Joss flower;
, 
---
Narcissus tazetta from Delhi
:
Narcissus tazetta
L., Sp. pl. 1:290. 1753
Displayed in
Delhi University

Flower show

on February 25, 2011
Another Temperate plant often cultivated in Delhi in winter.
Characterised by scape with usually more than 4 flowers, smaller flowers with yellow crown usually shorter than one half of perianth segments.

Common names:
bunchflower daffodil, bunchflower narcissi, Chinese sacred-lily 
---
---
Narcissus tazetta 'Paper white' from Delhi
:
This cultivar of
Narcissus tazetta
was displayed
at Delhi

University Flower Show

on February 25, 2011

It is
characterised by flower with small white coloured corona, the whole flower looking like white paper.
---
Thanks a lot for your nice exposition of the species of Daffodils, or Nargis as it is called in the Indian subcontinent and West Asia. I had been seeing different species, but could never sit down to sort out species from cultivars.
---
---
Narcissus species from Paddar valley J&K:
Sharing some early spring flowers of Western Himalayas
Kindly confirm ID
Bot. name: Narcissus tazetta
Family: Amaryllidaceae
Location:
Paddar valley J&K.
Date: 3rd April 2012

Altitude: 2400 meters asl
Common names: Bunchflower daffodil
Bulbous plant with strap-shaped leaves, flowers borne several on a scape, like a bunch, smaller white flowers with yellow corona much smaller than perianth and less than 10 mm wide.

Photographed
from Gulmarg, Kashmir.
The cultivar of d Narcissus with white petals n yellow cups z – Laurens Koster. So it z – "Laurens Koster Tazetta Narcissus".
N d cutivar of Narcissus with orange cups z Geranium. So it z – Narcissus 'Geranium' / Tazetta Daffodil Geranium
Attaching mine pics of Narcissus tazetta from Cardiff, UK.
---
this makes me nostalgic…
"All things bright and beautiful, all creatures great n small
All things wise n wonderful, the good God made them all "
A very heart touching irish hymnal also currently used by and from United Church of Canada, I particularly like the " The purple headed mountain,
The river running by," in a later stanza…
Love everything Mrs Cecil Alexander wrote way back when…
we sung it in our school, our Irish nun teachers and Mother Superior were all very good singers…
---
---
Location: Gyaneswor, Kathmandu, Nepal
Nepali Name : 
गुणकेशरी  Gunakesharee
---
Location: karta, Jammu Kashmir
Habit : 

herb


Altitude : 5000ft

---
Narcissus Sp.
---
---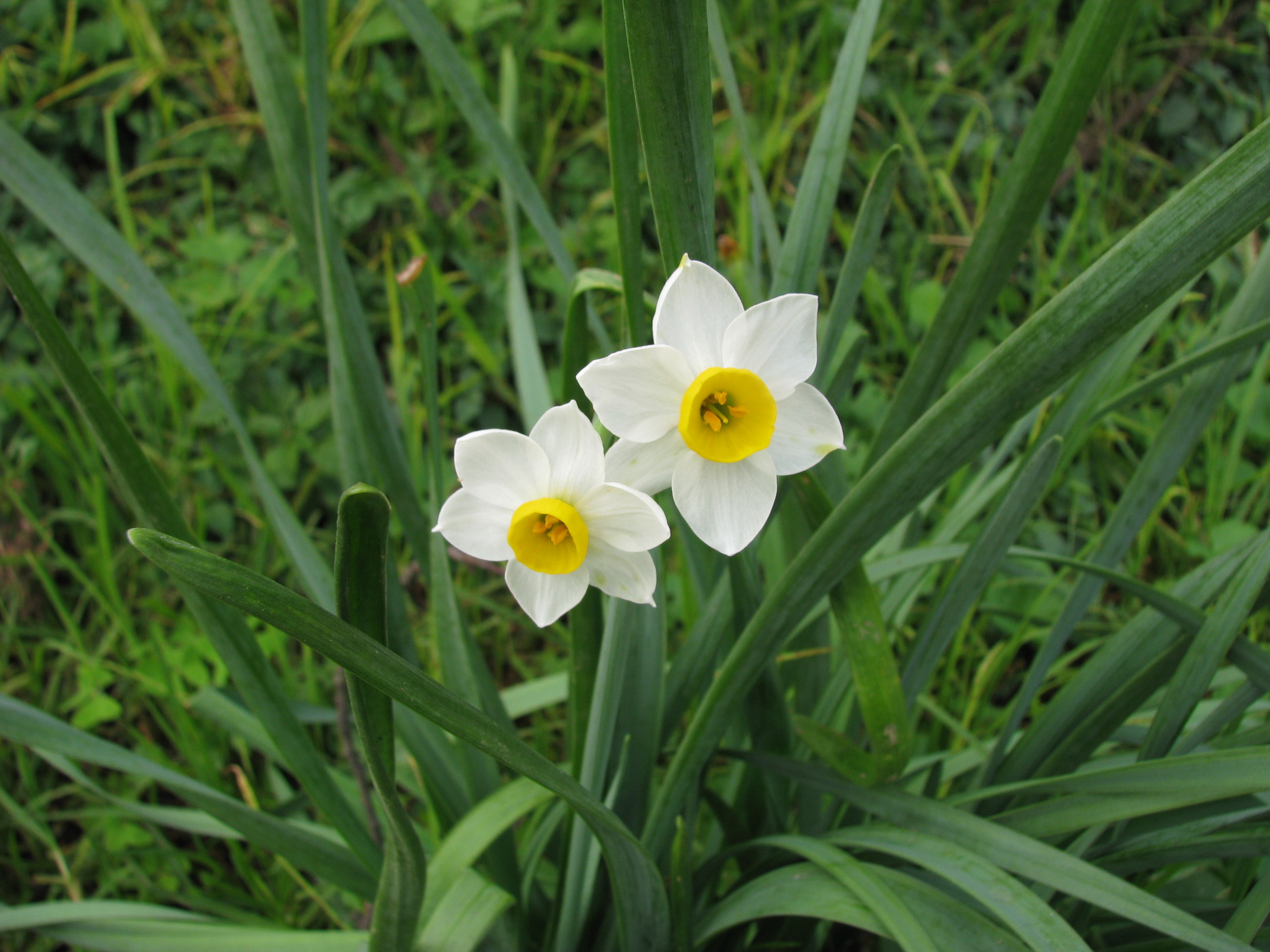 Narcissus tazetta
: 2 images.
Location: Ganderbal J &K
Date of Collection: 13-03-2022
Habitat: Terrestrial

Kashmiri name:
Yimberzal.
References: