Peganum harmala L.
,
Sp. Pl. 444 1753
. (Syn:
Harmala multifida All.
;
Harmala peganum Crantz
;
Harmala syriaca Bubani
;
Peganon harmalum (L.) St.-Lag.
);
.
Medit. to Mongolia and India:
Afghanistan, Algeria,
Bangladesh,
Bulgaria, China North-Central, Cyprus, East Aegean Is., East European Russia, Egypt, Greece,
India,
Inner Mongolia, Iran, Iraq, Italy, Kazakhstan, Kirgizstan, Krym, Kuwait, Lebanon-Syria, Libya, Mongolia, Morocco, North Caucasus,
Pakistan,
Palestine, Qinghai, Romania, Sardegna, Saudi Arabia, Sinai, South European Russi, Spain, Tadzhikistan, Tibet, Transcaucasus, Tunisia, Turkey, Turkey-in-Europe, Turkmenistan, Tuva, Ukraine, Uzbekistan, West Himalaya, Xinjiang, Yemen, Yugoslavia;
Introduced into:
Cape Provinces, Colorado, France, Hungary, Nevada, New Mexico, Texas
as per
POWO
;
Common name:
 Harmal, Syrina Rue, Turkey red • 
Hindi

:
Harmal, Isband, Isband Lahouri • 
Kannada

:
eeme goranti •
Ladakhi

:
སེཔན Sepan 
Marathi
: Harmala • 
Sanskrit

:
haramala, soma • 
Tamil

:
simaiyalavinai, simaiyaravandi, cimai alavanam • 
Telugu

:
shima-goranti-vittulu • 
Urdu

:
Ispand, Aspand, Tukhm kunch hi maing
.
---
Date/Time: 15-09-2011/13:00hrs
Bot. name: Peganum harmala
Family: Zygophyllaceae
Habitat: Wild
---
Yes … I had photographed this from Ganganagar in Rajasthan. Is very common along graveyards in Srinagar, Kashmir. A plant of dry places.
---
Yes … the plant is present in both cold and hot deserts of India
---
---

Image from Bhasker Punjani : 7 posts by 3 authors. Attachments (1)
Sir, Please ID the Plant.
---
Thanks, … May I request you to pl. submit where, when & habitat etc.
---
… just a guess … could this be Portulaca ?
---
A reply based on location as
Gujrat:
"This is
Peganum
harmala
 L. Family –
Nitrariaceae
; locally known as
Harmal, Harmalo, Ispand
."
Peganum harmala L.
 : 3 posts by 3 authors. Attachments
(4)

Sharing some pictures of 
Peganum harmala
L. shot
at the Magnetic Hill Leh on 20 August 2014.
---
Never seen in nature. Thanks for showing this species.
---
As "light relief" from more complicated and time-consuming genera combined with the pleasure of viewing 'habitat' images in the mountains, I have been taking a further look at specimens photographed
in Baltistan
(part of which is in the Karakoram Range not the 'Himalaya' or 'Trans Himalaya').
Whilst there have been a number of postings of good images of Peganum harmala in flower on eFI none, as far as I can see, at the fruiting stage.
I consider it enriches the data-base by having images both of flowers and fruits for each species AND habitat shots. 
Plants are not always conveniently in flower when we come across them, so RELIABLE images of foliage and fruits are invaluable plus knowing WHERE a plant grows is important.  Names of identified plants, lists and floras can be awfully 'dry' reading!
This plant grows under similar conditions in the Upper Indus Valley near Leh.
Flowers of the Himalaya say this species is found from Afghanistan to Kashmir, C & W Asia, Europe & N.Africa.
Stony ground & wasteland

@ 300-2400m (obviously a mistake as the lowest part of Ladakh is 2700m); the authors say prominent along the Indus Valley in Ladakh & in Kashmir Valley.
Given its wide distribution, it would not come as a surprise to find it sub-divided into various taxa in the future.
I note that 'The Plant List' has this under the family NITRARIACEAE – I knew it previously within Zygophyllaceae.
In FBI it was placed in Rutaceae.

Stewart knew it from Pakistan incl. Baluchistan where it is widespread.

Vernacular name:
'harmal'
.

Desert areas to 3300m.
---
---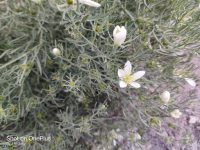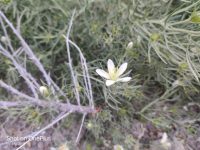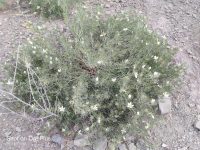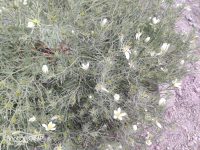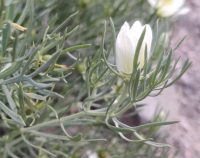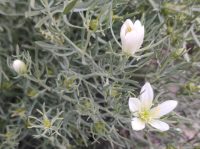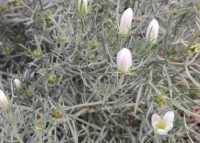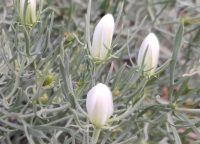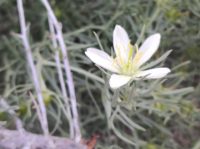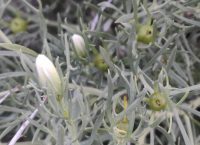 Peganum harmala- Ule, Ladakh
: 14 images- 9 high res.
Along the roadside
near Indus,
in Ule (10,000 ft.) Ladakh, on 14.6.22.
---
Peganum harmala
---
Yes …, beautiful capture
---
Mine from Karan Pur Rajasthan
[efloraofindia:32591] Peganum harmala from Sri Karan Pur, Rajasthan (google.com)
---