---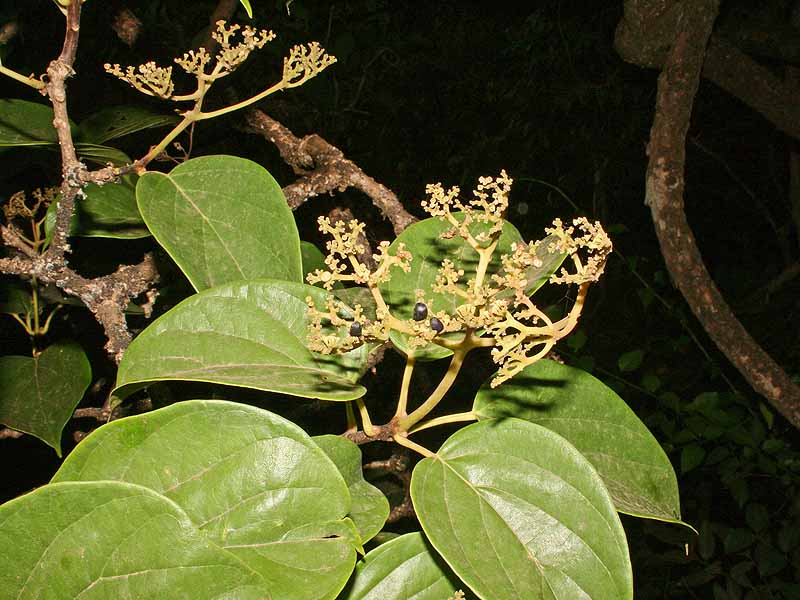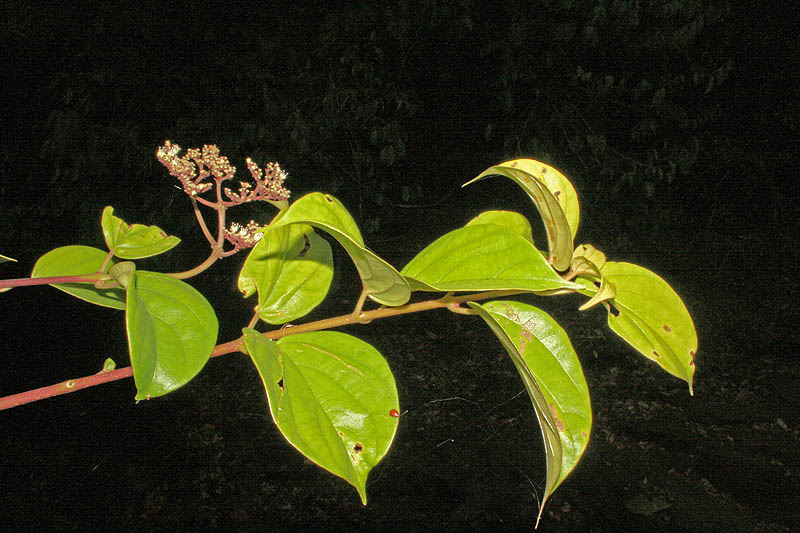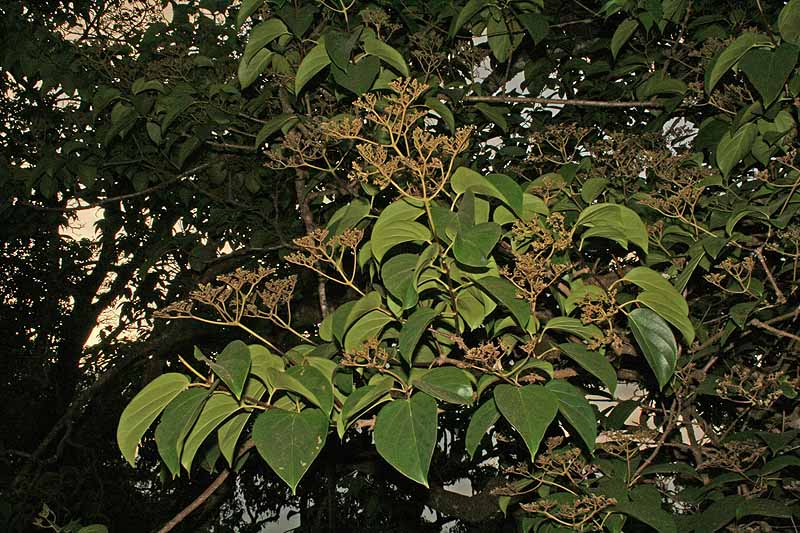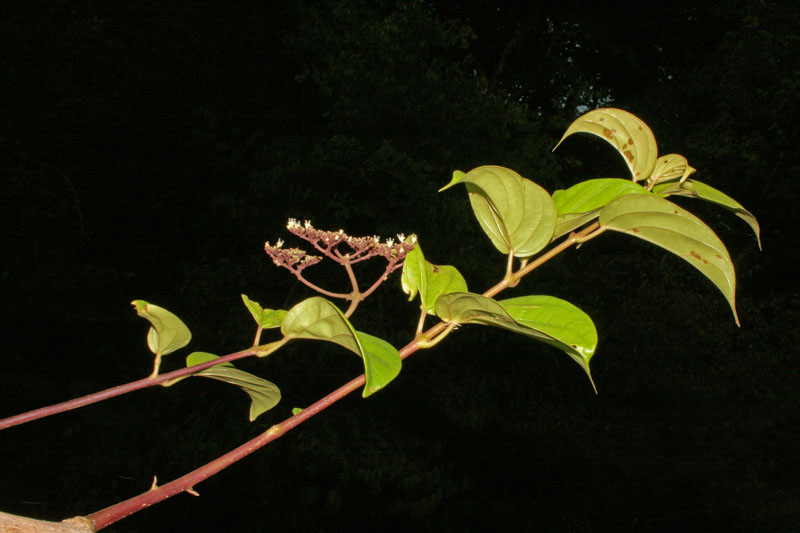 Plant for ID 4 SMP 30May 2010 – efloraofindia | Google Groups
 : 14 posts by 6 authors. Attachments
(4
)

Large tree in Amboli for ID.
| | |
| --- | --- |
| Date/Time- | 30/05/2010 5:00 Pm |
| Location- Place, Altitude, GPS- | Amboli, Near Nangartas waterfall point |
| Habitat- Garden/ Urban/ Wild/ Type- | Wild |
| Plant Habit- Tree/ Shrub/ Climber/ Herb- | Large tree |
| Height/Length- | 15 meter |
| Leaves Type/ Shape/ Size- | Simple alternate. Cordate base. Dark green. |
| Inflorescence Type/ Size- | Compound |
| Flowers Size/ Colour/ Calyx/ Bracts- | 0.5cm  White |
| Fruits Type/ Shape/ Size Seeds- | Oval Black 0.5cm |
---
I think the leaves are opposite and not alternate as written wrongly earlier.
---
Could it be a Viburnum species?!
---
Most probably Viburnum acuminatum (Caprifoliaceae). Please check following characters.
1. Corolla rotate or tubular
2. Leaf margins recurved
3. Leaves (beneath) branchlets and inflorescence are covered with round peltate scales.
---
This is Premna coriacea C.B.Cl. of family Verbenaceae. It is an extensive climber found occasionally in dense forests of Western ghats.
---
But …, in his description, said that it is a Tree! That is why I think it is not Premna.
---
Even i think the posted photos is of Premna coriacea, it is a straggling climber.
… please check the habit of the plant, may be the plant has climbed on some other tree, giving tree like appearance…
---
Thanks everybody for going into great research work.
I agree that the inflorescence does look like from Genus Premna.
As far as I remember this was definitely a tree….unless if it happens to be a great big climber engulfing whole of the tree that no leaves of the original tree are visible (or which may have dried)
Please take a look at the IMG_9451 and the newly added IMG 9453 which show large woody branches.
If anybody from the group happen to be in Amboli please visit the Nangarts. The branches of this tree surround the temple present there from almost all sides and one can easily take the pictures of the foliage. of this unmistakable plant(?)
---
IMG 9453 is not available!
As you doubted the genus Premna grows as if it is a branch of the host tree. It would be apt to call strangler rather than climber! But Gamble says it can be trees as well! (we have to be very careful I guess). Now I remember I have seen Premna grows as tree in Waynad.
I hereby agree the identification of these pictures as Premna coriacea and not Viburnum acuminatum as I earlier idied. Sorry for the confusion.
I think, all members has to take notes while taking pictures itself rather than remembering such important notes that might always result
in documenting mistakes. Making field notes would certainly give precise data.
---
Attaching the remaining image IMG_9453.
I also agree the fact of this being Premna.
I will have to call Hemant Ogale (who has a resort there) from Amboli to check for the plant.
Will let you know after wards.
---
---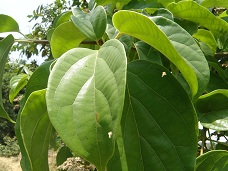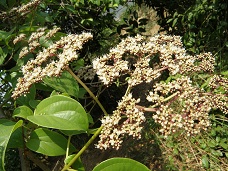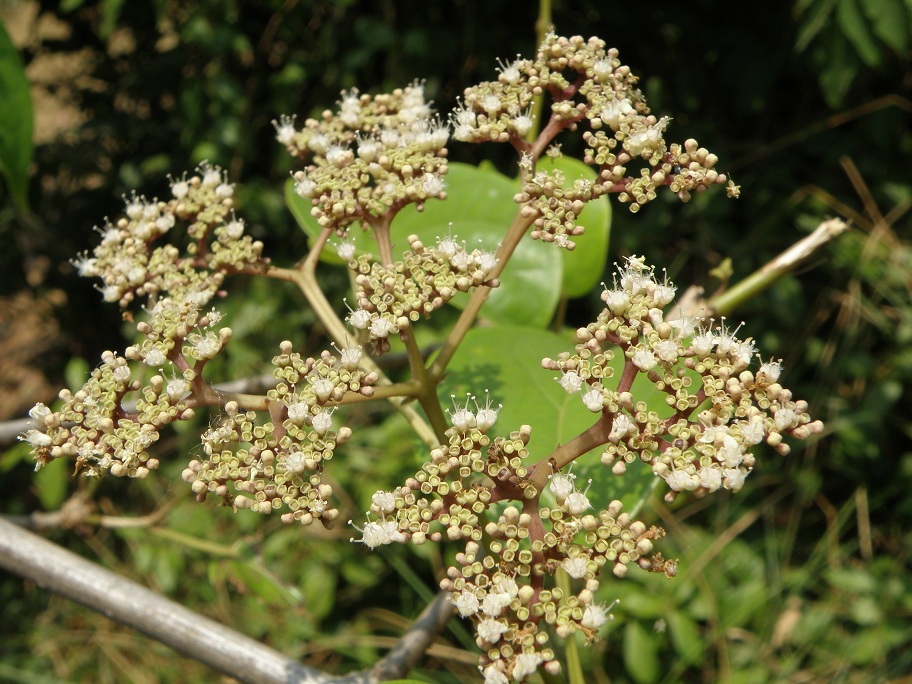 id pl.
:
medium height tree, seen
at the foot of Tel -baila, a twin rock wall
,
40 kms away west of Lonavala.
---
– This is Premna coriacea C.B.Clarke from Verbenaceae, it is an extensive climber, many times resembles like a tree.
---
---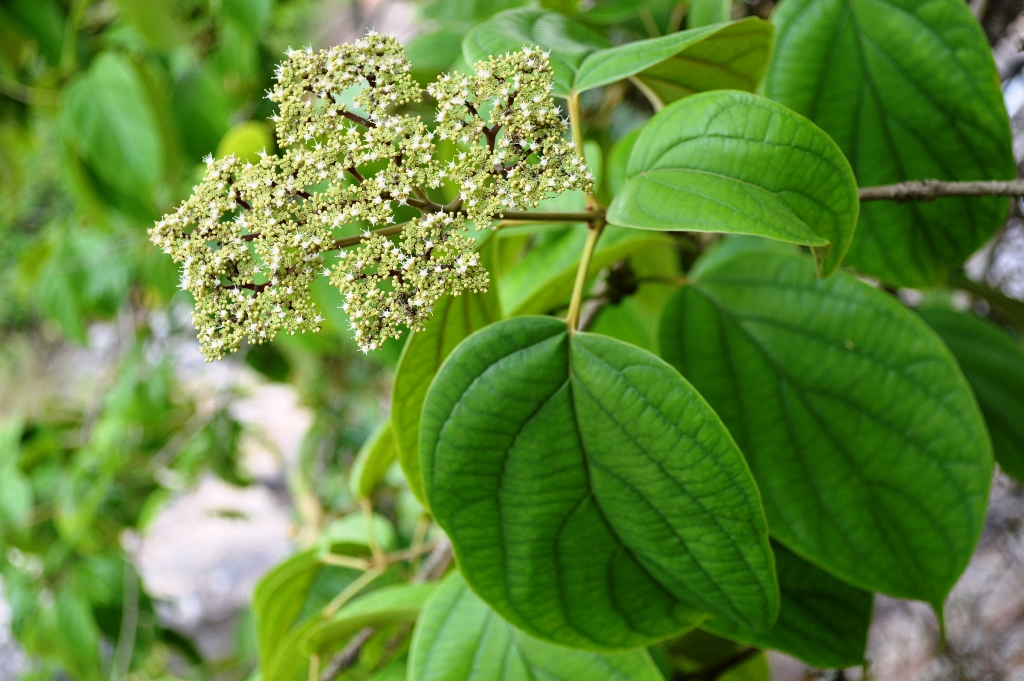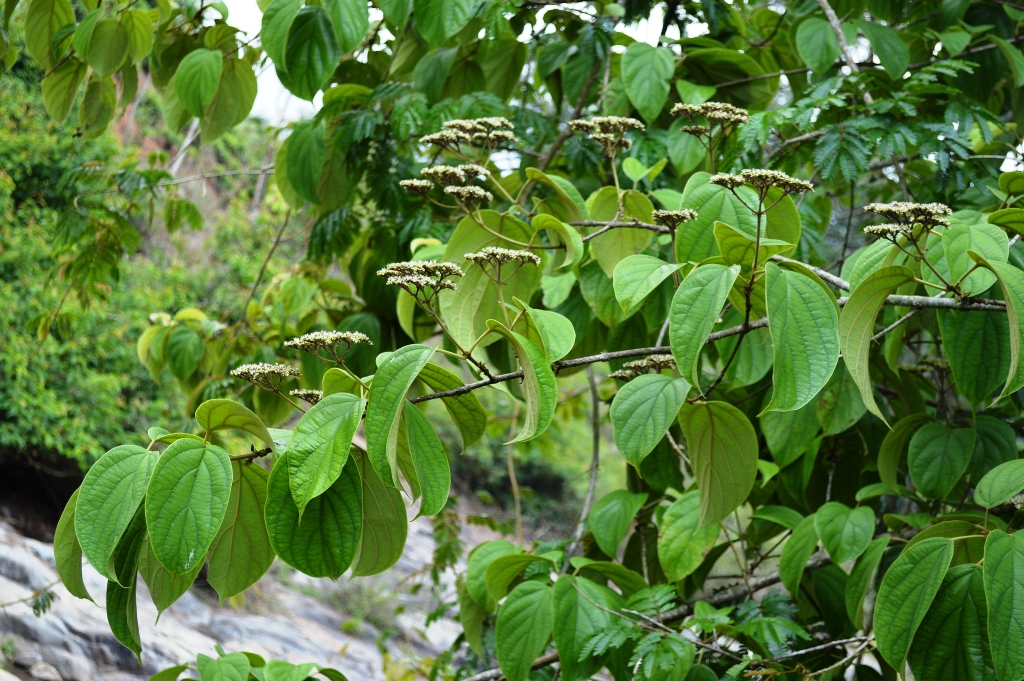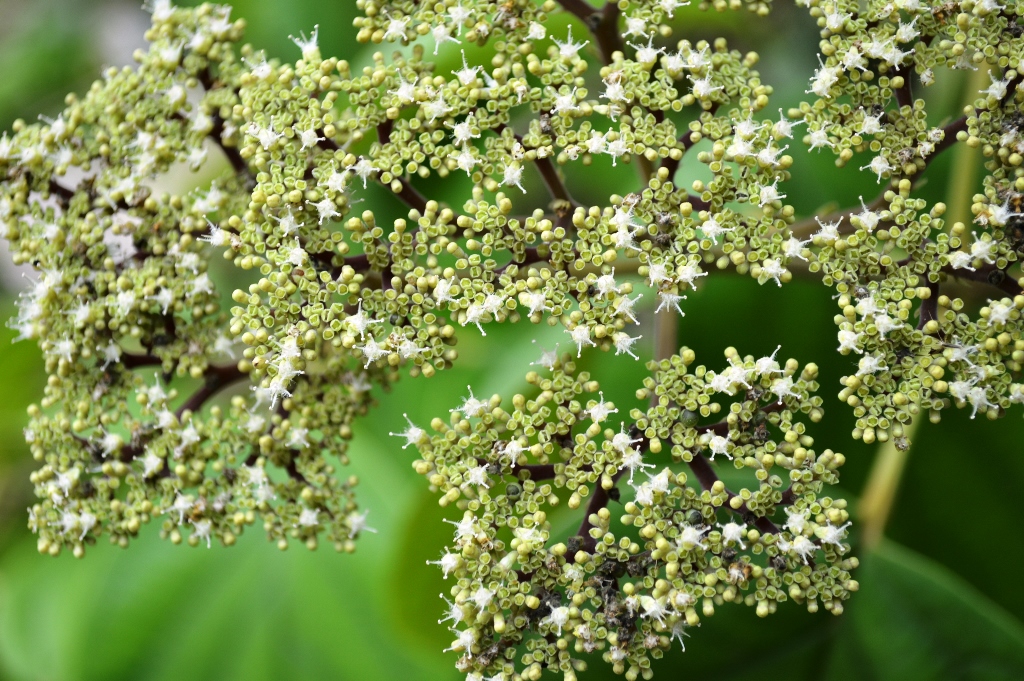 Premna coriacea C.B.Clarke SN April 34
: 1 post by 1 author. Attachments
(3).

Premna coriacea
C.B.Clarke; Fam:
Verbenaceae
,

epiphytic woody climber
from Aruttupaarai area, Gudalur, Ooty, Tamilnadu; altitude will be around 1200m
---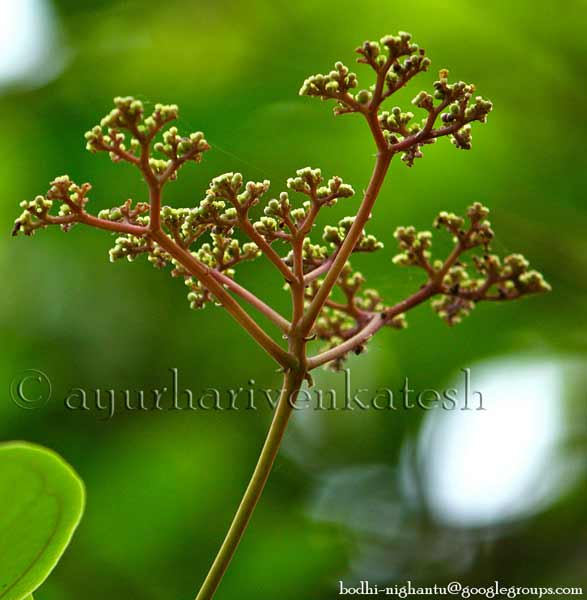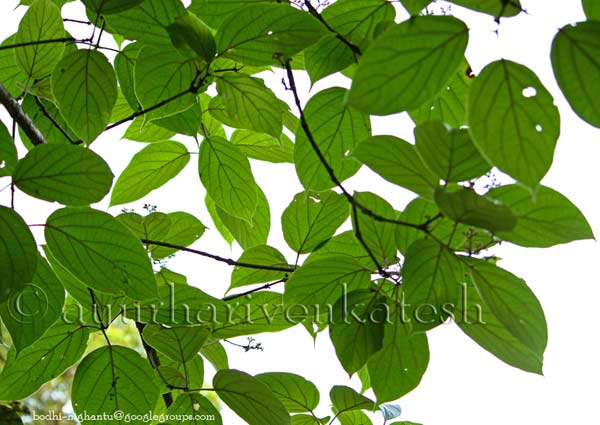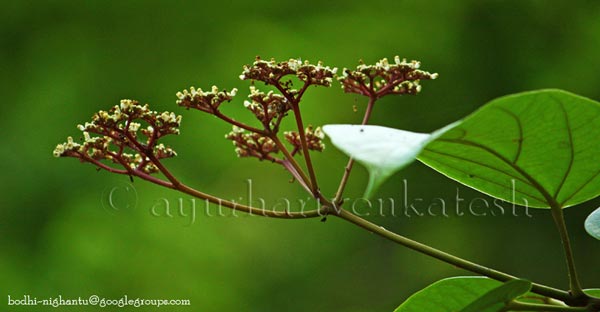 [efloraofindia:32650] Premna Species??? : Attachments (4). 4 posts by 3 authors.
Premna species??
Place:

Koppa (Chikmagalur District,Western ghats, Karnataka), 750m above MSL
Habit: It's a large & woody Twinner.. found to have grown on very large trees.. often confused with Schefflera spp..from far
Leaves: Simple, Opposite Decussate

Inflorescence: Corymb
---
This appears to be a parasitic plant that strangles large trees. You find the roots penetrating into the stem of large trees and ultimately destroying the large tree.
---
Premna parasitica, perhaps.
---
Thank You … & … for giving its identification..
---
As per WCSP, Premna parasitica does not have any range in India
---
P coriaria
---
---
.
---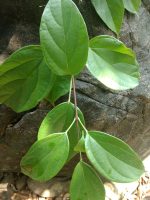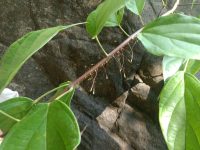 ID Kannur 05/22/2/23: 2 images.
Please identify this climber from Kannur district of Kerala, Sorry for no flowers.
---
Premna coriacea?
---
Yes, appears close as per images at
https://efloraofindia.com/2011/03/25/premna-coriacea/
---
References: