---
Erect herbs, to 1 m tall. Leaves scattered, oblong-lanceolate, acuminate, base rounded, narrowed into a petiole, hispid above and glabrous below, to 15 x 3.5 cm, sheath hispid, to 2.5 cm long. Panicle terminal, glandular pubescent. Flowers blue, 0.8 cm across. Sepals basally connate. Ovary 3-celled; ovule 1 in each cell. Capsule globose, pubescent 3.5 mm across; seeds planoconvex, glandular.
Flowering and fruiting: July-September
(Attributions- Dr. N Sasidharan (Dr. B P Pal Fellow), Kerala Forest Research Institute, Peechi
---
Location:  Suryavinayak, Bhktapur
, Nepal
Date: 7 October 2017

Elevation : 4600 ft.
Which on
e is the correct ID ?? 
Dictyospermum scaberrimum
 (Blume) H. Hara
Rhopalephora scaberrima (Blume) Faden
Dictyospermum scaberrimum (Blume) C.V.Morton ex Panigrahi

Dictyospermum scaberrimum (Blume) J.K. Morton
---
Rhopalephora scaberrima (Blume) Faden is the correct one. Between, if you have access to the plants, please see the seeds, is it brown or white?  
---
Flora of CRF_8
: 9 posts by 6 authors. Attachments (2).
Please help me to identify this grass.
---
Why do you feel this is a Poaceae member? I think it is a Commelinaceae member…
---
Thus is not
Poaceae, Poaceae
never have flowers like this
The floral anatomy of
Poaceae
is completely different from other plant members just like an
Asteraceae
.
---
I am reattaching the pics. Please help me to identify this commelinaceae sp.
Attachments (2)
---
Please see our earlier posting regarding Rhopalephora scaberrima may be you all get the answer.
… If it is possible then please provide details like Place, Date, Habitat,etc.
Thanx for sharing.
---
Here is the link to the thread pointed out by …
---
---
Family: Commelinaceae
Place: Nelliyampathy-Nemmara Road, Kerala
Date: 8th November 2014
Identified by: …
---
Wow! What a beautiful monocot !!
---
Thank you sir. Yes, it was a nice find for me. It was growing by a small stream.
---
Look like Orchid !???
Flora of Kaiga_ID_Please_09022015 PTR1
Date/Time-:05/02/15   –    09:30
Location- Place, Altitude – Kaiga, Uttar Kannada, Karnataka, 380 mtrs
Habitat- Garden/ Urban/ Wild/ Type-   wild
Habit- Tree/ Shrub/ Climber/ Herb- Herb/ Orchid
Length- 1m
---
May be any Commelinaceae …
---
Yes … you are right!
This is Rhopalephora scaberrima
Family: Commelinaceae
Date: 24 FEB 2017 … Elevation range: ~ 87 – 263 m (288 – 865 ft) asl

Rhopalephora scaberrima
 (Blume) Faden 
… (family: Commelinaceae) 
---
Yes …, it is indeed.
---
Thank you very much, … for validating the ID.
---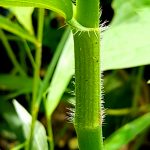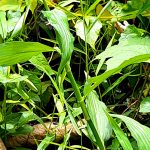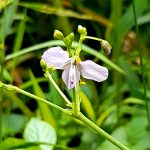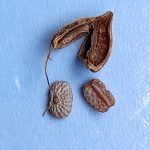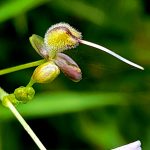 126 ID wild plant Commelina
: 11 images.
Please ID wild plant,
Location: near Reserve Forest, Chathamattom, Ernakulam District, (Kochi) Kerala PIN:686671

Altitude: 1400fsl
Flower date: 10.08.2021, 12.45pm
Habitat: wild moisture

Plant habit: creeping or erect/obliquely branches, weak stem, fleshy, hairy, gripped flower nodes, annual

Height: 03 feet
Leaves: alternate, oblong, apex, size:7×3cm or less

Flower: racemose, 3 petals, diameter:09mm, violent, non fragrant

Fruit: ovate, green into brown, size:4×4mm

Seed: brown, ovate, compressed 2 nos., size:3×2mm
Camera: mobile Samsung Galaxy A21s
---
Rhopalephora scaberrima it is!!
---
.
---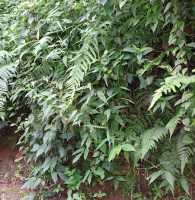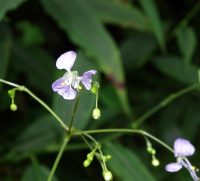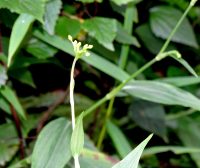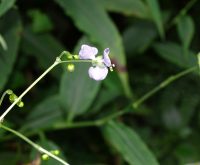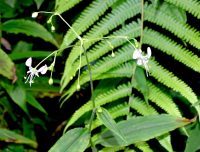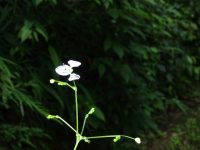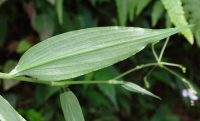 Rhopalephora scaberrima (Blume) Faden: 9 high res. images.
Location: Surya Binayak, Bhaktapur, Nepal
Altitude: 1500m.
Date: 28 August 2023
Habit : Wild
Syn : Dictyospermum scaberrimum (Blume) J.K.Morton ex H.Hara
---
This is Rhopalephora, perhaps not scaberrima. Please keep eyes on fruits, it must be sessile. We have proposed a species in Rhopalephora (=Aneilema) as A. sessile.
It is in press, I strongly believe this belongs to
A. sessile
.
---
---
.
References:
The Plant List Ver.1.1  WCSP  Flora of China  FOC illustration  Checklist of Nepal  e-monocot  Kerala Plants  India Biodiversity Portal IBIS Flora