Common name: Phen Kamal • Dogri: ghuggi, jogi booti, jogi phull, jogipadshah • Hindi: फेन कमल Fen Kamal • Kashmiri: Jogi Padsha;
Wow, simply superb. "Samadhi" is really a most appropriate word to describe this….Thanks
---
Thanks … for sharing a nice picture of the rare herb.
I guess you cleared the snow/ice around the plant to take the picture. Or, is it natural?
---
Not at all! It is natural and freshly fallen snow has in fact melted around the plant due to the mild heat produced by plant.
---
I liked the flower and the term 'Samadhi' associated with it. I have included your picture here at Flora picture 2012
---
Snow is natural … I imagine if the plant emits some heat to melt or it is caused just because of transpiration. Very beautiful pic … I imagine it must be snowing heavily right now in the Himalayas. I miss snow….
I imagine .., how come I never heard your name while working at WII ???? Though your name sounds so familiar!!
---
Thank you … for liking Saussurea simpsoniana, locally known as "Jogi Badshah".
'Missing the snow" indicate that you probably worked mainly on subtropical/ montane flora or fauna/ ecology at WII.
Familiarity of name may be because of the similarity with Dr G.S.Rawat (now at ICIMOD) who is an authority on Himalayan alpine flora and ecology.
I have been working in alpine zones of Uttarakhand since 1987 when I opted to explore "Alpine flora of Kuari Pass Dalisera Alpine zones in Chamoli district" for my M.Sc. dissertation. Since then trekking in alpine zones of Uttarakhand had been more an addiction of these enchanting landscapes of "Bugyals"than merely collecting plants/ ecological data. I have mainly interacted with plants of these areas, herdsmen (Bakarwals) roaming there but little with the experts, taxonomists or ecologists. Nor I published high IF research articles which are the reasons behind not being familiar with my name.
---
---
Saussurea simpsoniana
(Fielding & Gardner) Lipsch. [=Aplotaxis simpsoniana Fielding & Gardner; Saussurea sacra Edgeworth] is

a high alpine herb.
This curious looking herb is known as 'Phen Kamal', 'Jogi Badshah' and

found only above 4500m altitude in Uttarakhand.
Photographed

around Vasuki Tal near Kedarnath.
---
guchii
: 4 posts by 4 authors. No image visible now.
Found this
herb
in the upper reaches of Himalayas
(Sonamarg) Kashmir
1. Near Sunset Peak, Pir Panjal Range, Kashmir – Chris Chadwell & a colleague followed the right-hand ridge to the top of this mountain, home to Saussurea simpsoniana
2. View from Col below Sunset Peak
I had quite a difficult time negotiating the ridge to the top of this mountain, as the large rocks we walked on (at quite an angle) often moved… 
Near the top there was an exposed section, with a sheer drop on one side (to one's death) so I used a hand to help keep my balance.
Unfortunately, a piece of jagged rock about 75cm long moved crushing the top of 3 of my fingers cutting half-way through one.
Feeling rather sorry for myself, I showed this to my fellow Britisher – a tough 6 foot 5 inch Scot, expecting sympathy and first aid.
He dismissed the wound as minor – so I was left to bandage myself up un-aided.
And to him, it was nothing.
Some years earlier, when using a chain-saw alone in Scotland, in a fairly remote spot, this slipped cutting deep into the flesh from just above his knee for some 30cm.
He managed to walk quite some distance to his car and drive himself to hospital!
So why was I making a fuss about such an insignificant wound….  When at work, as Deputy Principal of a National Trust for Scotland Garden, he wore shorts for part of the year – the scar, proving what had happened to him, being visible
3.    Saussurea simpsoniana, Pir Panjal Range, Kashmir
4.    Saussurea simpsoniana, Pir Panjal Range, Kashmir
5.    Saussurea simpsoniana, Pir Panjal Range, Kashmir
6.    Saussurea simpsoniana, Pir Panjal Range, Kashmir
7.    Colleague of Chris Chadwell's @ 4500m gathering specimen of Saussurea simpsoniana for pressing
8.    Pressing
Saussurea simpsoniana
@ 4500m, Pir Panjal Range, Kashmir for depositing in University of Kashmir Herbarium –
it is important to cut the specimen of bulky plants like this Saussurea in half to aid the pressing & drying process, otherwise they are liable to rot and be ruined
9.    Pressing Saussurea simpsoniana @ 4500m, Pir Panjal Range, Kashmir for depositing in University of Kashmir Herbarium (see 8 for comments)
I would like to take this opportunity to say that I consider there has been much confusion between Saussurea species (this is a complicated genus) with e.g. Saussurea obvallata being misidentified in the NW Himalaya/Ladakh.
As for S.simpsoniana and S.gossypiphora, I do not consider they are well understood in the NW Himalaya.
Given that very few other botanists have ever scrambled about on the peaks in the Kashmir Valley, one is largely left with very few specimens gathered on more accessible passes.
I have seen (and photographed) what I understand to be S.simpsoniana above the Rohtang Pass in Himachal Pradesh; other have recorded S.gossypiphora from the area. They may well be mistaken.
Returning to Kashmir. Stewart records S.gossypiphora from a few locations in Kashmir @ 4700-5700m (incl. Mt. Kolahoi on cliffs) but I wonder if these specimens might not be S.simpsoniana.
I have seen a photograph of Oleg Polunin's taken in Kashmir, which is also what I take to be S.simpsoniana not S.gossypiphora.
As for S.simpsoniana, Stewart knew this as Saussurea sacra (following FBI) with a single collection by Koelz from Chortren Chen @ 5500m.   Quite a muddle I think.
Interestingly, Dickore & Koelz, in the most up-to-date check-list for Ladakh list 19 Saussureas incl. S.gossypiphora but not S.simpsoniana, nor, correctly, S.obvallata.
'Flora of Lahaul-Spiti' list S.gossypiphora from the Rohtang (which is not part of Lahaul, so should not have been included in this flora anyhow) but I suspect this is a misidentification for S.simpsoniana. I shall try and locate my images of what I consider to be S.simpsoniana taken above Rohtang, to post (and thus submit, as supporting evidence). I have not seen the Bor specimen in the DD herbarium.
A full taxonomic revision of Saussurea in the Himalaya is required – quite a number of new species have been described in the E.Himalaya in past decades.

As with all genera, the more good quality images members of this google group post of
Saussurea
, the better we can start to understand the genus.
---
I only wish we had digital cameras (I enough funds to use film cameras liberally) in early seventies when we would visit Apharwat Peak every week. We would start at 7.30 from Srinagar take a bus to Tangmarg about 40 km away, start climbing from 7000 ft to Gulmarg 8000 ft, Khillenmarg 10000 ft, to top of Apharwat mountain 12500 ft, descend down to take lunch and make tea at Ahlpather lake 12000 ft, start climbing down and take bus from Tangmarg at about 5 pp.
    And one day myself and Dr. A H Munshi (both working for our PhD) started from Pahalgam around 7000 ft, at 7 am , explored Lidderwat  (about 9000 ft) and reached Tarsar and Marsar Lakes more than 13000 ft alt, at 4 pm, took something to eat from a local teastall, started almost running to reach back Pahalgam.
    Ladakh with no regular Transport system we hitch-hiked our travel, till we got a Departmental jeep in later visits.
---
Yes, things have certainly changed.  I realise that funding for Universities in India is much better than it was in the 1970s and 1980s plus one
must appreciate genuine security issues which have compromised assess to some parts of the State for decades.
The images I have just been posting re: Botanizing in Kashmir were taken using slide film (something that was not available much in India) in the 1980s and then scanned in on a cheap scanner given to me some 20 years ago I think.  About a year ago, I used my very cheap, modest, second-hand digital camera (obtained on e-Bay by one of my sons) taking pictures at a local canal.  In 2 hours I took as many photos as the total number of rolls of 36 exposure slide film I would have taken for a 1-3 month visit to Kashmir.  Yes, one could not afford more than 1 or 2 shots per plant encountered.  The great thing about digital (now that memory cards can accommodate vast numbers of images) is that one can take as many as one likes 20 (or more) per plant if one so wishes, at no cost!
The budgets for my travels in the 1980s were very tight.  We travelled overland from Delhi by train, being robbed one time just as the train started to leave the platform at the Old Delhi Railway Station, with a camera bag taken.  Despite spending months warning my team (who were on their first visits to India)  about security, especially in cities and during journeys, insisting that money-belts were used, the person who had a camera bag and our best camera (I could not afford anything other than a cheap, poor quality one) had put his money-belt in the camera bag.  His passport, return airline ticket and 1/4 of our money for a 3-month stay in Kashmir, gone.  Rather a shock and it was is 24th birthday!  Us Brits are not accustomed to the heat of an Indian summer, so tend to be disorientated & prime targets for thieves upon arrival – though I should add this applies in cities
all over the world
….  I know of Indians who have been tricked & cheated in London (though often the pick-pockets are not British – an accurate statement as Britain has its fair share of 'British' thieves).
On reaching Jammu we took a bus to reach Srinagar via Banihal.   We could not afford to hire jeeps, so travelled around the Kashmir Valley by local bus. The situation in the early1980s was, I imagine not much better than the 1970s.  To visit Aphawat we got a packed bus to Tangmarg (one had to transfer to another bus for Gulmarg) but found this almost impossible for us novices as normal, "first-come, first served rules did not apply. It was a "free-for-all" – there were few buses to Tangmarg with large numbers of potential passengers waiting for them and one had to rush and try to push aboard which with 4 of us + rucksacks, in a foreign country, not a simple task, so spent hours failing, time after time…..
Most of the time we would hire a pack-animal or two at the road-head for a 7-10 day trek and walk all the way with smaller day ruck-sacks, camping in the mountains.  As we did not have the money to pay the exorbitant prices the main ponymen wanted, we tended to be given a teenager with little experience instead.  A number of times our rucksacks came off the ponies and ended up in streams and rivers.  Quite a game.
On one occasion camped at some 3300m below Kolahoi's north glacier, the poneyman decided to treble the prices to take our rucksacks back to Pahlgam.  We refused. In the middle of the night he departed!  We were left to carry all our gear back, which took us 3-4 days – thankfully, almost all down-hill.    See attached images. A valuable lesson and in time we got to know reliable Kashmiris especially my good friend Ghulam Rasool Beigh, who was trustworthy, worth hiring him to make more satisfactory arrangements.  Anywhere in the world, having a local person you can trust makes a big difference, making you less vulnerable.
On my journeys into Ladakh some years after my first visit in 1980, with Ghulam's help, we paid drivers of Public Carrier Trucks to take us first from Sonamarg to Kargil then along the Suru Valley and one year into the Zanskar Valley, having to wait 4 days on the Pensi La, for a truck returning from Padum.
The roads are much improved in Ladakh these days, though the opportunity to return to Zanskar has not arisen. At present, I could not afford even a flight to India.
It was a delight to be able to reach the top of Sinthan Pass in Kashmir by a comfortable 4WD a few years back.   And to fly from Delhi to Leh in little more than an hour – a journey which had taken 4 arduous days of travel back in the 1980s.
In theory one could fly Delhi to Leh then hire a jeep straight to the top of a 5000m+ pass but that would be foolhardy in the extreme.   Just because one can get up to higher altitudes much more rapidly these days does not mean it is sensible to do so.
---
Thanks … for beautiful account.
My older photographs are at Delhi, but here few from our first visit to Ladakh in about 1971 when we had hitch-hiked the rides from civil and army trucks, but luckily had Govt. Dak Bangalows to stay: Myself, Dr. R N Gohil (you must be remembering) and our friend from Zoology, we even rode a Donkey.
Also seen is Dr. Bimal Misri (on right) in Khillenmarg meadow above Gulmarg covered with Euphorbia wallichii, patches, same plant clicked in colour in 2010
---
Thanks, …, for these old fond memories.
---
---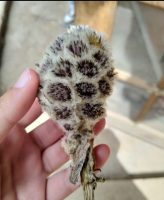 Identification required 966
: 1 image.
Help me to identify the plant species
from bandipura kashmir india
---
Any other images?
---
No, I don't have any other images?
---
Seems an alpine species of Saussurea. Leaves would help.
---
Details of location, altitude?
---
Even confirming this is becoming difficult with this image as per
https://efloraofindia.com/2011/03/28/saussurea/
---
My wild guess will be S. simpsoniana
---
Yes, possible as per images at link below (But check the elevation, it should be above 3800 m. or so):
https://efloraofindia.com/2011/03/28/saussurea-simpsoniana/
---
Sure sir i will check
---
Looks close.
References: