---
Pl help me in identifying this plant.
Loc.: On way to Churdhar, Himachal Pradesh (ca 2000m)
Time of Coll.: August, 2010.
---
I think Saxifraga sibirica
---
Saxifraga sibirica for me too
---
---
Saxifraga species from Paddar valley J&K:
Request for ID confirmation
Kindly confirm the ID
Bot. name: Saxifraga sibirica
Family: Saxifragaceae
Location: Paddar valley J&K
Altitude: 2000 meters asl
Date: 20th May 2012
This plant does not show any such bulbils and may be S. sibirica
---
Oh sorry for the mix up. Thanks … for pointing this out. It does look like S.sibirica. I had corrected it in my file. Thanks again.
---
---
Flora of Uttarakhand- Herb40 for Id- JM:
Wild Herb captured on 13/8/10 during the trek from Ghangaria (around 11,000 ft.) to Hemkunt Sahib (around 14000 ft.).
---
Saxifraga sibirica
---
---
More photographs should help, perhaps S. cernua can be considered.
---
Unfortunately I don't have more pictures.
It (S. cernua) is not mentioned in Concise Flowers of Himalayas by Oleg Polunin & Adam Stainton.
I am also not satishfied with details & pictures as per link:
---
Yes … I wanted to check aerial bulbils in your plant, that is why I asked for more photographs. The few leaves appear 3-lobed like that species, but aerial bulbils are distinctive.
Otherwise S. sibirica remains the best match.
---
How about Saxifraga asarifolia!!
---
S. asarifolia has more lobes (7-13) than even S. sibirica (5-7).
---
I think Saxifraga sibirica only
---
---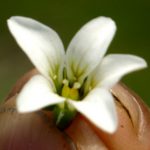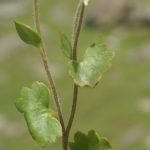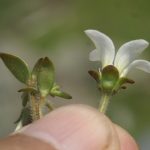 Saxifraga sibirica from Thajwas, Kashmir-GS30112020-1 : 3 images.
Saxifraga sibirica L.
Photographed from Thajwas, above Sonamarg, Kashmir, 
---
---

Request for identity of Saxifraga Species: 1 high resolution image.
Please check attached image of Saxifraga species, Captured at Bhaderwah JK. 2900m approx.
---