Solanum
cordatum
Forssk., 
Fl. Aegypt.-Arab. 47 1775
(Syn:
Solanum darassumense Dammer
;
Solanum gracilipes Decne.
;
Solanum jacquemontii Dunal
;
Solanum nummulifolium Chiov.
;
Solanum obbiadense Chiov.
;
Solanum pronum Thulin
;
Solanum sabaeorum Deflers
);
.
NE. Tropical Africa to N. Kenya, W. Yemen, Afghanistan to N. India:
Afghanistan, Djibouti, Ethiopia,

India,

Kenya, Oman, Pakistan, Saudi Arabia, Socotra, Somalia, Yemen
as per
POWO
;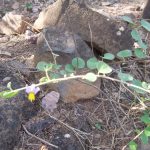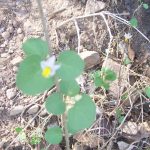 My first post and Solanum sp. – efloraofindia | Google Groups
: 2 high res. images.
I am very happy to be part of this group!
Here is a picture
I took in a thorn forest
in Kutch, GJ
of what I think is some species of 
Solanum
 judging by the connivent anthers.
What do you think?
---
Appears to be some interesting species of Solanum, perhaps some trailing or scandent species.
---
Solanum gracilipes Dcne. but I am not sure of the validity of this name. The berries are bright yellow and smaller than 1 cm.
---
I think you are right. According to eflora of Pakistan S. gracilipes Decne. is correctly known as S. cordatum Forssk.
---
It seems that the leaves are also sub opposite.
What do you think it might be?
---
Exactly Sir In Eflora of Pakistan the illustration provided completely matches with this plant hence I also think this is Solanum cordatum Forssk. It has also been said to be a xerophytic scrambler.
---
Thank you so much! Efloras of Pakistan had a good illustration, and S. cordatum matches perfectly.
---