India (N); Andhra Pradesh; Arunachal Pradesh ; Assam ; Bihar ; Delhi ; Gujarat; Haryana ; Himachal Pradesh ]; Jammu-Kashmir ; Karnataka ; Kerala; Madhaya Pradesh ; Maharashtra ; Orissa; Pondicherry ; Punjab ; Rajasthan; Sikkim ; Tamil Nadu ; Uttar Pradesh; West Bengal & other countries
as per
ILDIS
;
---
Much branched annual or perennial herbs or subshrubs; branchlets densely pubescent with white appressed-hairs. Leaves imparipinnate, to 6 cm long; leaflets 9-15, 1-2 x 0.5-1 cm, obovate or oblanceolate, base acute to cuneate, apex obtuse or retuse, glabrous above and sericeous below; stipules 3-6 mm long, subulate. Inflorescence pseudoracemose, terminal or leaf-opposed, to 7 cm long. Flowers 8-10 mm long, subsessile; bracts linear-deltoid. Calyx c. 5 mm long; lobes filiform, ciliate. Petals pink or white; standard 8-10 mm long, orbicular; wings to 1 cm long, oblong-obovate; keels c. 8 mm long, beaked. Pods 2.5-3.5 x 0.4-0.5 cm, oblong-falcate, densely villous, 5-8-seeded. Seeds c. 3 x 2 mm, reniform, dark brown.
Flowering and fruiting: December-April
Degraded forest areas, also in the plains
Tephrosia villosa (L.)Pers,  Fam: Fabaceae
14/07/2013
N 12°.61202, E.78°.93449, 743m
Uddanapalli, Krishnagiri Dt, Tamil Nadu
Weed near road sides, branched herb
Green manure/ mixed with Tephrosia purpurea as a hepatoprotctive herb
---
Yes, Tephrosia villosa – densely hairy pods.
---
---
Fabaceae for ID : 7 posts by 4 authors. Attachments (8).
Is this Desmodium sp. ?
Bangalore, 15th June
---
could it be Indigofera sp.?…
---
Some more photos to help with the ID
---
Tephrosia villosa (L.) Pers., frequent weed in open lands
---
Sorry, …, but the species T. villosa does not match according to this description-
"BOTANIC DESCRIPTION
Tephrosia villosa is an annual or perennial bushy herb, 0.3-1.3 m tall. Stem white tomentose.
Leaves imparipinnately compound with 7-19 leaflets, up to 10 cm long; stipules 2-5 mm long; leaflets obovate to elliptical, up to 21 mm x 9 mm, hairy on both sides, each side with 4-8 pairs of distinct veins. Stipules tomentose, caducous and lanceolate.
Flowers in a terminal or upper axillary pseudoraceme 8-22 cm long; pedicel with densely matted hairs, 2-4 mm long; calyx densely matted-hairy, tube about 2 mm long, lobes long-acuminate, to 9 mm long; standard transversely elliptical to broadly ovate, up to 7 mm x 10 mm, dorsally with dense brown hairs. Style glabrous, up to 3-5 mm long, bent sharply upward at base, twisted, penicillate.
Pod strongly curved, up to 4 cm x 6 mm, densely silvery or brown-tomentose, hairs to 2 mm long, 4-10-seeded. Seed 12-16, rectangular, black, smooth, with short hard excrescences, up to 4.5 mm x 2.5-2.75 mm
. "
---
I think … is right. It looks like Tephrosia villosa to me, too.
---
Thank you sir. …, my apologies, your id was correct.
---
.
---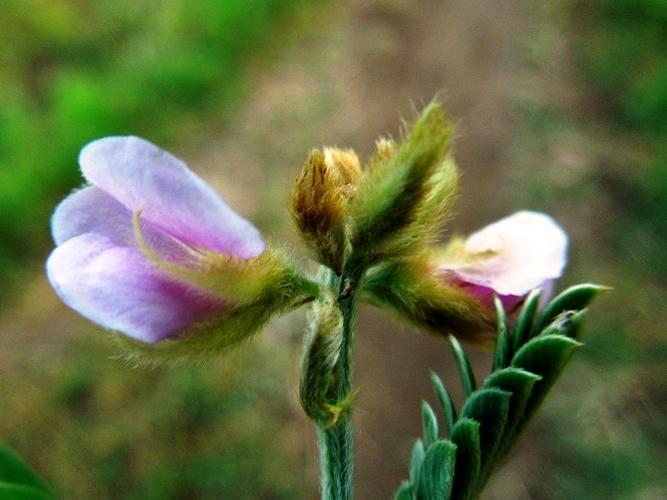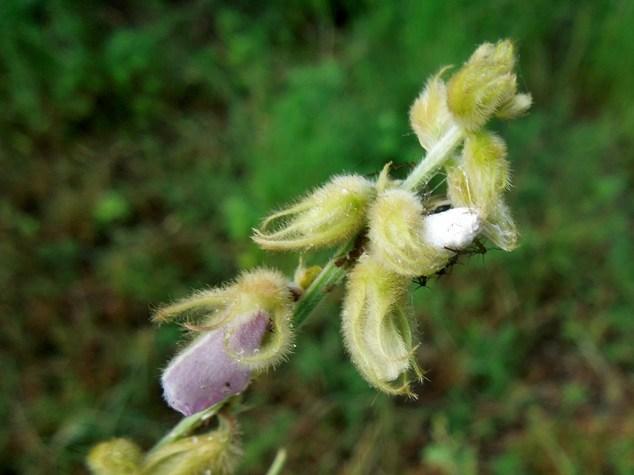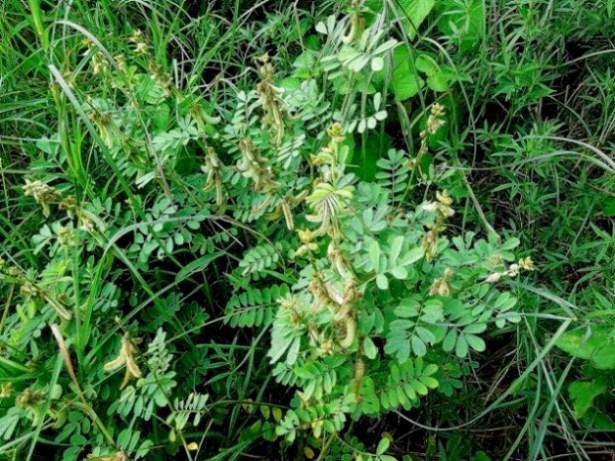 ID request 070515SG : 3 posts by 2 authors. Attachments (3)
Requesting ID of following bush. Photo taken on 13Sep14 near Dhavlas, Maharashtra.
---
It looks to me Tephrosia villosa
---
Please help me to identify this Tephrosia species.

The pods are of 5-6 cm long and hirsute.



Habitat: semi-evergreen forest edge (road-side)
Date: 18 March 2015

Location: Manimuthar Dam, Tirunelveli dist, TN
---
Tephrosia species in eFloraofindia (with details/ keys from published papers/ regional floras/ FRLHT/ FOI/ Biotik/ efloras/ books etc., where ever available on net)
---
It could be either Tephrosia villosa or T. hookeriana.
---
Tephrosia purpurea (Linn.) Pers. Fabaceae (Faboideae)
Tephrosia villosa
 (L.) Pers., Syn.Pl. 2:329. 1807.
Perennial bushy herb with imparipinnate leaves with 11 to 19 leaflets, latter oblanceolate, up to 2 cm long, obtuse, mucronate; flowers red or purple in elongated raceme; bract deltoid; pedicel up to 4 mm long; calyx up to 1 cm long, teeth 3 to 4 times as long as tube; corolla standard up to 15 mm long, pubescent; pod up to 4 cm long, velvety.

Photographed
from Anjana layout Bangalore
---
Here are the images. Attachments (2)
---
---
Dates, various: October 13 – 15, 2019 … Altitude range: about 0 – 3 m (0 – 10 feet) asl

Tephrosia villosa
 Pers.
Many thanks to … for help with ID at facebook.
---
---
12122019EPT44
: 3 posts by 3 authors. Attachments
(7
)- around 550 kb each.
presenting for Confirmation
Tephrosia villosa ?
Location : Chennai outskirts
---
I guess the ID is correct !
---