Astragalus munroi Bunge, Astrag. 1:30. 1868. 2:35.1869; Ali in Biologia 7:43.1961. (syn: Astragalus longicalyx C.C. Ni & P.C. Li; Tragacantha munroi Kuntze);
Tibet, China (Xinjiang), Pakistani Kashmir (Baltistan), Jammu & Kashmir (Dras, Ladakh), India (Himachal Pradesh)
as per
Catalogue of Life;
---
Attaching photo of Astragalus munroi Benth. ex Bunge family Fabaceae

another tiny cold desert perennial.
---
Where is Hemis National park situated? Is the place similar to Leh Ladakh/ Spiti valley as you have said it to be a cold desert?
---
NP is situated in Ladakh, cold desert region of Jammu & Kashmir
---
---
Images taken by the Late Krishan Lal at Patseo, Lahaul, H.P.  This is
near the base of the Baralacha La,
before one reaches Zingzingbar.
This species is not described nor illustrated in 'Flowers of the Himalaya' nor its Supplement.
Stewart records this from Baltistan, Dras & Ladakh @ 3000-3900m.

A remarkable species,

densely hairy with large inflated pods, yellow flowers

growing in open desert.
Hartmann recorded it from Mulbekh and other parts of Ladakh.
Flora of Lahaul-Spiti found it

common amongst stones and on gravelly riverbeds

at Jispa.

I have other images of this plant which I plan to post separately.
---
.
---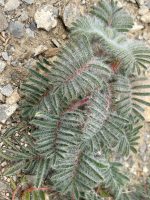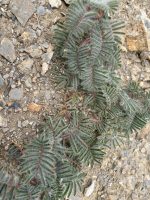 Ladakh, August 2022 :: Astragalus munroi for validation :: ARK2022-134: 2 high res. images.
This was at Namika la (a pass on the Srinagar Kargil route) at 3700 mt. ASL in August 2022.
Astragalus munroi.
Requested to please validate
---
Yes, for me.
---