Quassia indica (Gaertn.) Noot., Blumea 11: 517 1963. (Syn: Locandia glandulifera Pierre; Locandia indica (Gaern.) Kuntze; Locandia lucida (Steud.) Kuntze; Locandia madagascariensis (A. Juss.) Kuntze; Locandia mekongensis Pierre; Manungala pendula Blanco; Mauduita penduliflora Comm. ex DC.; Niota commersonii Pers.; Niota lamarckiana Bl.; Niota lucida Wall.; Niota pentapetala Poir.; Niota tetrapetala Poir.; Samadera brevipetala Scheff.; Samadera glandulifera Presl; Samadera indica Gaertn.; Samadera indica var. brevipetala Backer; Samadera lucida Planch.; Samadera madagascariensis A. Juss.; Samadera mekongensis (Pierre) Engl.; Samadera nanopetala Scheffer ex Backer; Samadera pentapetala (Poir.) G. Don; Samadera tetrapetala (Poir.) G. Don; Samandura indica (Gaertn.) Baill.; Samandura indica (Gaertn.) Pierre ex Laness.; Simaba indica (Gaertn.) Baill.; Vitmannia elliptica Vahl; Vitmannia lucida Steud.);
Java, Vietnam, peninsular Malaysia (Johor), +Singapore, Sri Lanka, Borneo, Sumatra, Philippines, Moluccas, NE-Sulawesi, New Guinea, Solomon Isl., Bismarck Arch., Madagascar, Pemba Isl., Comores (Mayotte, etc.), Palau Isl. (Babeldaob),

Andaman Isl., Myanmar [Burma] (Taninthayi), India (Maharashtra, Goa, Karnataka, Kerala)
as per
Catalogue of Life
;
Common name:
Niepa Bark Tree •
Hindi
: लोखंडी Lokhandi •
Kannada
: ನೀಪಾ Nipa, samdera •
Malayalam
: Karinghota, കര്ംഗൊടാ Karingota •
Marathi
: लोखंडी Lokhandi •
Sanskrit
: गुच्छकरंजः Gucchakaranjah •
Tamil
: karincottai, நீபம் Nibam, நீபா Nipa
.
Quassia indica (Gaertn.) Noot. Blumea xi. 517 (1963).
Basionym: Samadera indica Gaertn. Fruct. Sem. Pl. ii. 352. t. 156. (1790 – 1792)
Family: Simaroubaceae.
Location: TBGRI, Thiruvananthapuram.
Couldnt find much information on this.
---
As far as I know, Simarouba glauca, an oil yielding tree, is known as Lakshmi Taru, Sorka Maram and Paradise tree.
http://www.svlele.com/simarouba.htm
http://www.righthealth.com/topic/Simarouba
---
---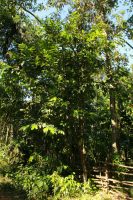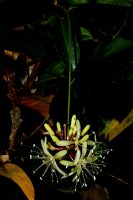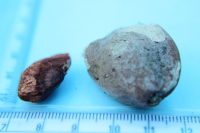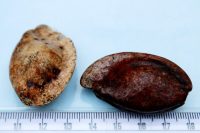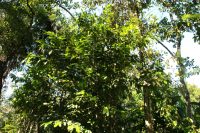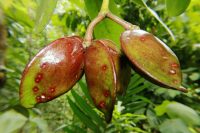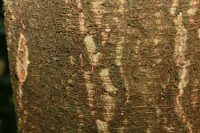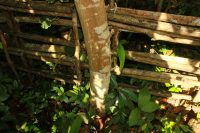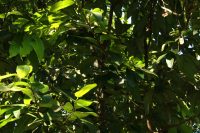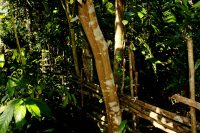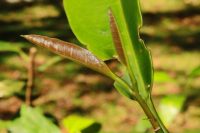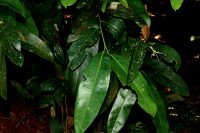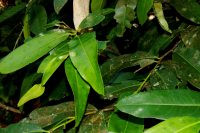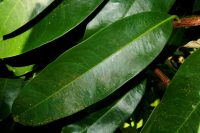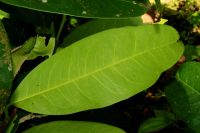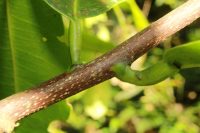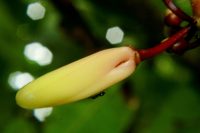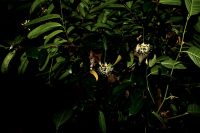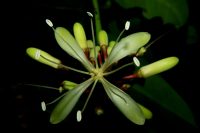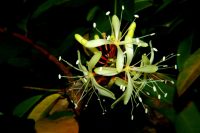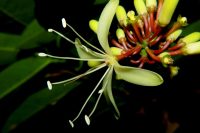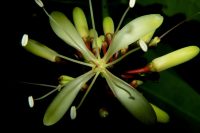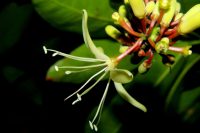 399 ID wild tree Quassia: 26 high res. images.
Please ID wild tree. Blooming only in night, afterwards petals started to fallen around 03am, so very hard and needed several visits to get a clear picture with full petals.
Location: near Chathamattom, Ernakulam Dist., Kerala
Altitude: 1000fsl
Flower date: 09NOV2022, 08pm
Habitat: wild moisture
Plant habit: tree, erect branches, branchlets, hard woody stem 25 inches base circumference, brownish rough bark
Height: 07 meters
Leaves: alternate, ovate, oblong, acute, soft glossy, purplish very young, size upto:30×7cm
Flower: lengthy pendulous peduncle umbel racemose, clustered, 04 petals, diameter:03.5mm, white, good fragrance (night blooming afterwards petals sheds before 03am)
Fruit: drupe ovoid, center raised, winged one side, greenish purple into brown, size:05×3×2cm, not edible
Seed: brown, single, pea shaped, size:03×1cm
Camera: CANON EOS1500D +FL10x
---
Wonderful images sir, it must be Samadera indica Gaertn. Synonym – Quassia indica (Gaertn.) Noot.) of Simaroubaceae.
---
I concur with the ID by …
---
Yes, appears close as per images at
https://efloraofindia.com/2011/05/21/quassia-indica/
---
References: