Sierra Leone, Benin to S. Chad and Zambia:
Angola, Benin, Burundi, Cameroon, Central African Repu, Chad, Congo, Gabon, Gulf of Guinea Is., Nigeria, Sierra Leone, Zambia, Zaïre;
Introduced into:
Costa Rica, Mauritius
as per
POWO
;
.
---
Images by TSP Kumar (Id by Jayanthi Janakiraman) (Inserted by J.M.Garg) 
---
Yes … Will check and get back to you. Thanks.
---
I think it is Acanthus montanus.
---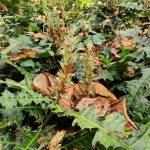 Requesting a herb ID 20Feb2022-3
: 1 very high res. image.
Habit: Abrasive herb
The plant was found growing near the forest side paths.
It has a characteristic inflorescence.
Neyyar WLS, Agasthyamalai biosphere reserve.
---
Acanthus ebracteatus
---
This is Acanthus montanus (Nees) T.Anderson as per images and details herein and as per POWO.
References: