---
Date/Time- 24-01-2011 / 08:50 AM
Location- Place, Altitude, GP ca.2200asl; Ooty, TN
Habitat- Garden/ Urban/ Wild/ Type- garden
Plant Habit-herb
Height/Length- 15 cm
Leaves Type/ Shape/ Size- ca.15 cm long; cylindric
Inflorescence Type/ Size- Raceme;
Flowers Size/ Colour/ Calyx/ Bracts- blue; c. 0.5 X 0.25 cm
---
I hope Muscari armeniacum

---
Grape hyacinth if I am not mistaken.
---
I have just this Foto from April 2008 from my garden in Ritterhude.
We call it Traubenhyazinthe,  which I found has the name Muscari fam. Hyacinthaceae
but further details i don't know. We have two colors white and blue. Mein blue one is supposed to be Muscari botryoides. I shall make more fotos this year.
---
Frankly speaking, there seems to be little to choose from M. armeniacum and M. botryoides. Both are known as Grape hyacinth; M. armeniacum as Garden Grape hyacinth and M. botryoides as Compact Grape hyacinth. The most important difference between the two species being that tips of perianth are recurved in M. botryoides, but erect in M. armeniacum; fls are ca 3 mm long in M. botryoides, 6-8 mm M. armeniacum; leaves equalling the scape in M. botryoides, exceeding in M. armeniacum.
I may be wrong but to me … plant appears M. armeniacum and .. M. botryoides.
---
Yes, … My plant has leaves exceeding the scape; hence could be confirmed as M. armeniacum. But the perianth tip also recurved here sir, ?
---
.
---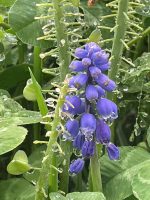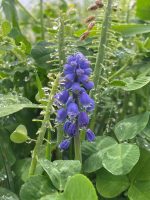 J&K, Srinagar, April 2023 :: Muscari armeniacum for confirmation :: ARK2023-020
: 2 high res. images.
These flowers were captured
at the Tulip garden
in Srinagar, J&K in April 2023.
Guessing them to be Muscari armeniacum.
I had seen similar flowers in a Tulip Garden in Holland, Michigan, USA in 2013. Is there any specific reason, they are planted together?
Requested to please confirm.
---
Yes for me.
---
Yes right… I have collected this sp. From botanical Garden srinagar opposite tulip garden srinagar
---
Yes, appears close as per images at
https://efloraofindia.com/2011/08/23/muscari-armeniacum/
---
References: