China (Fujian, Guangdong, Guangxi, Guizhou, Hainan, Jiangxi, Sichuan, Yunnan, Zhejiang), Taiwan

, India (throughout in lower altitudes, Uttar Pradesh, Assam, West Bengal, Bihar, Madhya Pradesh, Orissa, Tamil Nadu, Karnataka, Maharashtra, ?Darjeeling), Pakistan (Pakistani Punjab), Bangladesh, Nepal, Bhutan, Sri Lanka

, New Guinea, Java, Thailand, peninsular Malaysia,

Andamans (South Andamans), Nicobars (North Nicobars, Central Nicobars),

Philippines (Batan, Camiguin, Luzon, Alabat, Mindoro, Culion, Panay, Negros, Samar, Mindanao), Singapore (I), Palawan, Myanmar [Burma] (widespread), Laos, Vietnam, Ryukyu Isl., Australia (Northern Territory, Queensland, NE-New South Wales), New Caledonia, Galapagos (I), Southern Marianas (I) (Guam (I)), Mauritius (I), La Runion (I), Chad (I), Mozambique (I), Central African Republic (I), Cameroon (I), Cape Verde Isl. (I) (Santo Antao Isl. (I), Ilha de Maio (I), Fogo Isl. (I)), Djibouti (I), Angola (I), Namibia (I), South Africa (I), Swaziland (I) as per Catalogue of life;


.



blum-EE-uh — named after Karl Ludwig von Blume, Dutch botanist
…
Plant Names – Scientific and Popular
LASS-er-a — Latin lacerare, meaning torn or mangled, having irregular edges
…
Dave's Botanary
.
commonly known as
: Malay blumea •
Bengali
: কুকুৰমুতা kukurmuta, kukursunga •
Gujarati
: કોલહાર kolhar, પીલો કપૂરિયો pilo kapurio •
Hindi
: जंगली मूली janglimuli, ककरौंदा kakronda •
Kannada
: gaandhaari gida •
Malayalam
: കുക്കുര kukkuravrksam •
Marathi
: bhamurda, बुरंडो burando •
Sanskrit
: कुक्कुरद्रु kukuradru, कुकुंदर kukundara •
Tamil
: காட்டு முள்ளங்கி kattu mullangi, narakkarandai •
Telugu
: అడవి ముల్లంగి adavi mullangi, కారుపొగాకు karupogaku


.
Native to: China, e Asia, India, Indo-China, Malesia, Australia
Its an annual herb, around 20 to 80 cm, smells like turpentine. Whole Plant is pubescent, ash grey coloured.
Leaves are alternate, obvate, sharply serrate, obtuse, base tapered. Flowers are bright yellow.
FI notes
, "
It (B. laciniata syn. of B. sinuata ) differs
from lacera
,
in having all the leaves laciniate and from terebinthinacea (???) in the inflorescence and flowers
." FI doesn't mention any other difference.
FI further records,

1) in laciniata stem is striate..
2) in lacera stem erect, branchy, particularly near the ground; lower leaves are petioled, lyred; the superiors ones simply oval and many times smaller.
Attaching images of an unknown plant that i think is a Blumea sp. Is it Blumea lacera ?
Species : UNKNOWN
Habit & Habitat :
wild herb, height- 1 ft, roadside
Date :
13-04-2012, 11.00 a.m.

Place :
Hooghly, WB
---
Yes …, I hope your id is correct, very beautiful pics…
---
Found similar images at –
---
---
ID230111PHK2: ID please
A herb at Mhasala, Maharashtra
Leaves and stem both are sticky
---
Blumea sp, I suppose
---
Any chance of it being B. lacera?
---
I think this is Blumea lacera
---
---
Thanks, … But Looks different from images of Blumea lacera at
Identifying Asteraceae members by these type of photographs is really a challenge; one has to look the specimen in detail, hence there may be some errors, even some reputed websites also differ, the herbarium specimens sometimes may not given a clear picture. I am not an expert in Asteraceae
---
---
Location:

Relli River

, Kalimpong, India
---
Thank you …!
Nepali Names : 
कुकुरे Kukure/ कुकुरद्र Kukuradra/  कुकुर घाँस Kukur Ghaas/ थाङ्गने Thaangne/  थाङ्गने झार Thaangne Jhaar/ बुगी Bugee/ कोपिले झार Kopile Jhaar
---
Thanks very much … for the Nepali names of the plant – so many names – certainly must be ethno-botanically popular in the region.
---
Thank you …, Yes, I guess so !
---
---
---
140212 BRS311:
Pl. find the attached file contain photos for id. request.
Date: 11.02.2012
Location: Sadivayal, Coimbatore
Habitat: Wild


Habit: Herb.
---
Could be a species of Blumea of Asteraceae family.
---
Yah!! surely looks like Blumea sp.
---
Appears close to images at Blumea lacera (Burm.f.) DC.
---
---
Hooghly : Blumea? yet another
: Attachments (10). 3 posts by 2 authors.
This
3 ft Blumea (?) was growing in a Bamboo thicket
. The plant is hairy all over.
Photographs were taken on
02nd April, 2013, in Hooghly.
---
---
---
"Bengal Plants" has 13 Blumea, of which we should have –
B. amplectens DC. = a small bushy herb
B. bifoliata DC. = do
maybe B. oxyodonta DC. = a slender decumbent herb
B. wightiana DC. =

with purplish corolla

 (plz. note The Plant List differs)
B. glomerata DC. = Conyza fistulosa Roxb. = a rather slender, erect, much branched herb
B. lacera DC.
B. laciniata DC.
B. membranacea DC. = Conyza diffusa Roxb. = a tall, erect, usually much branched herb
I note some info on the last one, Blumea membranacea DC. –
While B. membranacea DC. in FBI (vol3, p265) is "common throughout India", Conyza diffusa Roxb. of FI (vol3, p429) is "a native of Bengal" !!!
The Plant List recognizes the above as two different taxa –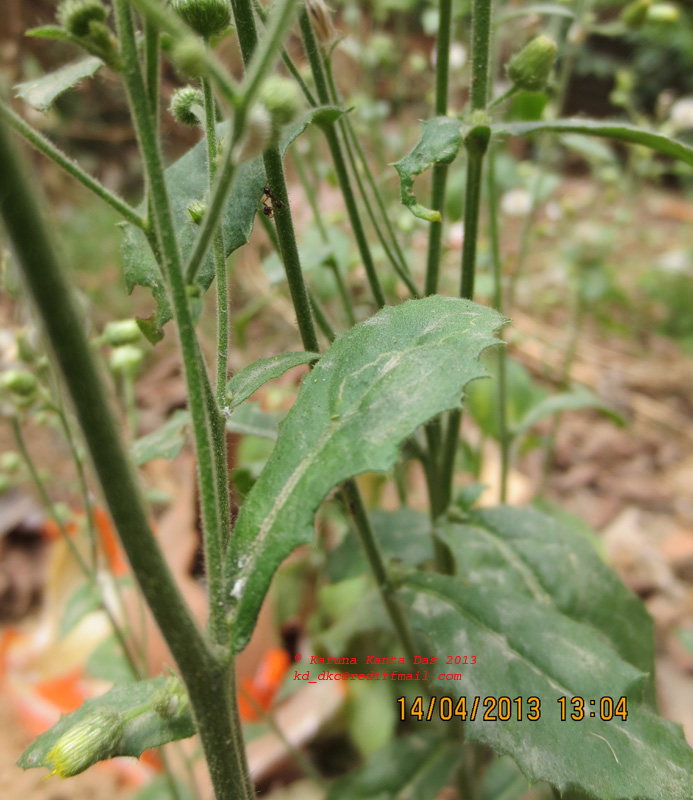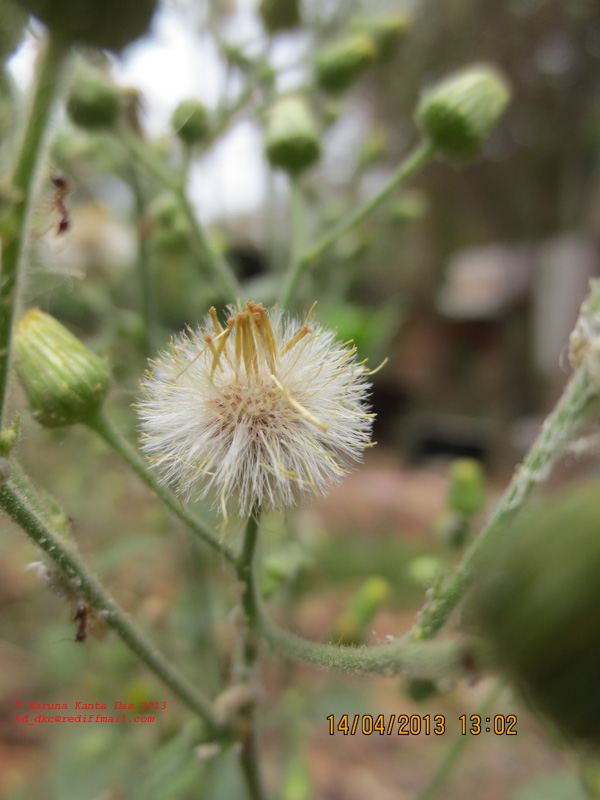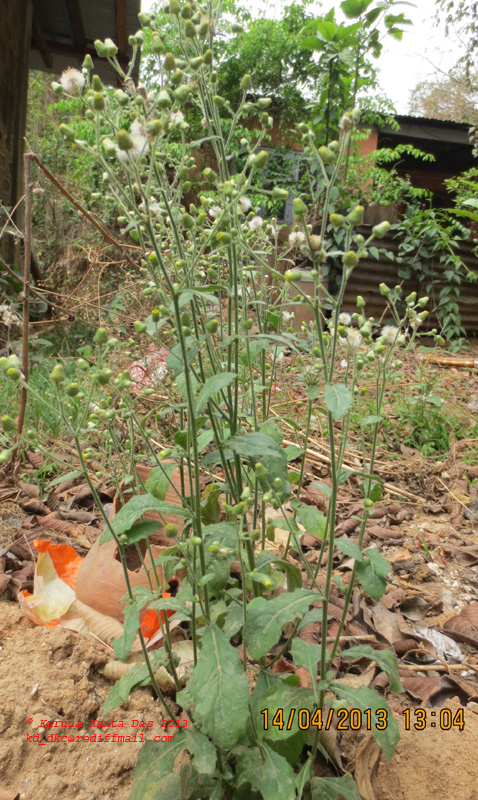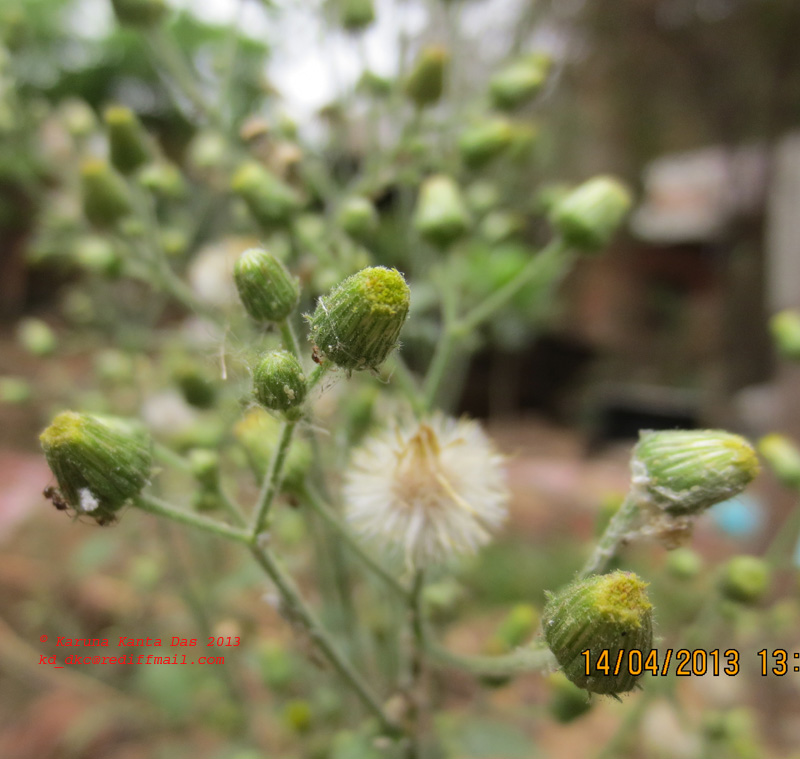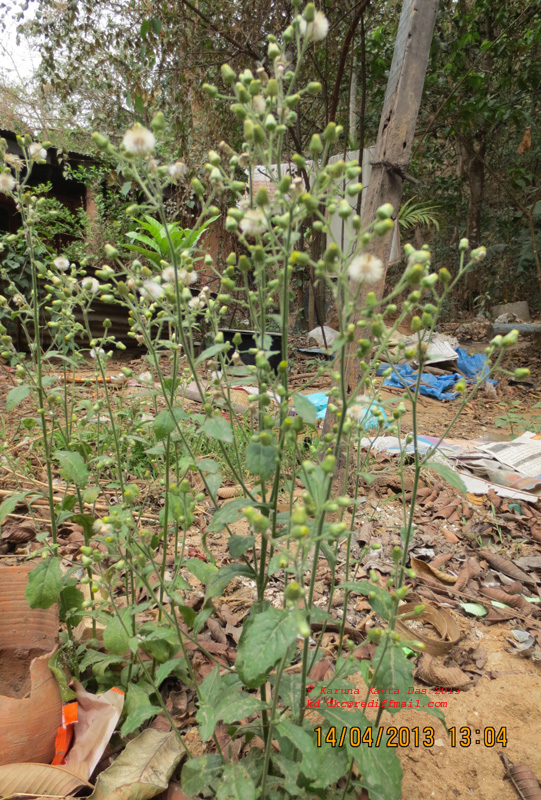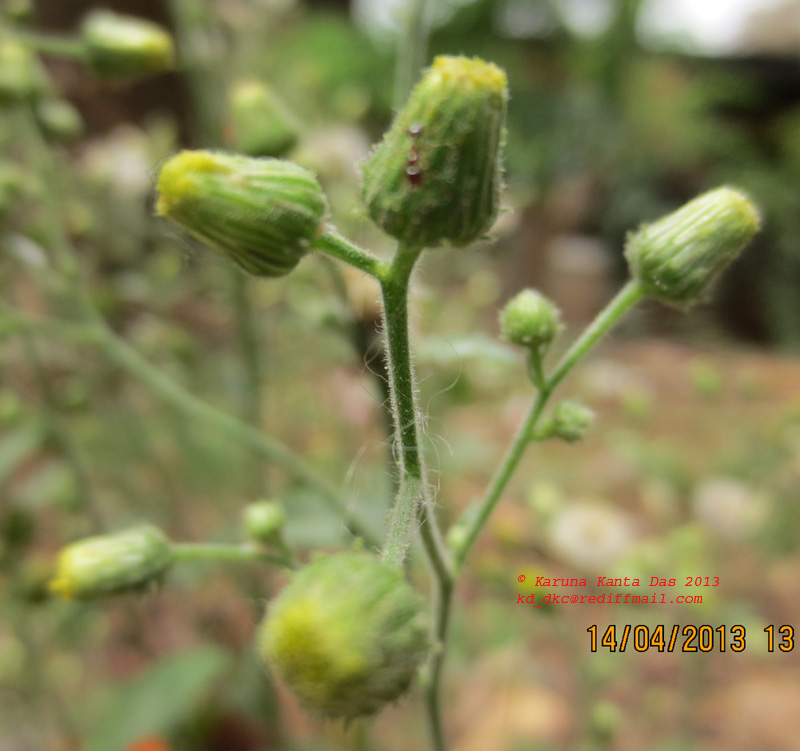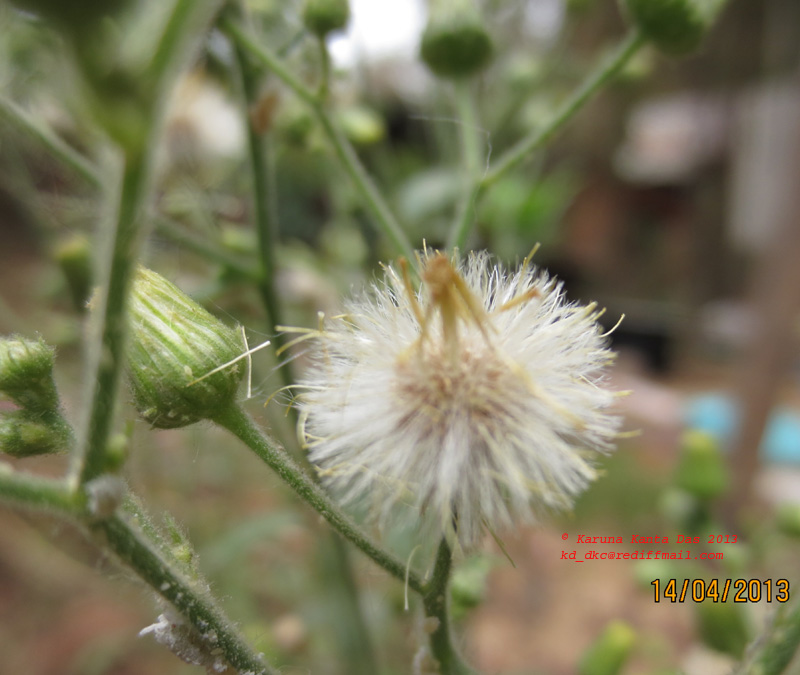 Blumea lacera (Burm.f.) DC. from Kamrup district, Assam
: 8 correct images of
Blumea lacera
as above. 3 posts by 3 authors.
I think attached images are
Blumea lacera (Burm.f.) DC collected from two different places of Kamrup district.
Please confirm the ID.
Date :08.11.2012 (Images No. 10 – 13) &

14.04.2013 (Images No. 01-09)
Location:

Kamrup district

(
(Images No. 10 – 13)
&
Kamrup (Metro) [Images No. 01-09]
Family : Asteraceae
Genus & species :
Blumea lacera
(Burm.f.) DC (?)
Habit : Herb

Flower : yellow
---
I also think it is Blumea lacera DC.
While first eight images are of Blumea lacera (Burm.f.) DC., other five images appears to be of Blumea sinuata (Lour.) Merr.
Place, Altitude: along NH17 near Loliem, Goa (about 85 ft asl)
Date, Time: 21 FEB 12 10:37am
Habitat: wild, often along roadsides
Habit: erect herb, about 50 – 60 cm high, flower-head about 3 – 4 mm across
---
I think it (with yellow flowers) is close to
Blumea lacera
 as per details and references herein and as per high resolution specimens at
---
This one does look very similar to that in … post, and does look like B. lacera.
Thank you very much … for combing the
Blumea
posts.
I earnestly hope more of those who are familiar with
Blumea
spp. come forward and express their thoughts.
---
Thanks, … Blumea's are really really difficult. I never got the courage to look at them for a long long time.
But finally I took the plunge and have been working on these for last five days.
I am now getting the clarity on this genus.
Hope more experts come up and take revision of different genera in efi site.
---
There are too many variations in sizes of leaves as well as plant heights, they confuse me easily, never could get familiar with almost any of them.
Regular field visitors should be able to help us sort the IDs.
---
yes it looks like Blumea lacera
---
---
A species of Blumea
---
May be close to images at Blumea lacera (Burm.f.) DC.
---
Comparing with images from efi I guess B. lacera is the correct ID !
---
---
Id-180212-PR-1: asteraceae
locatin Gujarat, Baroda
Habitat Wild
Habit- Herb
Height apprx. 40 cm
---
This doesn't look like Sonchus
In Sonchus the leaves are radical and ligulate (5 toothed) ray florets, that are not seen here.
---
Blumea or Laggera sp??
---
It is blumea. Species I am not sure
---
I could not find a match as per comparative images at ‎Blumea
---
References:
POWO  Catalogue of life  The Plant List 1  The Plant List 2  GRIN  Flora of China  Flora of Nepal  Useful Tropical Plants  GBIF (With type specimens) RBGE
Indian Herbal Remedies: Rational Wester Therapy, Ayurvedic and Other … edited by C. P. Khare
Flora of Eastern Ghats: Hill Ranges of South East India, Volume 3 By T. Pullaiah, K. Sri Ramamurthy (Keys- oxyodonta, eriantha, randerii, bifoliata, fistulosa, laciniata, hieracifolia, lacera, mollis (=axillaris), membranacea & virens & description)