Assam to Temp. E. Asia and Peninsula Malaysia: Assam,
Cambodia, China North-Central, China South-Central, China Southeast,

East Himalaya,

Japan, Kazan-retto, Korea, Laos, Malaya, Myanmar, Nansei-shoto,

Nepal, Pakistan,

Thailand, Tibet, Vietnam,
West Himalaya as per
POWO
;
---
Date/Time-
3/4/2011- 11 AM

Location- Place, Altitude, GPS-  
Kokrajhar, Assam, Alt 90m
Habitat- Garden/ Urban/ Wild/ Type-
Wild Type

Plant Habit- Tree/ Shrub/ Climber/ Herb-  
Small Tree

Flower- as pics
Inflorescence Type/ Size- as seen in the photos
Flowers Size/ Colour/ Calyx/ Bracts-
whitish
Fruits Type/ Shape/ Size Seeds- not seen
---
This I think is Stinging Nettle
---
This appears to me as: Oreocnide frutescens (Thunb.) Miq. Family: Urticaceae
---
I'll go with my earlier ID coz I've seen this plant many times in field.
---
Location : Dampui, Mizoram
Date : 01-03-2016
Habit : shrub
Habitat : Wild
---
Debregeasia spp.
---
I think this is Oreocnide frutescens (Thunb.) Miq.
Family: Urticaceae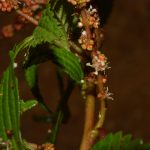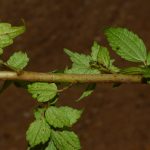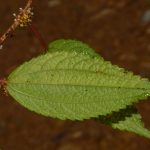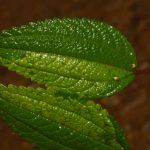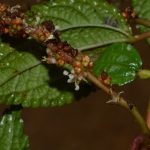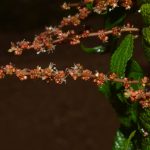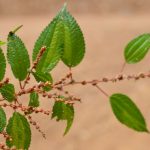 SK 2921 13 July 2021: 7 very high res. images.
Location: Kathmandu, Central Nepal
Altitude: 1825m.
Date: 14 July 2021
Habit : Wild
Pouzolzia sanguinea (Blume) Merr ??
---
May be 
Boehmeria
 or other closely related genus.
---
I m was trying
Boehmeria
but could not find a match but I guess it
could be !
---
Pouzolzia rugulosa (Wedd.) Acharya & Kravtsova. ???
---
This one is likely Oreocnide frutescens with male inflorescense.
---
Oreocnide frutescens (Thunb.) Miq.
---