---
Date/Time- 24-01-2011 / 12:15 PM
Location- Place, Altitude,
GPca.2200asl; Ooty, TN
Habitat- Garden/ Urban/ Wild/ Type-
garden
Plant Habit-
herb
Height/Length-
20 cm long

Leaves Type/ Shape/ Size-
ca.5 x 0.2 cm;

Inflorescence Type/ Size-
single
Flowers Size/ Colour/ Calyx/ Bracts-
c. 5 cm across
Lampranthus spectabilis ??
---
Is this plant called 'Trailing Ice plant'? Please resolve this id.
---
May be
Delosperma cooperi
as per
The plant in discussion is belongs to Carpobrotus genus. 
---
Thanks, … Why not Delosperma cooperi ? as per
Garden plant
from California
for ID
Looks tobe from Family :
Aizoaceae
A succulent spreading on ground in flower beds.
Flower size 4cm or so.

I think this to be
Delosperma cooperi
Please validate
---
Yes Delosperma cooperi (Syn: Mesembryanthemum cooperi)
---
yes, called ice plant… a succulent used as soil saver.// ground cover .. and on california coast along the highway… and on beaches… prevents soil erosion..

---
A hardy succulent from Family : Aizoaceae
Originates from South Africa
---
---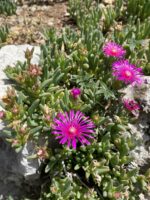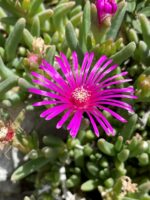 France, July 2022 :: Delosperma cooperi :: ARK2022-080: 2 high res. images.
Delosperma cooperi
This was clicked at the Eze Botanical Garden near Nice, France in July 2022
---
References: