---
This species has been recorded from numerous countries across tropical Africa, Southeast Asia, Central and South America.
It is a rooted aquatic plant found in ponds. This species is commonly grows in shallow water of drying ponds and margins of pools.
The petals of flowers are analgesic in nature and its extracts are used externally in ear ache. Although there are fairly old records, many uses have been reported in Africa such as medicinal for treating nutritional deficiencies, tubers used as food for humans and animals, and also used in agriculture for composting
(Burkill 1985).
Citation:
Gupta, A.K. 2013. Sagittaria guayanensis. The IUCN Red List of Threatened Species. Version 2014.3. <

www.iucnredlist.org

>. Downloaded on 15 November 2014.
.
---
---
I think i found the correct id for this plant Sagittaria guayanensis Kunth
---
Yes …. It was a tough competition but your photograph number 7, 10 and 13 seem to be clinching the issue. Otherwise leaf size and shape in two is similar, most flowers of Sagittaria are bisexual (clinch the issue) although some male flowers in later flowers were creating doubt, with both having up to 10 stamens, and male flowers of Hydrocharis also in groups of 2-3 like S. guayanensis.  Flowers, however, are larger in Hydrocharis, 4 cm across as compared to 2 cm in S. guayanensis. You may have checked on this.
---
Please make sure all photographs belong to same plant. Flower diameter should be 1.5-2 cm in Sagittaria guayanensis, but 4 cm in Hydrocharis. Plus Sagittaria has free carpels with numerous achenes, Hydrocharis united carpels (single ovary) with usually six bifid stigmas. But then acutish basal lobes and deep go with Sagittaria, Hydrocharis has shallow sinus with distinctly rounded basal lobes.
---
Sir, Flower size was about 2-2.5 cm only. These were two different plant i shot there but of same species. This plant also commonly grows in Rice fields where flower size does not exceed 1.5 cm. And yes i remember the
fruit free carpels. Adding 1 more pic of this plant thanks Sir for the so much research for this plant
---
---
---
Awesome set of Pics …
---
Thank you very much Sir, i too was about to id it as Hydrocharis!
---
---
51 Identify weed plant: 4 images.
Please identify the weed plant.
Location:  near Reserve Forest,
Chathamattom, Ernakulam Dis
trict, Kerala PIN:686671

Date:.               25.11.2020, 12.40pm

Altitude:           1700fsl
Habitat:            aquatic marshy paddy-field

Plant habit:      stemless annual

Height:             01 feet
Leaves:            floating heart-shaped

Flower:             diameter:9mm, white
 non fragrant
---
Weedimages.org says it is Hydrocharis morsus/European frog-bit,
2 attachments of screenshots
---
Hydrocharis morsus-ranae 
L. has distribution only in West Himalaya as per 
POWO
.
It is 
Sagittaria guayanensis subsp. lappula as per images and details herein.

Pl. also see 
Flora of Peninsular India
.
---
I agreed, thank you very much for identified the weed plant,
---
---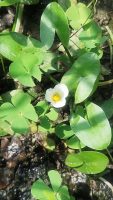 Id plz
: 1 high res. image.
From j & k
Pl. check
https://efloraofindia.com/2011/02/04/alismataceae/
---
This appears close to images at Sagittaria guayanensis subsp. lappula (D.Don) Bogin
---
References: