Debregeasia saeneb (Forssk.) Hepper & J.R.I.Wood
,
Kew Bull. 38: 86 1983
. (Syn:
Boehmeria hypoleuca Hochst. ex A.Rich.
;
Boehmeria salicifolia D.Don
;
Debregeasia bicolor (Roxb.) Wedd.
;
Debregeasia hypoleuca (Hochst. ex A.Rich.) Wedd.
;
Debregeasia salicifolia (D.Don) Rendle
;
Missiessya hypoleuca Wedd.
;
Morocarpus salicifolius (D. Don) Blume
;
Procris hypoleuca Steud.
;
Rhus saeneb Forssk.
;
Urtica bicolor Roxb.
;
Urtica salicifolia Roxb.
;
.
NE. Tropical Africa to Indian Subcontinent:
Afghanistan,
Assam,
Eritrea, Ethiopia,
India, Nepal, Pakistan,
Saudi Arabia, Tibet,
West Himalaya,
Xinjiang, Yemen
as per
POWO
;
China (SW-Xinjiang), S-Tibet,

Jammu & Kashmir (Poonch, Kashmir, Jammu),

Pakistan (Dir, Swat, Hazara, Murree, Pakistani Punjab), Pakistani Kashmir (Mirpur),

Nepal,

Ethiopia, Eritrea,

India,

Laos, Afghanistan (Kunar / Nuristan), Saudi Arabia (Asir), Yemen (N-Inner Yemen, Tihama, W-Yemen)
as per
Catalogue of Life
;
.
As per efi thread:


If

Flowers are compact, globose, sessile heads, arranged in axillary clusters, Perianth of 4 tepals, succulent in female flowers; stigma sessile, Stamens 4, Fruits globose, yellowish, 4-­5mm across, berry like then it is Debregeasia salicifolia (syn. of Debregeasia saeneb (Forssk.) Hepper & J.R.I.Wood) and if


Flowers are arranged in axillary, dichotomously branched, compact heads, Perianth of 4-segments; stamens 4; perianth segments longer than bracteoles in male, Fruits orange-yellow when ripe then it is

Debregeasia longifolia
---
Debregeasia saeneb/ABFEB10 : 3 posts by 2 authors. Attachments (4)
I saw this small bush flowering on my evening walk and I took some pictures to share. This Himalayan Wild Rhea belongs to the nettle family and one can see the nettle like hair on its leaves (see close ups). I believe the fruit from this plant is edible but I haven't seen or eaten it yet. I will keep you updated.
Himalayan Wild Rhea (Debregeasia saeneb)–Please confirm if these are male flowers?
Above Mcleodganj, Dharamshala, HP
---
You are right, it is Debregeasia saeneb. Himachal Pradesh has rich diversity of plants from Urticaceae.
---
I have photographs of ripe fruits. But no time to locate in the PC. I'll post some other day.
---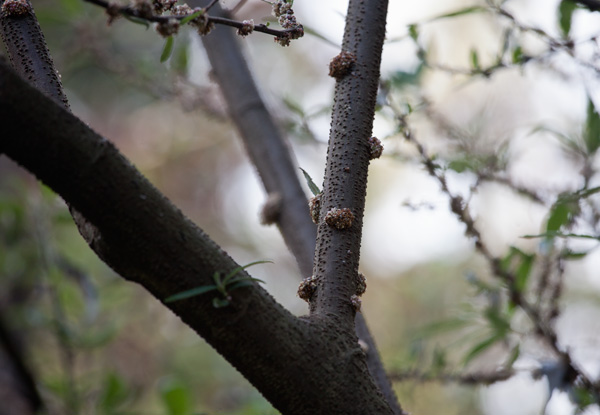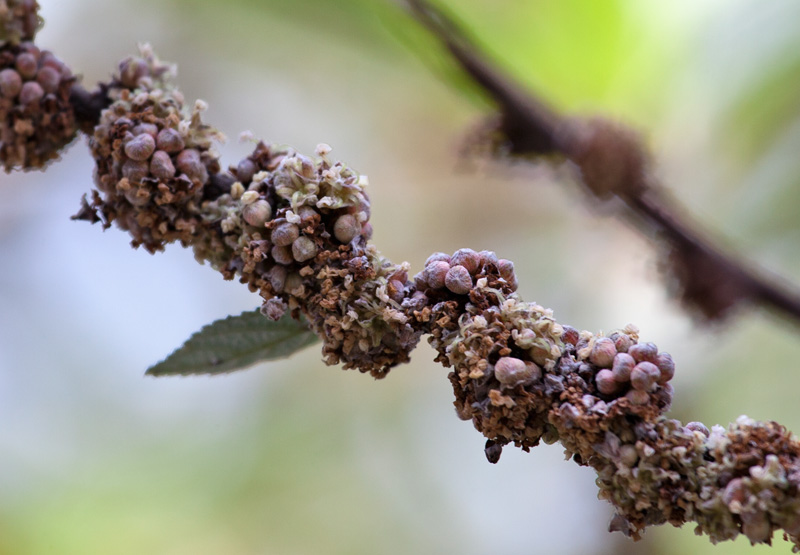 I photographed this Rhea yesterday and am updating the photos for record.
Debregeasia saeneb
Near Dal Lake, Mcleodganj
19 May 2017

Attachments
(5)
---
Fruits of this plant are edible and tastes good.
---
since the place where it was growing was inaccessible…
Location Kalatope, Chamba
Altitude 1100 mts
Habit shrub/tree
Habitat wild
Season March
Height 10-12 feet
---
No problem with the photos, looks like Boehmeria rugulosa or can be any other species of Boehmeria…..
---
It looks more like some species of Debregeasia to me.
---
I am sure you got it right before I could extract my books from heap of paper due to woodwork and paint work in our house. I hope it is Debregeasia salicifolia (D. Don) Rendle (syn: D. hypoleuca Wedd.)
---
that was fast… I was looking up the same in my Flowers of Himalayas.. and had just reached the same conclusion… as … … but he does not even have to look at a book to know what it is…. 🙂
---
.
---
Photo of this plant.:
I need this plant
DEBEREGEASIA BICOLOR
for my butterfly garden. May I request you all if you have photo of this plant then pl email me.
---
---
Plants for ID_AS_07March18_P211 : 6 posts by 3 authors. Attachments (4)
Please help ID following plants.
Location: Datyar, Solan District, Himachal Pradesh (elevation: 517m )
There were several plants, mainly along the stream
.
Underside of the leaf has whitish colour

and approximate average height was 8 feet.
---
Thank you very much, … for help in identification. I believe this plant is Debregeasia saeneb. Here are some more images.
---
Debregeasia saeneb (Forssk.) Hepper & J.R.I.Wood
---
---
Near Birthi Falls, Munsiyari-Thal Road, Uttarakhand
September 2019
Genus unknown
Could specific epithet be salicifolia?
---
Guazama sp.
Could be G.ulmifolia
---
Sir, leaf base and leaf underside not matching Guazuma so.
---
Please once check with Trema orienalis,
---
Does not look like Trema orienalis !
---
You're right …, I realize now,
it's could be Debregeasia latifolia,
---
---
Thank you, sir!
D. saeneb
(syn
D. salicifolia
) looks like the best match.
Plant was not flowering when I saw it.
---
---

Debregeasia salicifolia: 1 high res. image.
Habit: Shrub
Location: Rajouri j and k
---
---
---
Please I am almost certain you have a Bohmeria, possibly cylindrical.
---
efi page on Boehmeria macrophylla (syn: Boehmeria cylindrica Humb. ex Blume [Illegitimate])
---
I think Euphorbia sp
---
Please look at Boehmeria glomerulifera Miq. 
---
It should be in Debregeasia genus.
To me Debregeasia hypoleuca. (Urticaceae).
---
i am  to be leaning towards … opinion. but on my part its a surmise based mostly leaf shape. need better pictures
---
I think this will be Debregeasia saeneb as per images and details herein and as per keys at ANMAR07/07 Please identify this tree
---
---
Tree/shrub
: 3 posts by 3 authors. Attachments (1).
This plant is
versatile–growing
to be a tree or a hardy shrub either off the ground or poking out of rock crevices and stone walls.
The leaves are silver on the underside attached by reddish brown stalks. Please help in identification.
Mcleodganj, Dharamshala, HP
---
This can be Debregeasia hypoleuca.. Urticaceae
References: