IUCN Red List Status: Data Deficient (DD)
.
Diospyros ebenum J.König ex Retz., Physiogr. Sälsk. Handl. 1: 176 1781. (Syn: Diospyros assimilis Bedd.; Diospyros ebenaster Retz.; Diospyros glaberrima Rottler; Diospyros laurifolia A.Rich.; Diospyros melanoxylon Willd. [Illegitimate]; Diospyros membranacea A.DC.; Diospyros reticulata var. timoriana A.DC.; Diospyros timoriana (A.DC.) Miq.);
.
S. India, Sri Lanka, Andaman and Nicobar Islands as per POWO;
.
For ID confirmation 290412 SS1: Diospyros ebenum from Trivandrum city:
Some pictures of Diospyros ebenum (Family: Ebenaceae).
Pictures taken on 25 April 2012
from the premises of Napier museum
, Trivandrum city.
Popularly known as
Indian ebony
or
Ceylon ebony
occurring in South India and Sri Lanka
.
It is the source of the finest jet black ebony.
Dark shiny leaves, simple, alternate.
Literature says the tree is monoecious, with male and female flowers occurring in the same tree.
The flowers in the photograph, I suppose, are female flowers.
Experts please comment and confirm id.
---
Yes It is Diospyros ebenum
---
Diospyros ebenum J.Koenig ex Retz.
: 2 posts by 2 authors. Attachments
(
2
)

Diospyros ebenum
J.Koenig ex Retz. 
tree
from Periamuthur village near Krishnagiri Tamilnadu,
the wood is relatively hard;
grows on river bank area.
---
Black Ebony wood used for making chess pieces
:
Does any member help as to where it (Diospyros ebenum) can be sourced from?.
---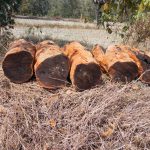 I am looking for these. It is called Ebony wood and is found in South India- from Mohit.
---
Check with India Mart on line !
---