---
Key to Paraquilegia species in India (Modified from Pulsakar & D K Singh, 2011) :
1. Leaves 3- to 4-ternate; bracts 3-lobed; leaflet segments less than 3 mm long, shorter than petal nectaries, less than 1.2 mm broad; habit slender; flowers April-May …… P. microphylla (Royle) J R Drum.
1. Leaves 1- to 2-ternate; bracts simple (not 3-lobed) …….(2)
2. Plants pubescent; leaves usually 1-ternate; sepals 10-12 mm long; foliage thin greenish; leafsegments 4-11 mm long; follicles 10-12 mm long ……. P. caespitosa (Boiss. & Hohen) J R Drum
2. Plants glabrous; leaves 2-ternate or sub 2-ternate ……(3)
3. Seeds glabrous, margin unequally winged (pectinate) on one side; leaf segments 3-sect with narrow lobules; bracts present on upper 1/4th (distal) region of scape; style apex curved or recurved-hooked; habit caespitose; leaflet segments longer; leaflet segments longer than 3 mm, longer than petal nectaries,broader than 1.5 mm; habit caespitose; flowers June-August , ….. P. gangotriana Pulsakar & D K Singh
3. Seeds puberulus, not winged; leaf segments 3-lobed with broad lobules; bracts present at about slightly above the middle of scape; style apex straight or slightly curved …….. P. anemonoides (Willd.) Ulbr.
---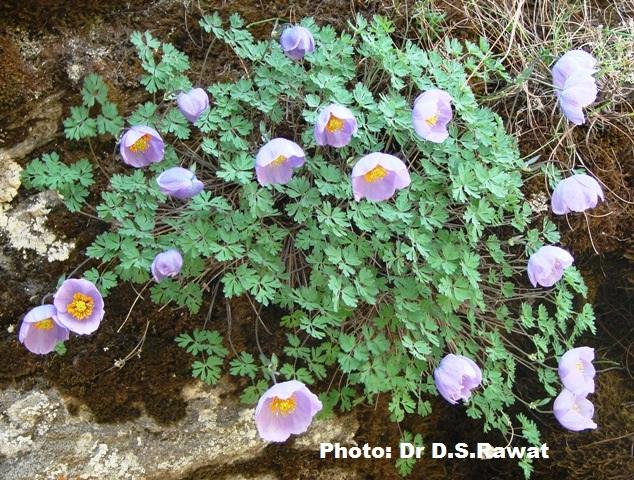 ---
---
---
---