Paraquilegia
gangotriana
Pusalkar & D.K.Singh,
Nelumbo 53: 221. 2011
;
.
W. Himalaya

from
POWO
;


.




India (Uttaranchal, Himachal Pradesh), Jammu and Kashmir

as per CoL;

.
---
---
I really appreciate the hard work that went into taking this picture for the habitat is quite harsh and precarious and thanks for showing this rare flower
---
Wow what a habitat! No wonder God trying to protect these beautiful flowers……
---
.
---
Request for Identification:
Can this plant be Paraquilegia microphylla
Location: Paddar valley district Kishtwar J&K.
Altitude: 2333 meters asl.
Plant habit/habitat: Wild herb
Plant height: 15 cm

---
Agreed to your id … Paraquilegia microphylla

---
It is recently renamed as Paraquilegia gangotiana
---
Some details please. gangotiana or gangotriana
Is it a replacement name for Paraquilegia microphylla (and the reason for discarding it) or a new species described (and how it differs from P. microphylla).
---
It was a case of mass misidentification.
In entire West Himalaya specimens of Paraquilegia were identified as P.microphylla while the protologue and specimens from type locality (in Garhwal by Duthie) have different type of leaves, as studied by P.K.Pusalkar in BSI Dehradun. Consequently, this most common species, also mentioned in Flora of China, is named as P.gangotriana by P.K.Pusalkar and D.K.Singh, both from BSI.
The species is also common in alpine zones of Uttarakhand blooming in late May or June with its characteristic habitat in rock crevices or over rock faces. A very attractive alpine plants
---
Only access to original paper can resolve the issue. P. gangotriana to my mind can't replace P. microphylla for Western Himalayas, since Royle originally described this plant from Western Himalayas. If both grow in Western Himalayas, we have to know the differences between the two species.
---
I am not sure about nomenclature upgradation, but it is Paraquilegia microphylla. I have also taken photographs of this plant from Great Himalayan National Park, Himachal Pradesh, hanging from almost vetical cliffs.
---
Some one has to find and upload the paper in which P. gangotriana has been described, then only we will know which plant is P. microphylla and which P. microphylla?
---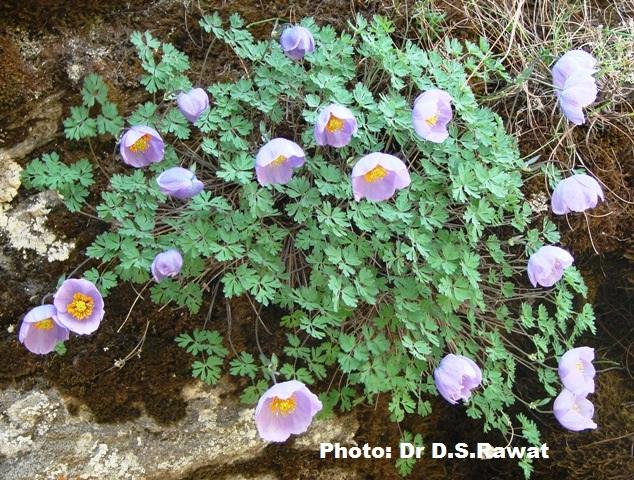 The common species of Paraquilegia genus, i.e., P. microphylla was an erroneous application of name to it since the true P. microphylla described by Royle (as Isopyrum microphyllum) was different in morphology. Therefore this common Paraquilegia was named as P.gangotriana Pusalkar et D.K.Singh in 2011.
The document published is enclosed for the perusal of all members.
Also enclosed is a picture of this species P.gangotriana shot at Sunderdhunga glacier area in Kumaon Uttarakhand in June 2012.
Attachment- P.gangotriana pdf

---
Thanks … for making this paper available.
Fortunately my doubts were not unfounded. In fact we must be looking at one of the following four species when identifying Paraquilegia from Western Himalayas (Modified from Pulsaka & D K Singh, 2011) :
1. Leaves 3- to 4-ternate; bracts 3-lobed ….. P. microphylla (Royle) J R Drum.
1. Leaves 1- to 2-ternate; bracts simple (not 3-lobed) ….. (2)

2. Plants pubescent; leaves usually 1-ternate; sepals 10-12 mm 
long; foliage thin greenish; leafsegments 4-11 mm long; follicles
10-12 mm long ….P. caespitosa (Boiss. & Hohen) J R Drum 
2. Plants glabrous; leaves 2-ternate or sub 2-ternate … (3)

3. Seeds glabrous, margin unequally winged (pectinate) on one side; leaf 
segments 3-sect with narrow lobules; bracts present on upper 1/4th
(distal) region of scape; style apex curved or recurved-hooked…..P. gangotriana Pulsakar & D K Singh
3. Seeds puberulus, not winged; leaf segments 3-lobed with broad
lobules; bracts present at about slightly above the middle of scape; 
style apex straight or slightly curved …….. P. anemonoides (Willd.) Ulbr.

---
Looking at the final key uploaded it clearly has 2-ternate leaves and simple bracts, it should be P. gangotriana
---
Paraquilegia anemonoides (Willd.) Ulbr. ?? Both looks same !
---
What do you say about the species suggested by …, as both are very close as per keys and have distribution in the area?
---