Impatiens
herbicola
Hook. f.
, Bull. Misc. Inform. Kew 1911:354. 1911;
Images by (Muthu Karthick – Id by V.Bhaskar) & (Subhanjan Kayet – Id by Prabhu Kumar & V.Bhaskar), (For
more photos & complete details, click on the links)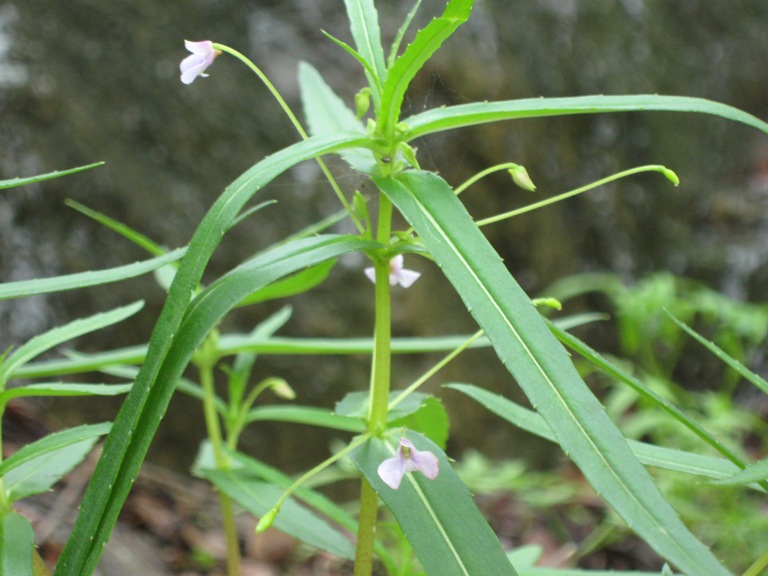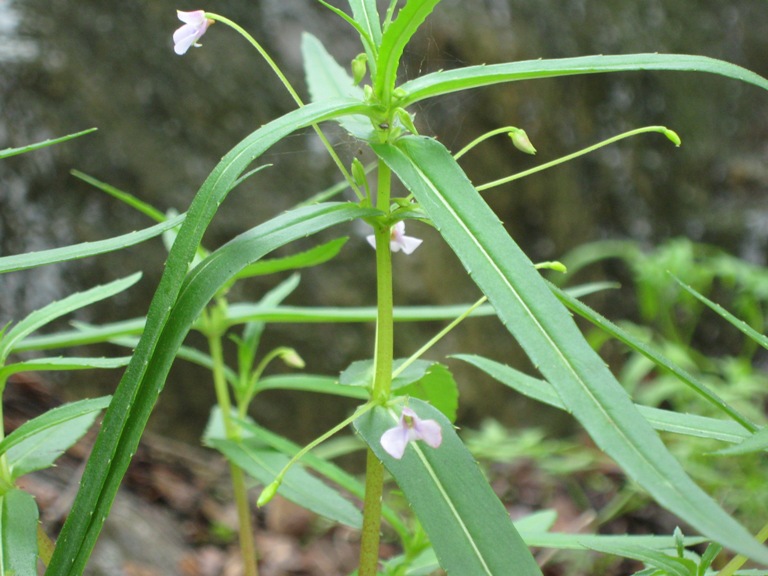 The leaf measures 10×2 cm and sessile. Flower measures 0.5-1cm across and the plant about 2 feet in height.

Date: 19 06 2012

Alt: c. 930 m ASL
---
A suggestion, please check Impatiens chinensis.
---
This balsam looks mostly like Impatiens herbicola Hk.f. but physical examination of presence or absence of basal lobe of wing petal and dorsal auricle only would confirm its identity. Impatiens aliciae C.E.C. Fischer which is reported from Munnar also looks somewhat like this. If you have collected any specimen and pressed plant pls let me know. 
---
I will collect the specimen in another 10 days. Thanks for the lead sir.
---
All species of
Impatiens
can be identified at Coimbatore as both Dr Balakrishan and Dr Subbarao have seen Himalayan sp also while they were at Shillong and Calcuta. Late Mathewsoif Trichy had many balsams identified by me when he worked in Kurseong in 60s. Dr Sujana is now at Calcutta Hebarium who can identify if specimen is sent I myself collected all Impatiens after Hooker but at Gangtok now. I do have rare slides of Impatiens of Sikkim. Razi is no more and Bhaskar worked on S.Indian sp long ago. So native species should be taken up an young field botanist. Prof J.Venkateswarlu of Cambridge Uni studied Hydrocera embryology. This plant is an Impatiens wtih slightly woody fruit (Found in Zoo at Bhuaneswar). This monotypic genus is superficial and should be reverted to Linnaen genus as Gynandrops is as an exmple. 
---
Opposite-decussate leaves are characteristic of Impatiens chinensis.
---
Name: Impatiens herbicola Hook.
Family: Balsaminaceae 
This plant looks similar to I. chinensis and was identified as Impatiens herbicola by Dr.V. Bhaskar here.
He mentioned "Impatiens herbicola has no spur in the lip (or has a minute projection in place of spur) and has a prominent dorsal auricle (an extra appendage at the base of wing petal which is usually thread like or a short projection), flowers are smaller and dull purple. Whereas I. chinensis, flowers are bigger, deep pink, with a well developed curved spur and has no dorsal auricle" 
Location: Valparai, TN (Western Ghats)
Date: 12 July 2012
Alt.: c. 930 m asl
---
Exactly. Very correct.
---
As the species was recognized by Dr. Bhaskar, true expert in balsams of Western Ghats I propose to include it into species listed on Flowers of India webpage
---
WHITE SMALL IMPATIENS, KERALA, MUNNAR OCTOBER 2015
SIMILAR LOOKING chinensis and oppositifolia, but this plant flower is white 
---
Please check for
Impatiens inconspicua
---
The plants fall under Impatiens herbicola-I. inconspicua complex.
Very difficult to differentiate. 
---
It could be
I. herbicola
.  But the bottom part of lip is not seen in the photos.
---
This herb was seen at Erivikulam National Park, Munnar.
Could this be
Impatiens herbicola
??
Family: Balsaminaceae
---
Pl. check with images at 
---
Thanks, … To me also appears to be close as per images at
Impatiens herbicola
Munnar, Kerala, in the Nilgiris
First week of October 2018
---
thanks for sharing how big are these flowers
---
thank you … flowers are quite small- just a little bigger than a centimetre
---
References: