Syn: Iris aurea Lindl. (non Link.); Iris spuria subsp. aurea Dykes
This beautiful species known to
occur only in Kashmir,

commonly planted on graveyards, along roadsides and road dividers

.
Plants tall up to 125 cm with long straight sword-like leaves 50-80 cm long, 15-25 mm broad; flowers deep golden-yellow, 12-16 cm in diam, in a terminal cluster, and two lateral clusters; spathe valves 7-9 cm long, green, spathe 2-3 flowered; perianth tube 10-15 mm long; falls without beard, up to 9 cm long with 4-5 cm long blade, crisped along margin, narrowed into 3-4 cm long haft; standards oblanceolate, 6-8 cm long, margin wavy; style 3.5-4 cm long, crest deltoid; capsule oblong, 6-angled, beaked.

Photographed
from Airport Road

in Kashmir

, grown along road divider.
---
.
---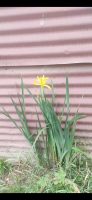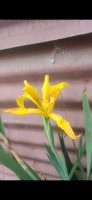 Iris sp. From Kashmir
: 2 images.
---
Iris aurea
---
References: