.
Jammu & Kashmir (Kashmir), Pakistan (Hazara), Bhutan, Sikkim, Nepal, S-Tibet, China (Sichuan, S-Gansu, Qinghai, Shaanxi, W-Sichuan, NW-Yunnan)
as per
Catalogue of Life
;
.
Common name:
 Yellow Spotted White Saxifrage
.
Saxifraga melanocentra
Franch.
…
(family: Saxifragaceae)
syn. Saxifraga pseudopallida (Engl. & Irmsch.) Losinsk.
3 AUG 12
Hemakund – Ghangaria trail … about 13300 ft
---
Saxifraga melanocentra. Interesting sp. name. Something black in the centre….
---
According to Polunin & Stainton, Saxifraga melanocentra is distributed from C. Nepal to SW China. So, it should not be found in VoF. However, something must have changed when S. pseudopallida ceased to be an accepted name, and was treated as a synonym of S. melanocentra. Can anybody enlighten on that?
… plant is distinctly Saxifraga melanocentra.
---
Saxifraga pseudopallida, including its varieties recognised by Engler has distribution from Kashmir to Bhutan in India. S. melanocentra was described from China. With the merger of former into latter (in Flora of China and The Plant List), the distribution range of S. melanocentra would extend from Kashmir to Bhutan and China, so there should be no doubt about its existence in VOF.
---
---
VOF Week: Saxifraga pseudo-pallida at Hemkund Saheb:
Seen this small herb en-route Hemkund saheb. Could this be Saxifraga pseudo-pallida??
---
Truly a great find of a rare plant.
---
For the whole trip I was dreaming about it and failed to get it. But thanks …, because of you I could see it on the forum, thanks for sharing.
---
Extremely nice find … I was also lucky to see this at one or two places…
---
Very nice pictures. Looks similar to … post of Saxifraga melanocentra.
---
Yes …, Saxifraga pseudopallida is now treated as synonym of S. melanocentra.
---
I had gone thru the discussion on the same plant uploaded by .. in different thread. Thanks to … and … for making things more clear about the ID of this plant.
---
I like 3485 the best, best way to learn about these plants
---
---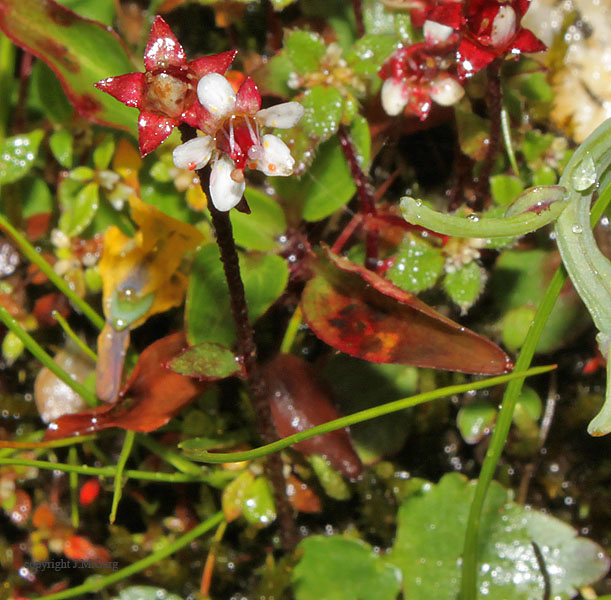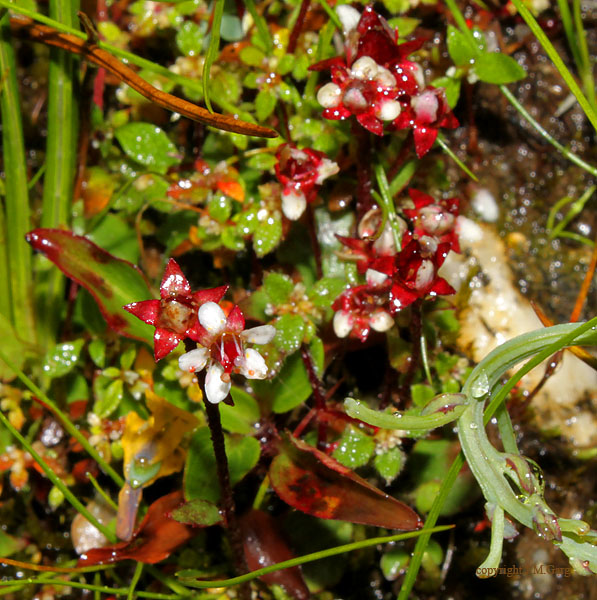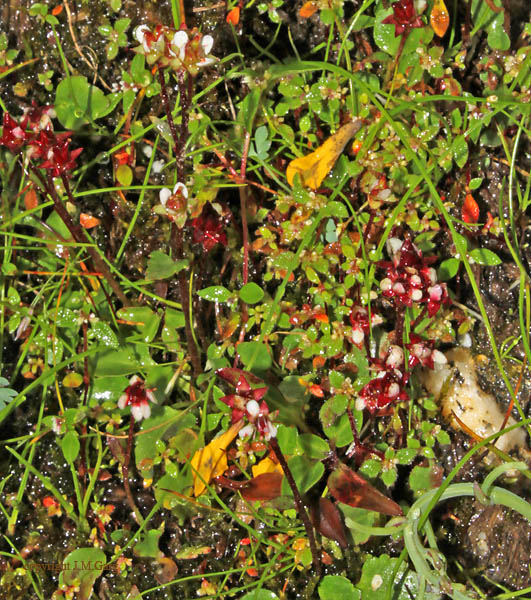 Flora of Uttarakhand- Herb4 for Id- JM:
Wild Herb captured on 13/8/10 during the trek from Ghangaria (around 11,000 ft.) to Hemkunt Sahib (around 14000 ft.). I am unable to see any leaves.
---
– A very interesting history. The genus was traditionally placed under Saxifragaceae and followed in most Floras. More recently it was shifted to a separate family Parnassiaceae far removed from Saxifragaceae (placed under Saxifragales) under order Celastrales in APG II as well as Thorne (2007). in latest classification APG III (2009) it has been merged with Celastraceae. Amongst the recent Floras Eflora of Pakistan places it under Parnassiaceae, whereas most others including that of China, Taiwan, still place it under Saxifragaceae.
---
-I don't think it (Parnassia nubicola) matches with my plant:
-May be you are right, there seem to be more than 5 stamens in your photographs.
---
This can be Parnassia palustris?
---
–Parnassia palustris looks different as per links:
http://en.wikipedia.org/wiki/Parnassia_palustris
http://www.plant-identification.co.uk/skye/parnassiaceae/parnassia-pa…
http://species.wikimedia.org/wiki/Parnassia_palustris
---
Forwarding again for Id
confirmation
as Saxifraga pseudo-pallida in view of … post
Saxifraga pseudopallida is now treated as synonym of
S. melanocentra
---
---
Vof Week: Saxifraga melanocentra from Valley:
Saxifraga melanocentra from Valley
pls validate
---
Yes … Very nice and clear photographs
---
---
These tiny white flowers stood out against the dark rain-soaked foliage above 3500m. I think these are Saxifraga melanocentra. Please advise.
Saxifraga melanocentra
Above Lahaish Cave, Towards Indrahar Pass, Dharamshala, HP
3500m and above

28-29 July 2017
---
.
---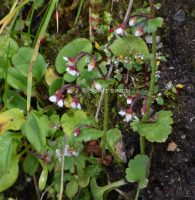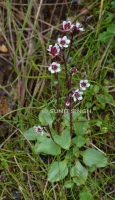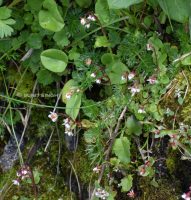 new addition to efI: 3 high res. images.
please check the attached images of Micranthes pseudopallida, which have not been posted yet in efI.
Captured Madhmaheshwar Valley (UK)
id- Sunit Singh
---
We have kept such observations at
https://efloraofindia.com/2012/08/31/saxifraga-melanocentra/
---
Yes sir! I was searching forMicranthes melanocentra.
---