Corydalis meifolia Wall.,

Tent.

Fl. Napal. 55 1826

. (syn:

Capnodes meifolium

(Wall.) Kuntze;

Corydalis meifolia

var.

sikkimensis

Prain);
Common name: Threadleaf Corydalis
India (Lahul, Himachal Pradesh, Jammu & Kashmir, Uttar Pradesh, Arunachal Pradesh, Sikkim), Nepal, S-Tibet, Bhutan
as per
Catalogue of Life;
Saw these beautiful flowers
near Hemkund, Uttarakhand in Aug 2018.
Identified as
Corydalis meifolia
based on pics in efi.
Kindly validate.
---
To me also appear close as per … images and references at
Corydalis meifolia
… post are of some other species.
---
Thanks … for validating. Indeed, … pics look different.
---
Thanks … Will take a look at my post(s) of Corydalis meifolia and correct them.
---
.
---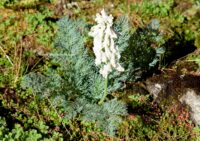 regarding Corydalis meifolia: 1 very high res. image.
here I'm sharing images of Corydalis, species seems meifoliato me, however, I've never seen Corydalis in this shade. kindly have a look.
Captured – 4600m asl.
Uttarakhand
---
How interesting.
Incredible photo!
Those flowers are amazing.
So strong and upright, full of flowers.
They are ribbed/ridged/puckered and appear to have glandular hairs.
Leaves are so blue.
In UK we have Corydalis with white flowers but nothing like this beauty.
Hope you find accurate id.
---
Flower color ok ?
---
Had a look at Corydalis meifolia. Surely not a match?
Mystery flowers are so different from all other Corydalis
Most Corydalis have long thin spurs.
Mystery flower spurs are enormous, wide and fat.
This is fascinating.
---
Hmm!
Only  Three subgenera and ca. 465 species: mainly N temperate
Only 135 pages of detail on Harvard Uni PDF file!
http://flora.huh.harvard.edu/china/PDF/PDF07/Corydalis.pdf
---
Looks somewhat similar to images at Corydalis violacea (Prain) Pusalkar & D.K.Singh
But colour looks different. 
May confirm or suggest suitable id pl. 
---
Yes, it is C. meifolia. I had seen this species in 6-7 different colours. But this is a new colour for me as well.
---
Agree
---