Pakistan (Pakistani Punjab), NW-India (Himachal Pradesh, Punjab, Uttar Pradesh, Maharashtra), Nepal, Pakistan (Pakistani Punjab, Hazara, Murree), Pakistani Kashmir (Mirpur), Jammu & Kashmir (Kashmir)
as per
Catalogue of Life
;
Common name: Three-Lobed Buckthorn • Hindi: Galodan, Gaunt, Gulodan
---
VoF Week: Tree seen En-route Joshimath:   I had seen this Tree en-route Joshimath. Photos were taken while our Bus was moving.
Could this be some Bridelia sp (Family: Euphorbiaceae)??
Date/Time: 06-08-2012 / 10:50AM
---
Can be Rhamnus triquetrus in my opinion…..
---
Agree with …
---
---
Rhamnus triquetra
Family – Rhamnaceae
Synonyms – Ceanothus triqueter Wall.
At Hamirpur, HP
Altitude – 750metres
Date – 24 September 2017
---
---
Shrub for id from Manali- NS 2012:
  6 images. This 
shrub with minutely dentate leaves, small black, shining 
berries, borne in axillary umbellate cymes
 was shot from 
near Hidimba temple in Manali
, kindly id..
---
… please check Polyalthia suberosa of Annonaceae?
---
No …, it never be P. suberosa

---
Yes … is right. In my first look except fruit arrangements, i did not noticed the long petioles, leaf arrangements, dentatte margin and the ending branches which are not the characterstics of P. suberosa. Kindly try to Id the species. Thanks for correcting me.
---
Is it not Rhamus virgatus?
---
---
---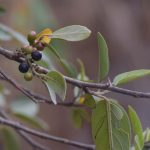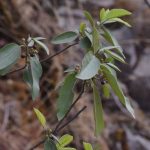 Gaundar UK, medium-size tree
: Request for id: 2 images- 1 high res.
Please check the attached images.
Captured
at Gaundar UK,
medium-size tree.
Only these 2 images of the same tree.
---
Rhamnus triqueter
---
References: