Macadamia integrifolia Maiden & Betche, Proc. Linn. Soc. New South Wales, ser. 2, 21(84): 624-625 624 1896.  (syn: Macadamia ternifolia var. integrifolia (Maiden & Betche)
Maiden & Betch);
Australia (N-New South Wales, SE-Queensland), S-China (I), Costa Rica (I), Puerto Rico (I), Hispaniola (I) (Dominican Republic (I)), Virgin Isl. (I) (St. Croix (I)), Belize (I), Colombia (I), Mexico (I), South Africa (I) (Mpulamanga (I), KwaZulu-Natal (I)), Malesia (I), Marshall Isl. (I) (Kwajalein (I)), Southern Marianas (I) (Guam (I)), Trinidad & Tobago (I), Honduras (I)
as per
Catalogue of Life
;
---
small Australian tree

with racemes of pink flowers

; widely cultivated (especially in Hawaii)
for its sweet edible nuts.
They are small to large evergreen trees growing to 2–12 m tall. The leaves are arranged in whorls of three to six, lanceolate to obovate or elliptical in shape, 6–30 cm long and 2–13 cm broad, with an entire or spiny-serrated margin. The flowers are produced in a long, slender, simple raceme 5–30 cm long, the individual flowers 10–15 mm long, white to pink or purple, with four tepals. The fruit is a very hard, woody, globose follicle with a pointed apex, containing one or two seeds.
---
and the fruit is a oil source
I always thought it was a hawaaii native…
---
---
---
Macadamia integrifolia ?
---
For me also Macadamia integrifolia. Neverthelerss, it is necessary to watch out for the flowers for confirmation.
---
.
---
Macadamia ternifolia is different with serrated leaves as per
---
---
.
---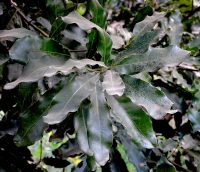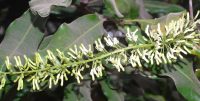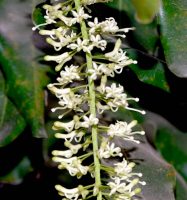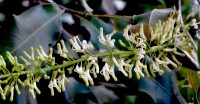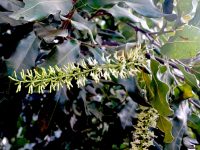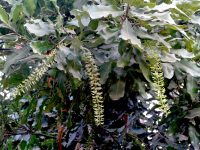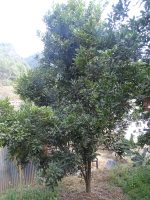 Macadamia integrifolia Maiden & Betche: 8 very high res. images.
Location: Pharping, Kathmandu, Nepal
References: