Bangladesh; China South-Central; East Himalaya; Nepal; West Himalaya as per
Catalogue of Life
;
Habitat: mountain slope
Habit: herb, about 30 – 40 cm high; with slant long branch, male flower and fruit seen
---
Beautiful find … we skipped this….a Euphorbiacean..
---
This is Excoecaria acerifolia it is common near Pulna village
---
VoF Week: Excoecaria acerifolia from the way to Ghanghriya: Excoecaria acerifolia from the way to Ghanghriya
---
Please help to identify this shrub shot from Gori valley area.. I could only see the fruits and not the male flowers.. hope this is recognizable…
---
I am puzzled. Let me think. I am marking this mail.
---
Seems Exoecaria acerifolia.
---
I thought of Cleistanthus and Excoecaria. Cleistanthus has entire leaves. And Excoecaria acerifolia has much narrower leaves with slightly different fruits. It could be a new species of Excoecaria. Here also I have some doubt as from the picture the fruit appear to be leaf-opposed. A perplexing species.
---
It is never Excoecaria acerifolia which I know very well. Could be a new species.
---
I am giving it benefit of doubt as Excoecaria acerifolia. But I am not satisfied. The photographer should study it in detail and prepare a detailed description. 
Key to the species of Excoecaria in India is as follows:
1a. Plants dioecious, of mangrove or littoral areas; leaves alternate, with basally two glands in the margin at either side of the petiole; male flowers in very dense catkins 2. E. agallocha
b. Plants monoecious, of interior forest areas; leaves alternate or opposite, without basal glands in the margin; male flowers in open racemes or in heads 2
2a. Leaves opposite or at least partly opposite 3
b. Leaves entirely alternate 5
3a. Leaves all opposite, green beneath; inflorescences with one type of flowers only, male inflorescences 3.5 – 22 cm long; fruits slightly depressed and shallowly lobed, usually larger, 1 – 6 cm in diam.
4
b. Leaves alternate or opposite, wine-red beneath; inflorescences with basally a few female flowers and apically many male ones; male inflorescences 1 – 3 cm long; fruits much depressed and deeply lobed, smaller, up to 1 cm in diam. (cult.) E. cochinchinensis
4a. Branchlets mostly flattened or tetragonous; male inflorescences 3.5 – 8 cm long; fruits 1 – 3 cm in diam. 3. E. crenulata
b. Branchlets mostly terete; male inflorescences 5 – 22 cm long; fruits 4 – 6 cm in diam. 5. E. oppositifolia
5a. Leaves larger, 25 – 32 x 8 – 11 cm; petioles 3 – 4 cm long 6. E. rectinervis
b. Leaves smaller, 2.5 – 16 x 1 – 5 cm; petioles 0.2 – 3 cm long 6
6a. Leaves closely and regularly serrulate along margins; lateral nerves close, parallel, conspicuously raised on the upper surface; tertiary nerves closely parallel and running predominantly at right angles to the midrib; fruits 1.5 – 1.8 cm in diam. 1. E. acerifolia
b. Leaves distantly repand-serrulate along margins; lateral nerves distant and arcuate, obscure or faint on the upper surface; tertiary nerves laxly reticulate; fruits up to 1 cm in diam.
4. E. cuspidata
---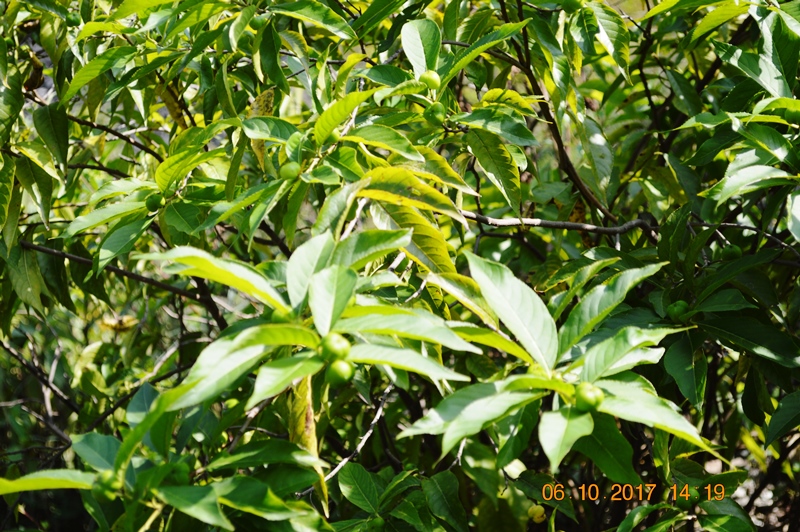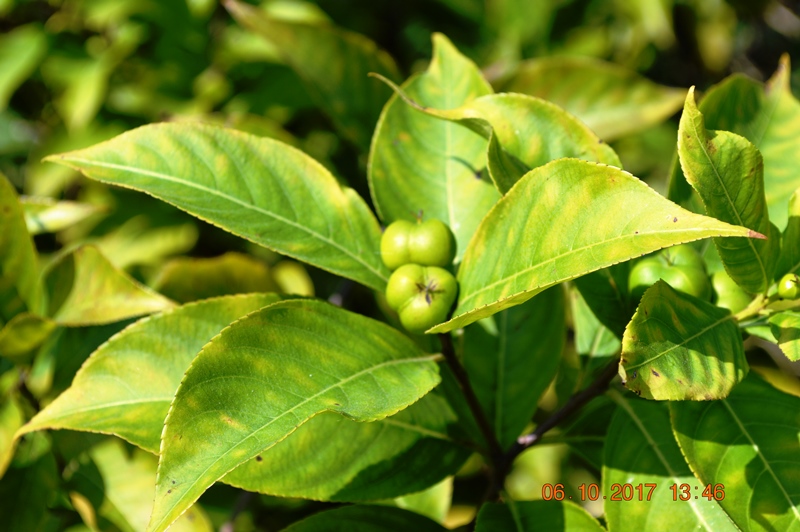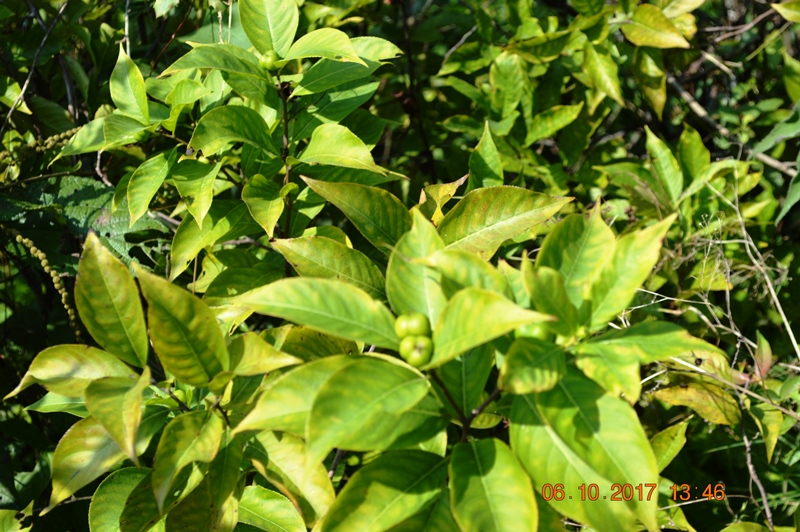 Euphorbiaceae shrub from Bageshwar area of Uthrakand
---
This could be a Buxaceae member. May be some Buxus species.   
---
Pl. check comparative images at 
---
---
Not Buxaceae? Okay then at that altitude this should be Excoecaria.  The leaves  are crowded towards apices of branchlets but othewise alternate. Hence this should be Excoecaria acerifolia Didr.
---
Location: Godavari, Nepal
Habit :  Wild 
Small shrub of about  4/6 ft.
---
Excellent depiction of Excoecaria acerifolia Didr. of the family Euphorbiaceae.
---
May I know the size of the fruits?
---
Thank you …! 
Nepali Names :  गोदासिलो Godaasilo /  उत्तुस Uttus / रजेली Rajelee
---
Thank you …, This raises the question whether Excoecaria cuspidata of Meghalaya, differing from E. acerifolia in the leaves being distantly repand-serrulate along margins rather than closely serrate (see the images here) and much smaller fruits (up to 10 mm in diam.), should be treated as a variety of E. acerifolia as done by Muller or maintained as a distinct species. It may be noted that the species E. crenulata of South India and Sri Lanka (fruits 1-3 cm in diam.) and E. oppositifolia of North-East India to South-East Asia (fruits 4-6 cm in diam.) differ from each other mainly in the size of their fruits and showing disjunct distribution.
---
References: