Machilus odoratissima Nees, Pl. Asiat. Rar. 2: 70 1831. (syn: Laurus bombycina Buch.-Ham. ex Wall.; Laurus champa Buch.-Ham. ex Wall.; Laurus indica Lour.; Laurus odoratissima Wall.; Machilus indica Kurz; Machilus madang Miq.; Persea odoratissima (Nees) Kosterm.) as per Catalogue of Life;
.
India, Pakistan (Swat, Hazara, Pakistani Punjab, Murree), Jammu & Kashmir (Poonch, Kashmir), peninsular Malaysia, Bhutan, Sikkim, Myanmar [Burma] (Kachin, Mandalay, Mon, Taninthayi, Yangon), Nepal, Laos, Vietnam as per Catalogue of Life;
.
Common name: Fragrant Bay Tree • Nepali: सेतो कौलो Seto Kaulo;
.
---
---
It could be Persea sp
---
To me it seems Persea odoratissima (Lauraceae) which grow in this area and common.
---
---
Location:  Swoyambhu

, Kathmandu, Nepal
---
wild but considered sacred? is it in temple grounds?
---
It looks like Alseodaphne semecarpifolia Nees
---
Not sure since since it is not listed in Nepal.
---
What Lauraceae species are found in Nepal? I am just going on what I can see of the flowers, the red peduncles, colour of new foliage etc.
Any chance of any Cryptocarya?
---
A Persea species, then seems more likely.
My apologies for wasting time with mere guesswork.
---
---
Cannot not decide …!
---
I guess its Persea and more likely P gamblei. Probably you have already checked this.
---
I will go for Machilus odoratissima Nees, as per details and references herein.
---
Thank you … I guess matching.
Syn : 
Persea odoratissima
(Nees) Kosterm.
---
---
This medium size tree is the only sample I have seen so far (I will probably see more once I know its identity). I first noticed it last summer when I saw abnormal growth on several of its leaves. The growth is still there but it is brown and brittle in stead of pink and firm.
The bruised leaves have a strong betel like smell.
Please help identify it.
Mcleodganj, Dharamshala, HP
---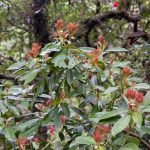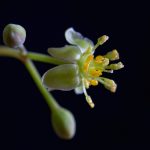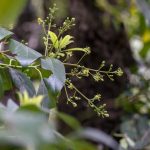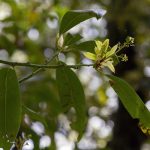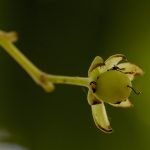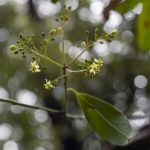 Thank you for resurfacing this, I had the opportunity to see the tree in flower last year and think it is likely to be 
Machilus odoratissima. 
Here are a few images to support my ID.
9 images.
---
Machilus?
---
I think it could be Machilus odoratissima.
---
To me also appears close to images at Machilus odoratissima Nees and also as per comparative images at Machilus.
---
I agree with you.
---
---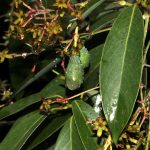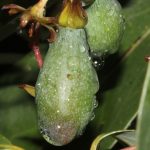 Persea odoratissima from Chopta Uttarakhand-GS06112021-1
: 4 images.
Persea odoratissima (King ex Hook.f) Kostermans
The species

distinguished from another West Himalayan species

in coriaceous leaves having 7-13 pairs of nerves, sepals oblong, reflexed in fruit, fruit ellipsoid up to 15 mm long, 7 mm broad.
---
Accepted name Machilus odoratissima Nees
---
Now it is Machilus odioratissima.
---
References: