Celosia
argentea
L. var.
cristata
(L.) Kuntze, Revis. gen. pl. 2:541. 1891 (Syn: (≡)
Celosia cristata
L. (basionym));


.
Images by Gurcharan Singh, (Bhagyashri Ranade – Identified by Vijayasankar Raman), Surajit Koley & Aarti Khale, (Inserted by Bhagyashri Ranade)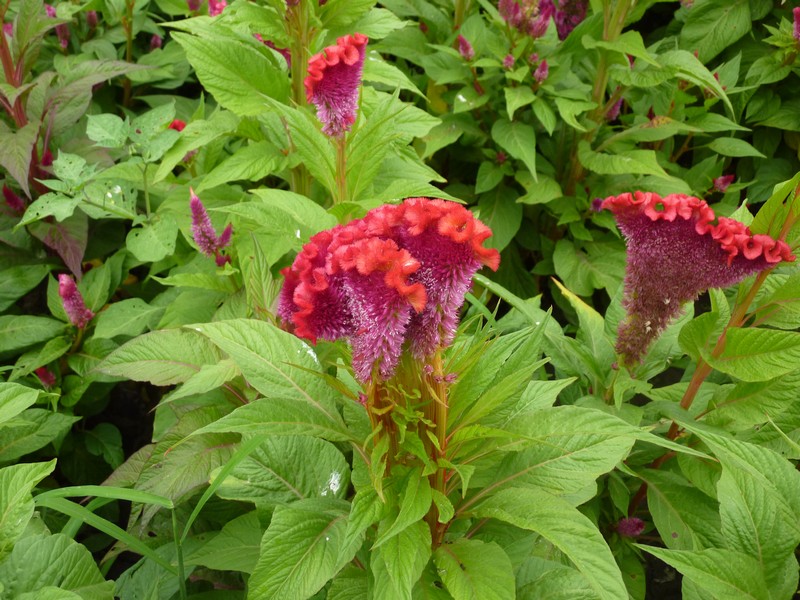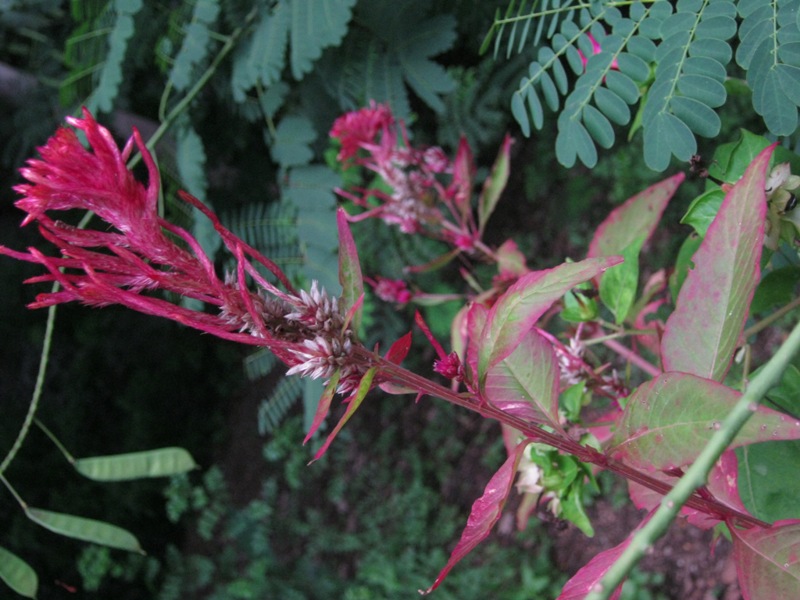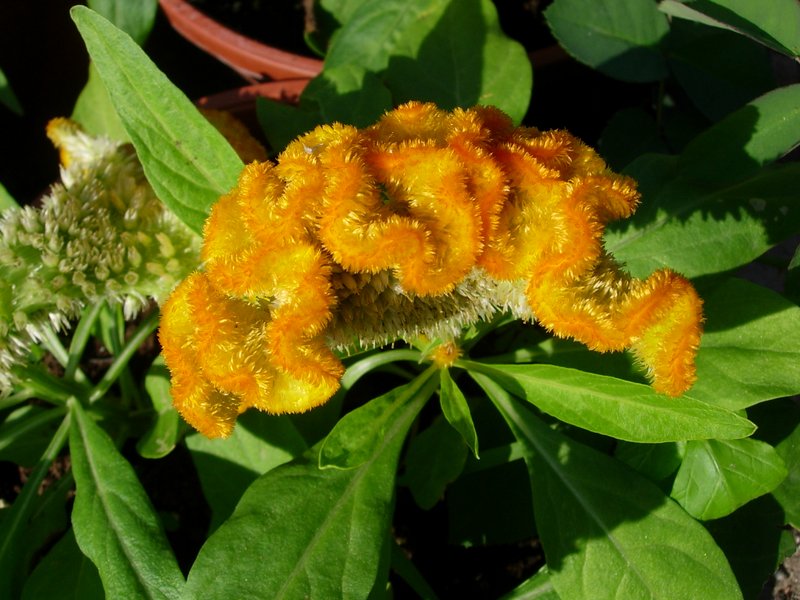 .
se-LO-see-uh or kay-LO-see-uh — from the Greek kelos (dry, burnt) – referring to its color … Dave's Botanary
ar-JEN-tee-uh — silvery … Dave's Botanary
kris-TAY-tuh — crested … Dave's Botanary
.
commonly known as: cockscomb • Bengali: মোরগফুল moragaphool • Hindi: लाल मुर्ग़ा lalmurga, मोरशिखा morshikha, murga-ka-phul • Manipuri: haolei • Marathi: मयूरशिख or मयूरशिखा mayurashikha, मयूरशिखर mayurashikhara, मोरशेंडी morashendi, मोरशिखा morashikha • Sanskrit: मयुरचुडा mayurachuda, मयूरशिखा mayurashikha, sunishannaka • Tamil: சாவற்சூட்டுப்பண்ணை cavarcuttuppannai, கோழிக்கொண்டை kolikkontai, கோழிப்பூ kozhi poo • Telugu: మయూరశిఖి mayurasikhi
.
Distribution: pantropical; cultivated worldwide
.
Cultivated annual herb with erect stems; leaves ovate to ovate-lanceolate; flowers in often cocks comb-like terminal simple or branched spikes, red, yellow or orange in colour; bracts lanceolate, midvein produced into long point; utricle enclosed in persistent perianth..
Date : 7.2.2010
Time : 3.30 p.m.
Place:
Dombivli
---
Formerly recognised as var. cristata, but not now
---
You are right. Dr.Almeida in his 'Flora of Maharashtra' Vol 4A has labelled this Celosia cristata [syn. C.argentea var.cristata / Cock's comb] whereas Yadav & Sardesai in their 'Flora of Kholapur District' list it as C.argentea var. cristata [locally called Kombada].
Celosia argentea is a distinct species and my photographs of it are available at this link :
https://groups.google.com/group/indiantreepix/ca…
---
Strangely GRIN does not seem to be agreeing with Kew Plant List. Although Kew Plant list treats this simply as synonym of C. argentea, GRIN (last updated in May, 2011) treats it as Celosia argentea var. cristata.
---
---
There seeds are from the same plant that i recorded earlier, in December, last year –
http://groups.google.com/indiantreepix/dd
I collected those seeds sometimes in February end or in early March and photographed very recently.
---
---
request for plant id…habitat-garden or pot…place-ambala cantt:
please help me to identify this plant and its family…
Descriptions
place-ambala cantt
month-december
habitat-garden,pot
habit-shrub
leaves-green,red.pointed
---
Celosia cristata, cock's comb
---
Yes Celosia cristata
---
there are many hybrids available in India to the nursery trade: yellow, reddish, brick red, even purplish… common in Bengal bedding rows…
---
---
---
This is Celosia cristata (Cock's Comb) from Amaranthaceae.
---
Thanks … So it's a spike type flower…?
(The flower f Celosia cristata can be broken into three types – spikes, plumes and crests)
---
---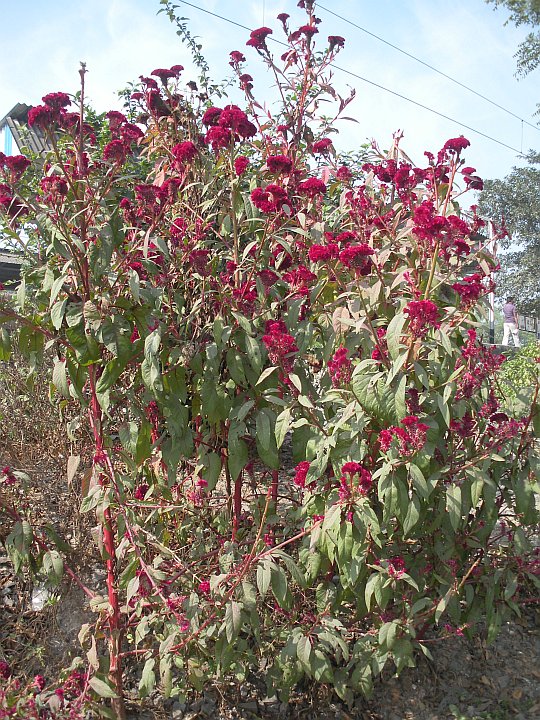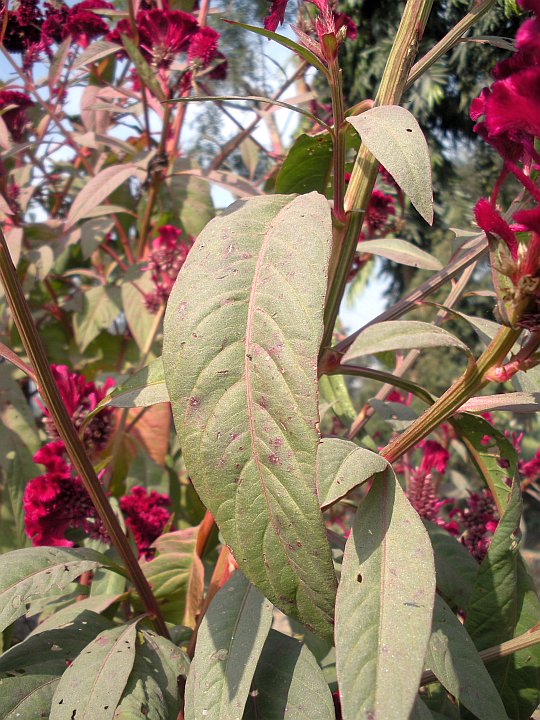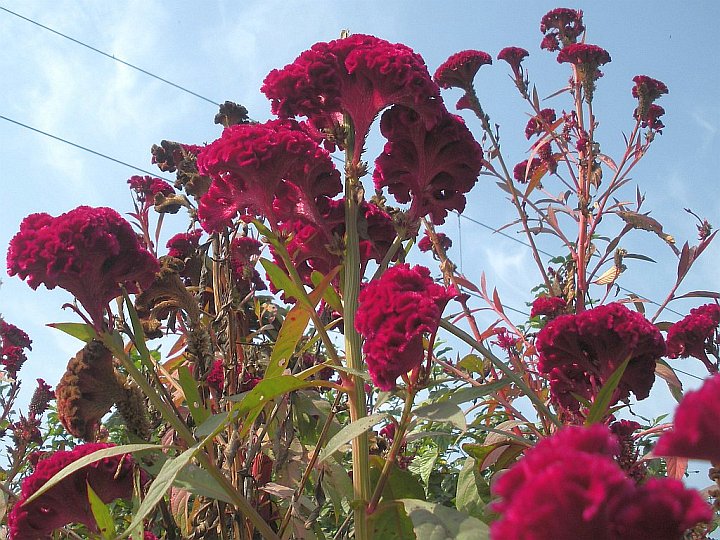 Cockscomb (Celosia argentea var. cristata), Family: Amaranthaceae:
You might have this beautiful plant in your garden. After a long gap I see it again with full bloom and want to share it with you.
Date/Time- 21/12/2011 (10.37 A.M.)
Location- Place, Altitude, GPS-
Gobra (Hooghly District), West Bengal
(lat 22.696022N, long 88.279369E)
Height/Length- 7 ft. approx.
Leaves Type/ Shape/ Size- simple, lanceolate
Inflorescence Type/ Size- dense many-flowered spike
Flowers Size/ Colour/ Calyx/ Bracts- pink
Fruits Type/ Shape/ Size Seeds- Capsule, Seeds (black) 1.25-1.5 mm
Other Information like Fragrance, Pollinator, Uses etc.-
an ornamental plant without fragrance
ID help from :
---
Beautiful flowers. I grew once these plants and before flowering started my mother-in-law cut it very thinly thinking that it is the Laal maath (Amaranthus) which we use as vegetable. After all the cuttings she realised her mistake ! In the next time I was successful in having it produce flowers. I have posted the flowers once in eflora.
---
As you say that the saplings of this one resemble the Amaranthus viridis or that of A. gangeticus. We call the latter as LAL-SHAK (shak = leafy vegetable) in Bengali.
---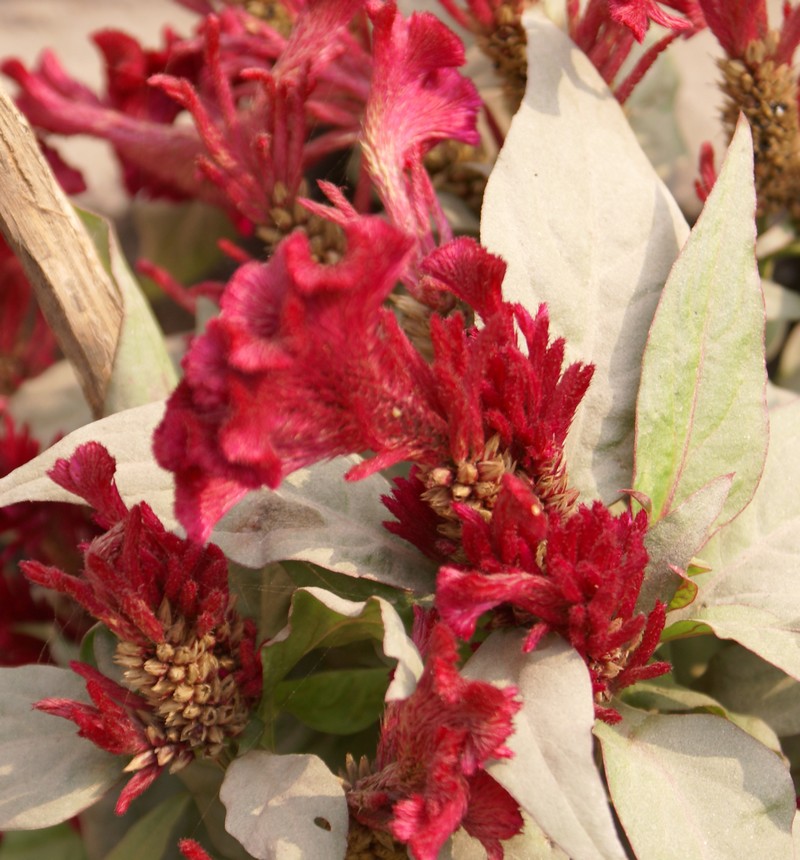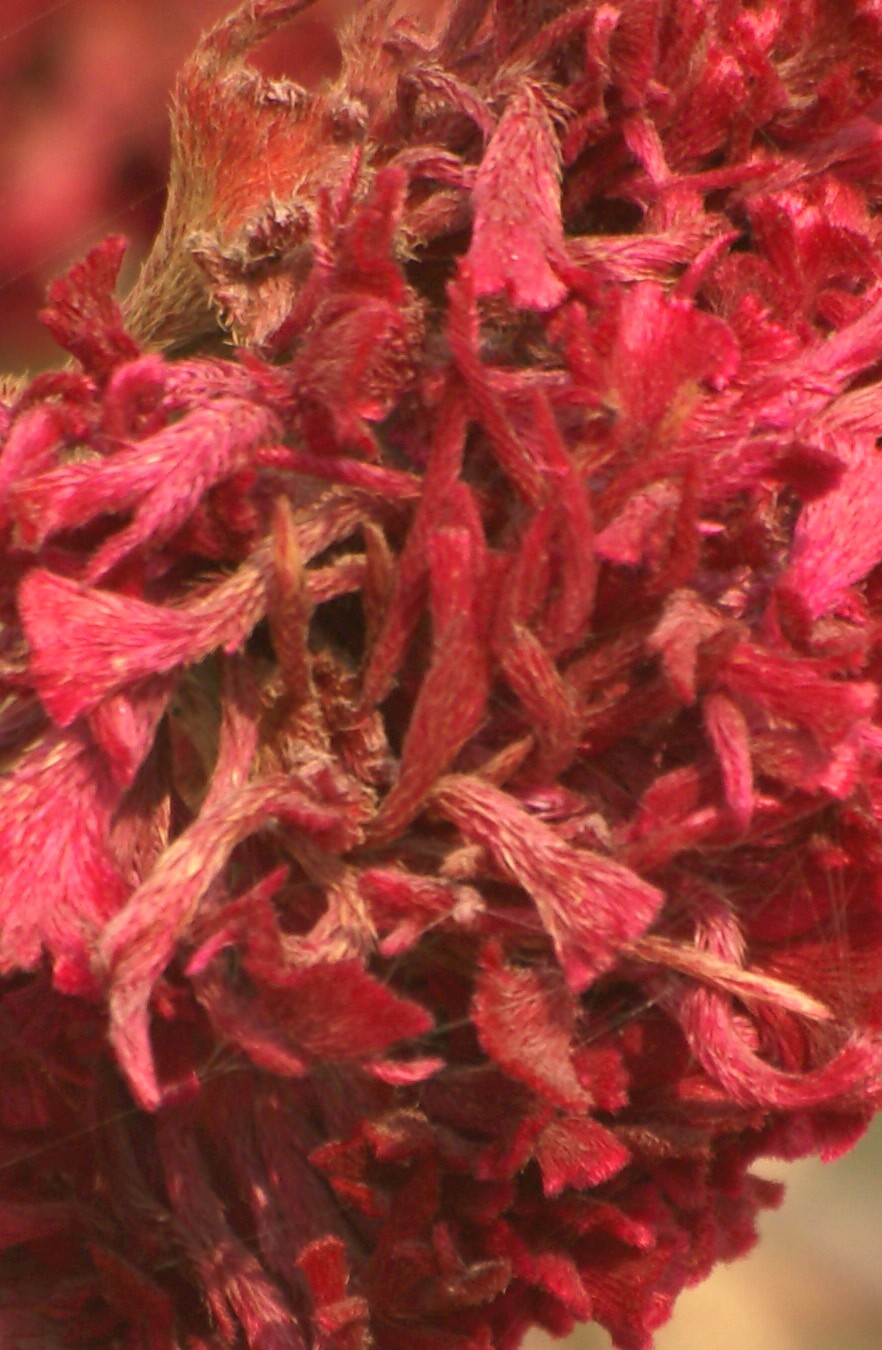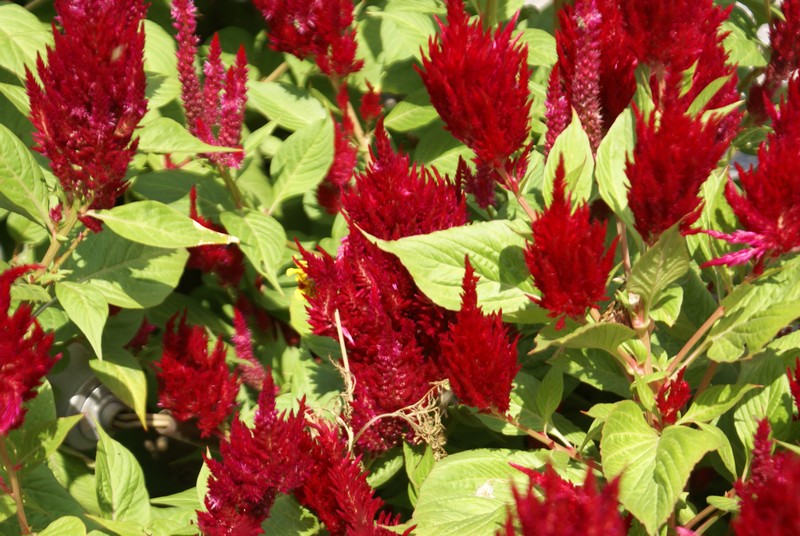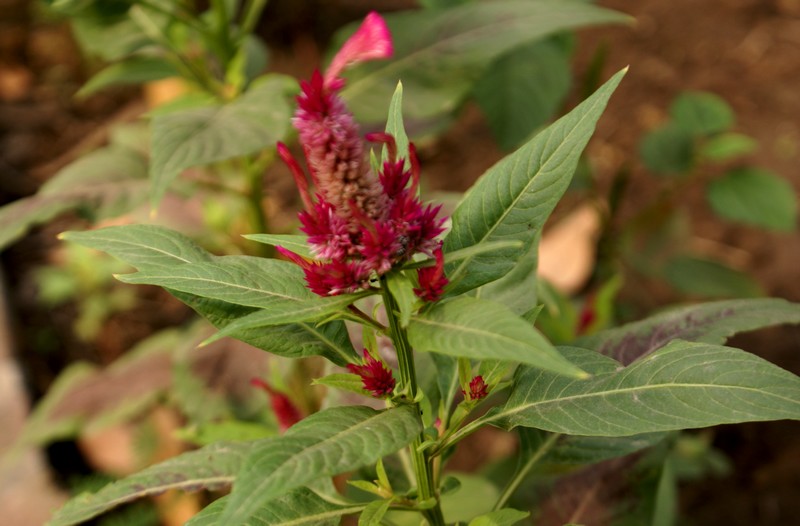 Chenopodiaceae and Amaranthaceae Week: Celosia argentea L. var. cristata (L.) Kuntze from Kashmir and Delhi..GS-30:
Celosia argentea L. var. cristata (L.) Kuntze, Revis. gen. pl. 2:541. 1891