---
21022013 BRS 458:
Pl. find the attached file contain photo for id. confirmation.
Location: Chennai, Adayar Creek
Date: 21.02.2013
Habitat: Creek (an inlet of the sea)
Habit: grass like?
---
Could this be Ceratophyllum demersum ?
---
.
---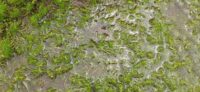 fresh water species… Ceratophyllum??: (Mixed thread): 1 high res. image.
Saw these plants few years back on 14 July 2019 near Bhimashankar, Pune in the small puddles on our trail. Is it Ceratophyllum sp.?
---
Are these not two different plants?
Photo for id sent is Ceratophyllum demersum….
But the plant present in the habitat is not prominent for identification.
---
First plant is possibly Podostemon, aquatic under-water holotype, which is common here in Pune, Genus possibly decannenesis, the photographs on internet are emmersed variety so will look very different, this a unique feature of Podostemon. Another unlikely possibility is Limnophila, early submerged growth..
the second is another common aquatic plant, I posted here specimens from Lonavala.. no idea species so I am growing this hoping it bears flower. Possibly aquatic plants  Glossostigma or Callitriche.
I can say definitely not Ceratophyllum.
---
sorry not Podostemon, Pogostemon, Podostemon would be discovery of century as they are all but extinct from India .. Pogo meaning beard like leaves… my autocorrect… as I was discussing Podostemon with a botanist on Facebook
---