---
Culms 30-45 cm tall. Leaves 10-20 x 0.1 cm, glabrous, mouth of sheath with two truncate flaps. Umbel 8 x 8 cm; bracts 2-3, to 18 cm long; rays spreading. Spikelets 12-16 x 2 mm oblong, obtuse, 12-15 in a spike; glumes 2 x 1.2 mm, 30-40 in a spikelets, 3-5-nerved; keel curved, green. Nut 0.8-0.5 mm, biconvex, distinctly cuspidate, minutely muriculate, dark brown.      
Flowering and fruiting: April-May
Marshy areas in grasslands
South Europe, Africa and Central and South Asia
---
Cyperus flavidus
Synonyms – Pycreus flavidus
Family – Cyperaceae
Habitat – Found growing along brooklets and on edges of Paddy fields
Photographed at Hamirpur, Himachal Pradesh

Dated – 8October 2018
---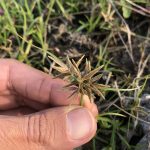 Need pretty sedge ID
: 2 images.
Bhopal; black soil

14/1/2022
---
I think it appears close to images at Cyperus flavidus Retz.
Expert help is required for confirmation.
---